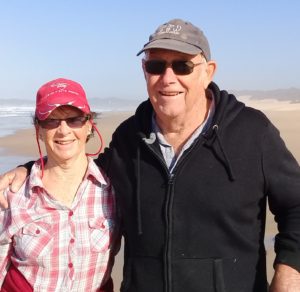 One Foote, two Feete, three Feete, four;
Five Feete, six Feete, seven Feete, more.
I am Jane Foote, an artist, and I'm married to Dudley Foote, a retired helicopter pilot. We live in Port Alfred, a beautiful little town on the East coast of South Africa. We have been  "Empty Nesters" for many years. Our daughter and her husband and daughter live in London, and our son and his wife and son have recently emigrated to New Zealand. So we are consider ourselves Footeloose and fancy free!
This is my new venture/adventure.
Posts on my other blog http://janesfooteprints.blogspot.com, are varied. I set up this new travel blog because I've been fortunate enough to have travelled to 35 countries including Antarctica (!!) and  I wanted to share my/our experiences with as many people as possible. I'm inviting you to follow our Footeprints and join me on the many adventures I (and my family) have had while travelling our beautiful blue planet. I thought it would be fun to 'time travel' back and forth through the years, so I'll write about some experiences of many years back (see one below in my 'potted history'…) and then recent ones, and others in between. There will be plenty of posts about South Africa because I love my home country. But I'll be starting with a post about my recent trip to Norway to see the Northern Lights – and The Big Light Bulb Moment followed by A Red Letter Day in Antarctica, interacting with penguins.  I hope the posts will inspire you to travel to some of these places yourselves, or perhaps you might just want to travel along from the comfort of your armchair.
P.S./ P.H. (Potted History)
Below is a 'potted history' (quite a large pot) about my life so far, for those who might be interested. You'll learn a lot more about me and what makes me tick.
Growing up
I was born in 1946 in Johannesburg, South Africa, but I'm more of a country bumpkin than a townie because my Dad left the bank to go farming about 2 years later. What a privilege it was growing up on a farm at the foot of the Sani Pass in the Drakensberg in our teens. This, I'm sure, helped fuel my love for wild places.
Career
For my sisters and me, necessity dictated boarding schools. Not my best. Having been so cloistered, the last day of school felt euphoric – but also terrifying, . I was very shy and lacking in confidence. Hence the bumbling about career-wise: The bank, a 6 month stopgap (hated it), a year of Occupational Therapy at Wits (I opted out, the main reason being that if I completed the Diploma and then worked back my loan, it would be 10 years before I could start travelling), and  finally, I completed a 2 year Diagnostic Radiography Diploma. My starting salary was R80 per month! I was determined to go overseas as soon as possible, but I had one year's loan to pay back. By living very frugally, I managed to save a little each month.
In 1969 I got a job in Windhoek in what was then South West Africa (now Namibia). The plan was to earn the tax-free maximum and then head off overseas. Which was exactly what I did – except there was a complication; I'd met Dudley, who was a South African Air Force helicopter pilot, seconded to the police there. We were in love!, but I felt that if I didn't go overseas then, I might never.
And so began my travels….
In November 1969  I said my goodbyes and set sail for England from Cape Town on the Pendennis Castle. A year return trip cost me the princely sum of R330! My emotions were very mixed; sadness saying goodbye to my lovely boyfriend, anxiety because I was so green and way out of my comfort zone, but also excitement.
My stomach churned at the thought of going through customs in Southampton. The thing was, I wanted to work as a radiographer to supplement my savings, but South Africans weren't allowed to work in their professions. I also lie badly and used to blush easily.  "Are you going to be working?" "No." They weren't fooled. Three of us were not allowed to go on the boat train to Waterloo. We were taken to a hotel somewhere in Southampton. Thankfully, after a while they let us go. Meanwhile, the wife of a high up banking friend of my Dad's who was meeting me off the boat train, reported me 'missing' to the police. No cell phones in those days of course. But I managed to get myself to Waterloo and then to their home in Esher. So ended my first horrible hugely stressful travel experience! Read the full story here: https://footeloosefancyfree.com/missing-the-boat-train/
There were lots more nerve-wracking incidents during the year – I was after all, a protected, inexperienced country bumpkin. And of course I missed my boyfriend, friends and family. But I had a lot of fun too. I felt liberated and more confident after a year of living and working in London and travelling. The downside was the restlessness back in South Africa – the feeling that I'd come home too soon.
Back home in South Africa
I worked in Johannesburg for 6 months, then in Cape Town.  And then finally, Dudley and I got back together. We got married in April 1973.  My surname changed from the sublime to the ridiculous; McClelland, (a mouthful and a pain to try and spell out) to Foote. We joke that we are the cultured Feete!
In no time at all, it seemed, we had two children, and I was a stay-at-home Mom for many years. There were a number of moves – for wives and kids, it was a case of move where the Air Force posted hubby/Daddy. But I did manage to graduate with a B.A. Fine Arts degree during this time. Apart from teaching art to all ages at home and participating in various exhibitions, I also taught at my children's High School. This was extremely challenging but gave me back some confidence. Travelling was pretty much out of the question during this time, although we had some lovely holidays in South Africa.
Ex-pats and more travelling
Dudley left the Air Force at the end of 1993 and was working for private companies. In 2001 he got offered a job with Air Mauritius. Our children had left home by then and we had no surviving parents, so it was easy to say yes. We lived there for 6 years and had the privilege of free and discounted air tickets, so we did quite a lot of travelling from there. Another bonus: There was a lot of inspiration for painting and I had good sales. Then another flying job came up for Dudley in the Seychelles. We were based there for 2 years. How lucky were we?
Retirement, but still travelling
In 2009 we came back to South Africa. It was euphoric coming home! We think we chose well to retire in Port Alfred. Amazingly, Dudley is still flying. He has had some wonderful jobs including trips to Gough island, and twice each to Marion island and Antarctica. I accompanied him on one trip to Antarctica – I still have to pinch myself on that one! And we've travelled to quite a few other places since coming back to South Africa as well. Hopefully there'll be a few more before we say 'enough'! Browse my blog for stories about all the places we've been to.