Sailing in the Scilly Isles, in July 2015 – a right royal treat it was! Very magnanimously, the newly-weds had invited both sets of parents to join them on this little adventure. Here we are in Penzance prior to our departure.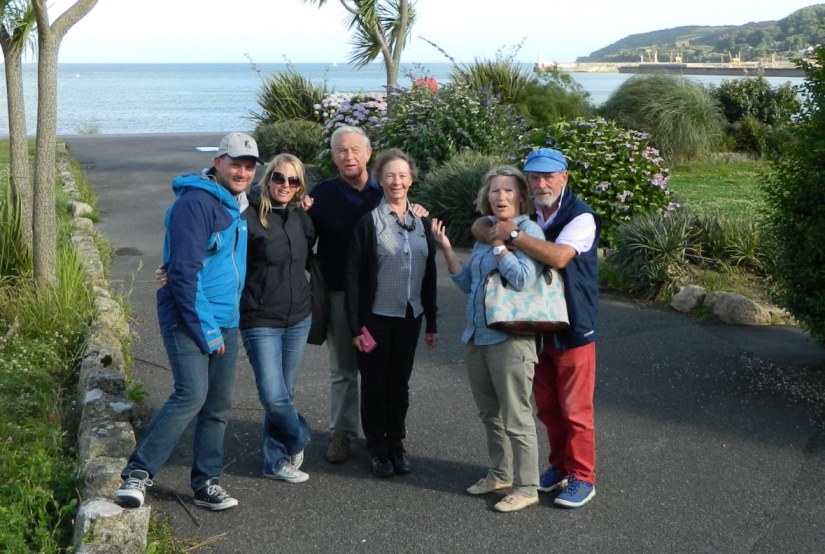 We girls went by ferry, the Scillonian 111, from Penzance and the men sailed from Falmouth via Penzance. Initially, the plan was to sleep on board the yacht, but when the men saw how small it was, they decided this would not be a good idea – and we girls were mightily relieved!
The ferry is a very convenient way to get to the Scilly isles.The Scillonian is quite big and you can choose to sit out on deck or inside. You can buy refreshments on board. It takes about 2 ¾ hours to get to St. Mary's.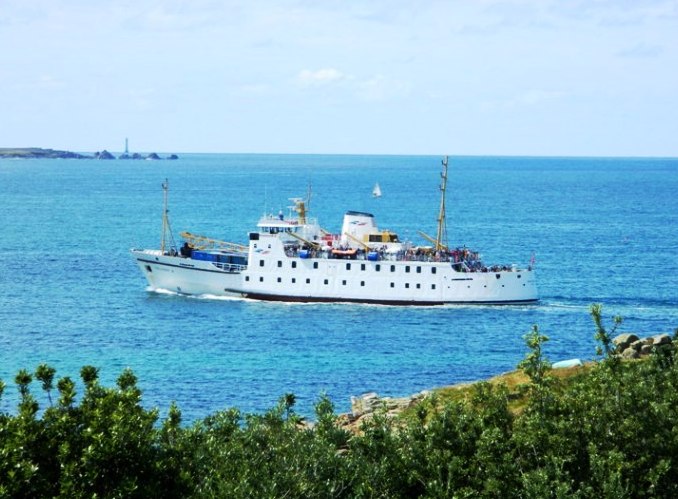 It was quite rough on the day we went – July – I wonder what it's like in the winter months? I'd taken a sea-sick pill and I was fine, but lots of people were ill, so rather take something if you have any doubts.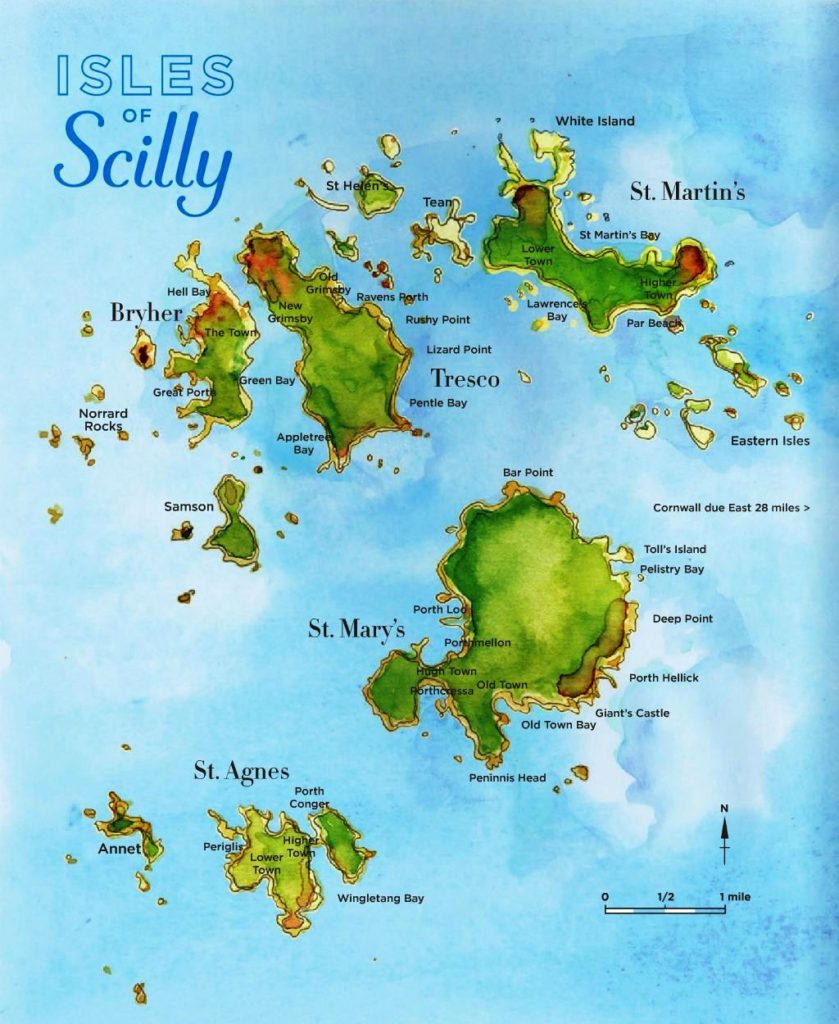 St. Mary's
On our arrival, we were totally charmed by St. Mary's pretty harbour.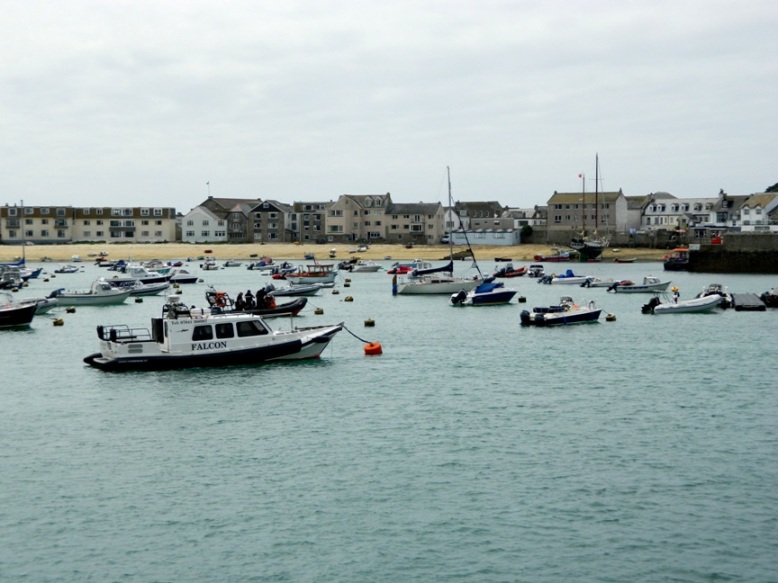 We'd been told that Charles and Camilla would be arriving on the pier soon after us and that we could be there to greet them if we were so inclined. We were! But first we felt the need to fortify ourselves after the ferry trip. We were still chomping on our Cornish pasties when the royal couple arrived. So we had to surreptitiously wipe our greasy paws before shaking hands with them. YES, WE REALLY DID SHAKE HANDS WITH PRINCE CHARLES AND HER ROYAL HIGHNESS THE DUCHESS OF CORNWALL!!  They were chatty and friendly and Camilla recommended wine-tasting at the Holy Vale Vineyard – hinting that it had been quite a 'tipsy' experience!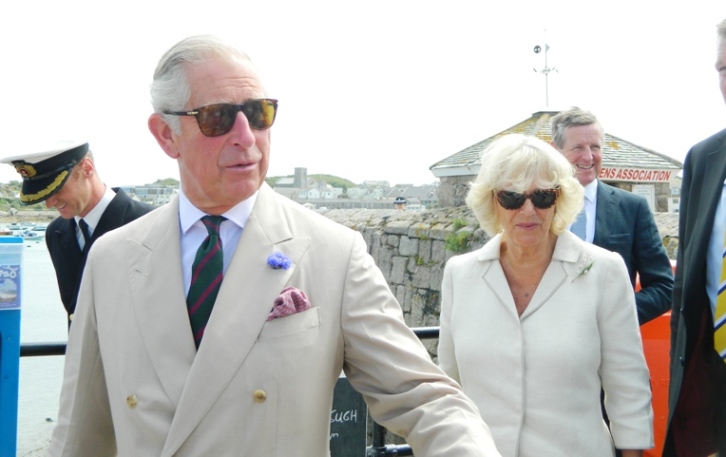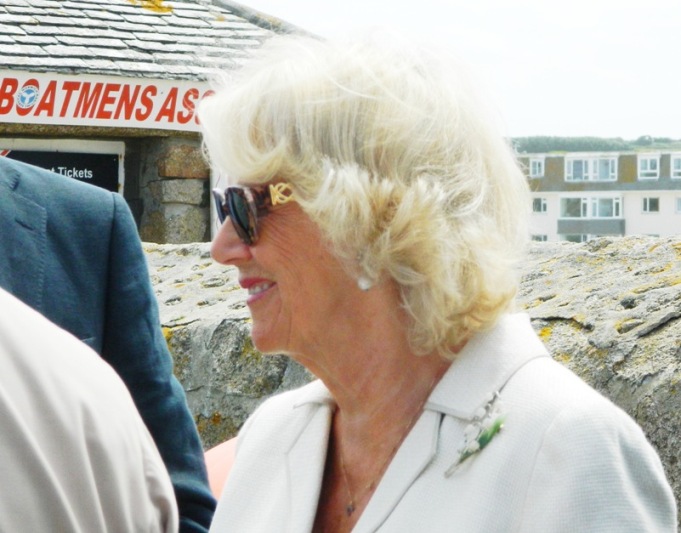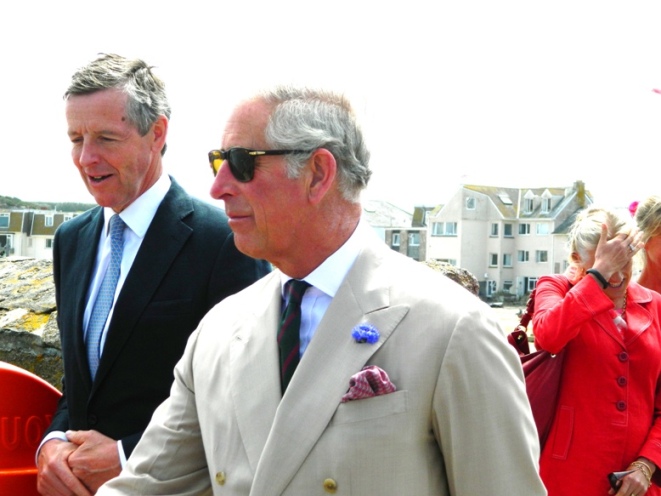 Here's a warning: you will do a lot of walking in the Scilly isles, often lugging your own luggage, so travel as light as you can, and back-packs are probably the most practical. But if you're pushing 70??! You can catch taxis, but of course this does add up.
We walked up to our daughter and husband's B&B to drop off our luggage before exploring Hugh Town. It is a delightful little town. It was decked out in full summer regalia – beautiful flowers everywhere, especially agapanthus.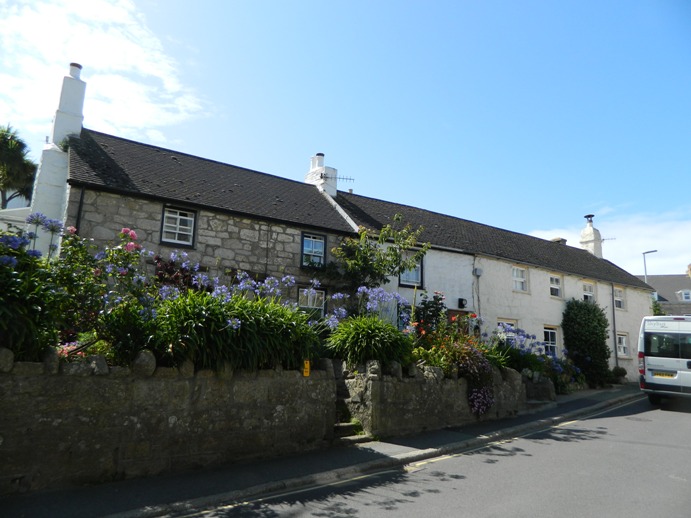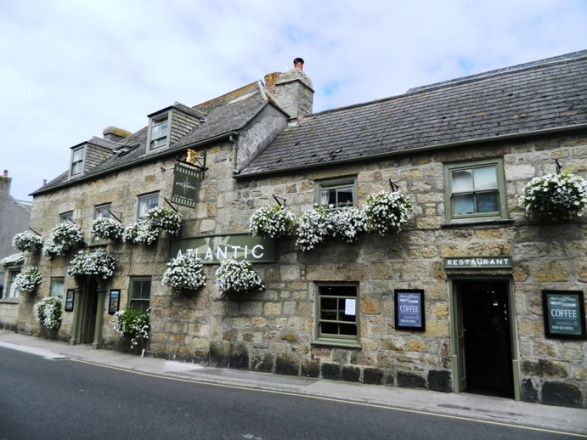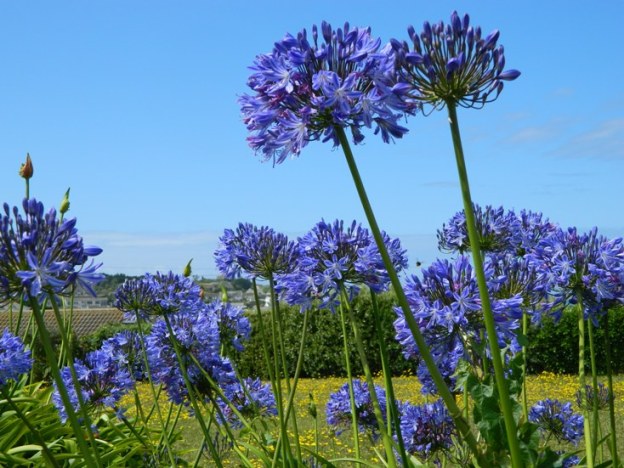 The men sailed into the harbour at about 5pm. It was apparently not too rough and they all took turns at the helm, but under the beady eye of chief skipper James!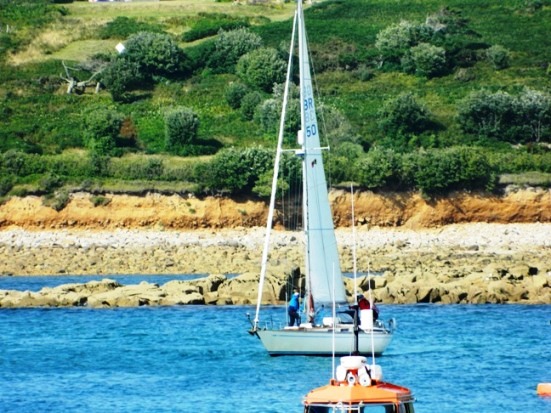 We walked partway and then caught a taxi up to our B&B, Sylina, which was really lovely (in 2015). Just look at the magnificent hydrangeas in their garden.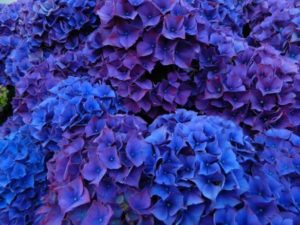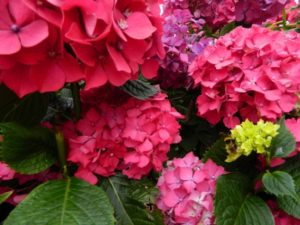 I've just checked on the web and it seems that it is only self-catering these days (2019). It was a beautiful evening.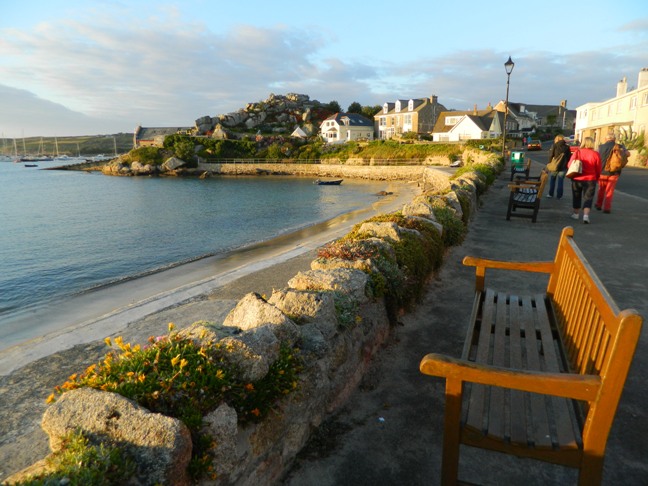 We went to a steak-house for dinner that night. I didn't write down the name of it, but there are plenty of restaurants to choose from: https://www.tripadvisor.co.za/Restaurants-g1936976-Hugh_Town_St_Mary_s_Isles_of_Scilly_England.html 
Annet and St. Agnes 
It was a beautiful day the next day. We wanted to explore and sail to a couple of the islands, but we had to motor as there was no wind.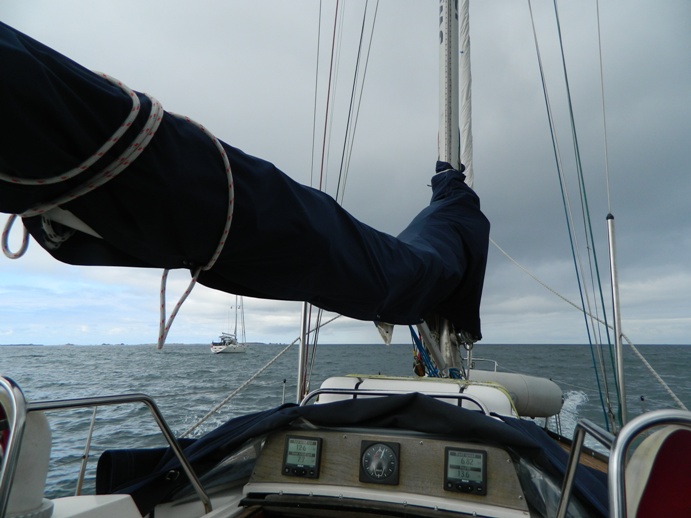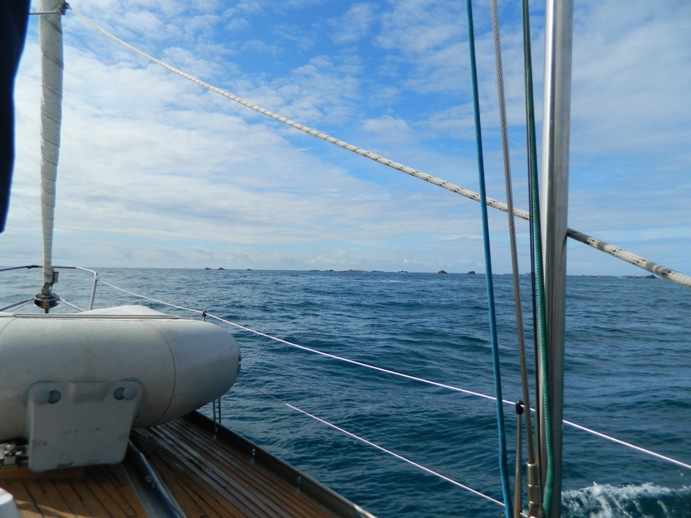 Beautiful wild Annet was our first destination. It is only about 1km long, uninhabited, and also closed to visitors all year round to allow its 10 species of birds to breed undisturbed. It also has a colony of Atlantic grey seals. We saw some of these as well as some puffins swimming in the sea close to the island.  https://www.ios-wildlifetrust.org.uk/annet
St. Agnes was next. It's also very unspoiled and wild, but it welcomes visitors.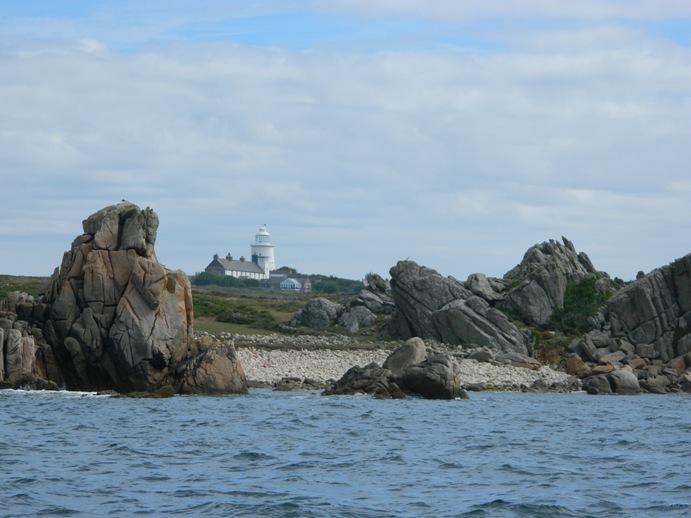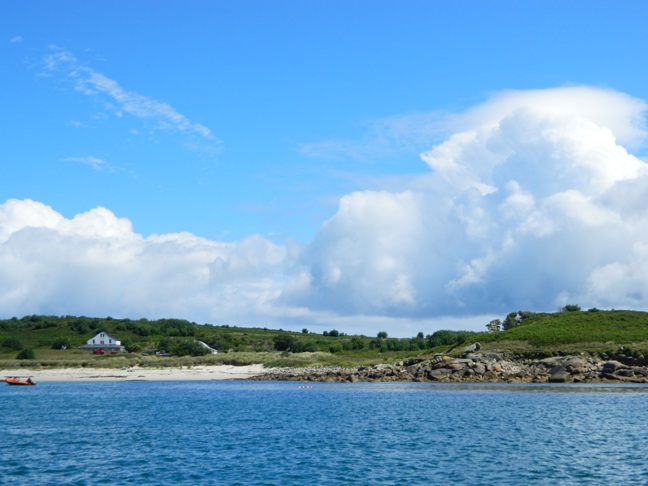 The walks on the island as well as the neighbouring Gugh, fed our souls, while an excellent lunch at the famous Turks Head restaurant (there it is in the above photo), fed our hungry tummies. You can also sample Troytown Farm's ice-cream. The cream is sourced from the few local cows. These islands have been inhabited for thousands of years but very sparsely, and at present there are less than 100 permanent residents on St. Agnes and less than 10 on Gugh!
Apparently there is Bronze Age archaeology too and you can treasure hunt – there was a shipwreck 400 years ago. Our time was very limited so we didn't do any of that. Here's a good website giving you plenty more info about St. Agnes:  https://www.islesofscilly-travel.co.uk/the-islands/st-agnes/
Gugh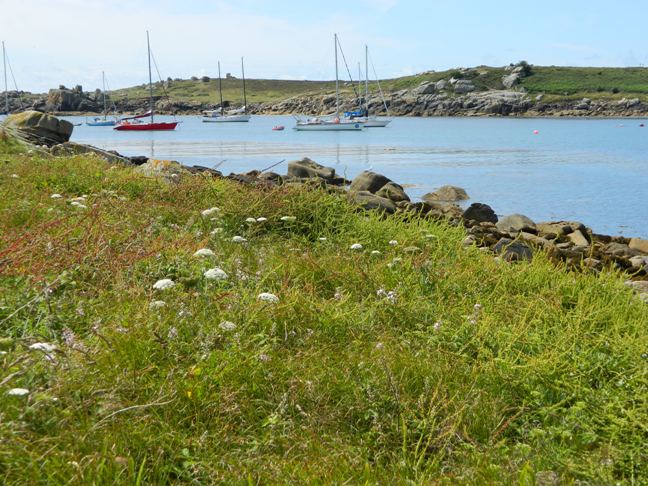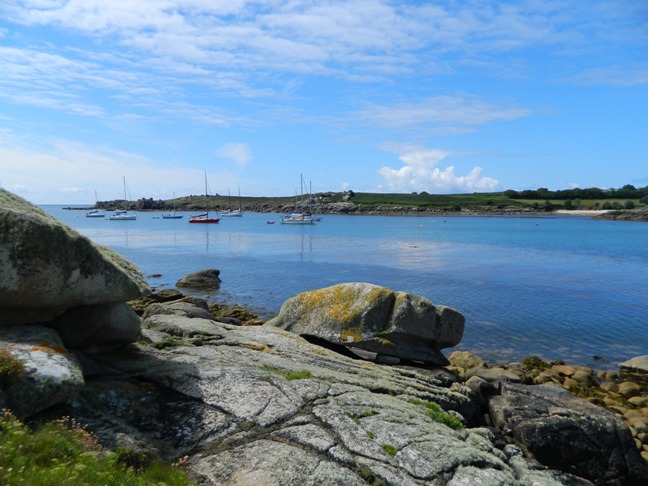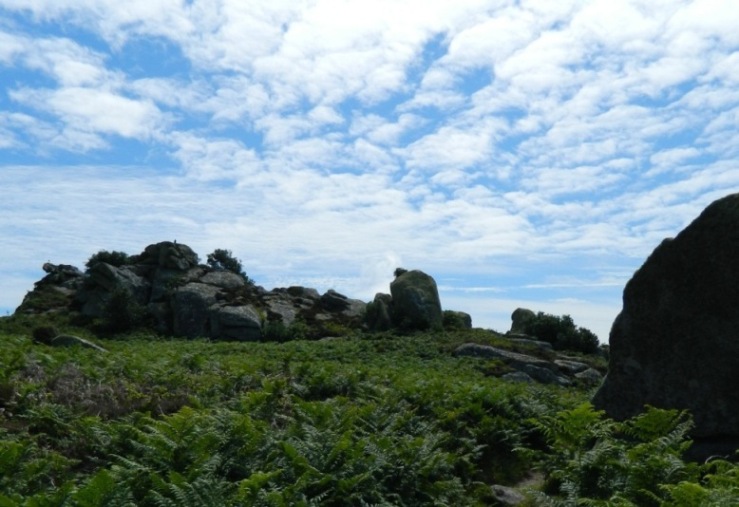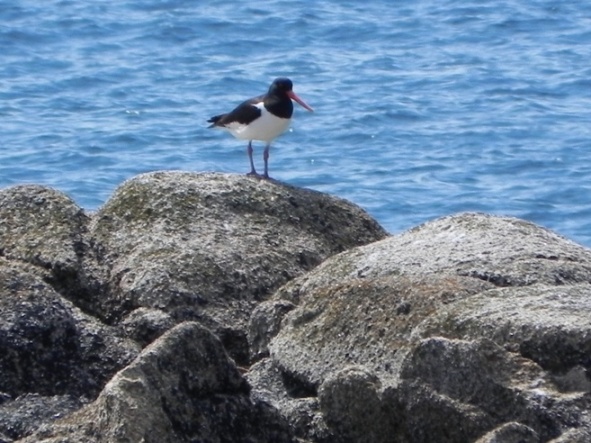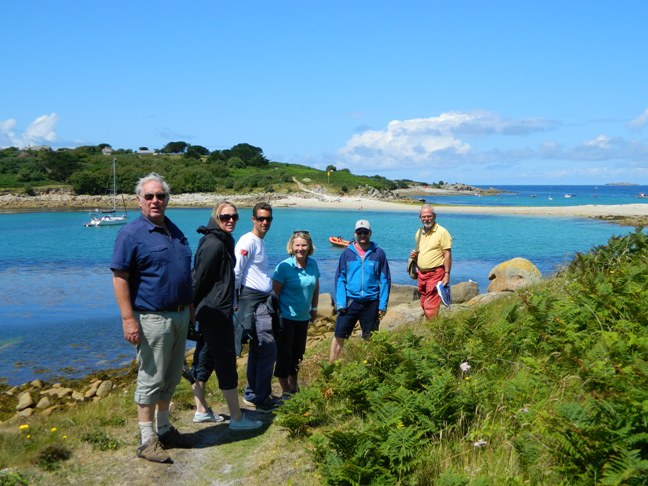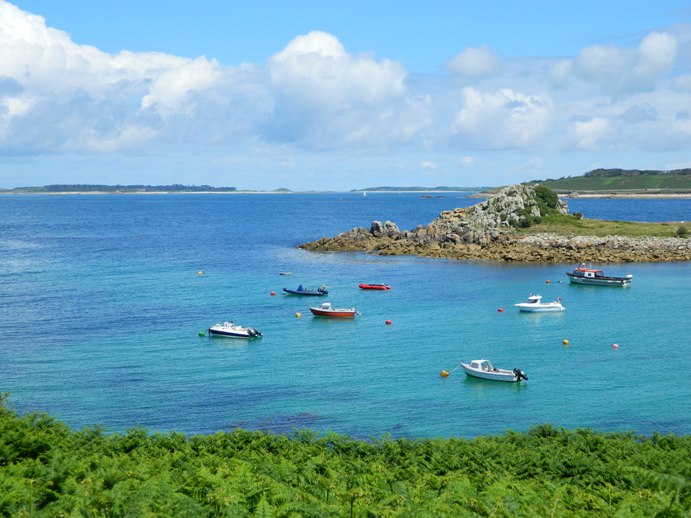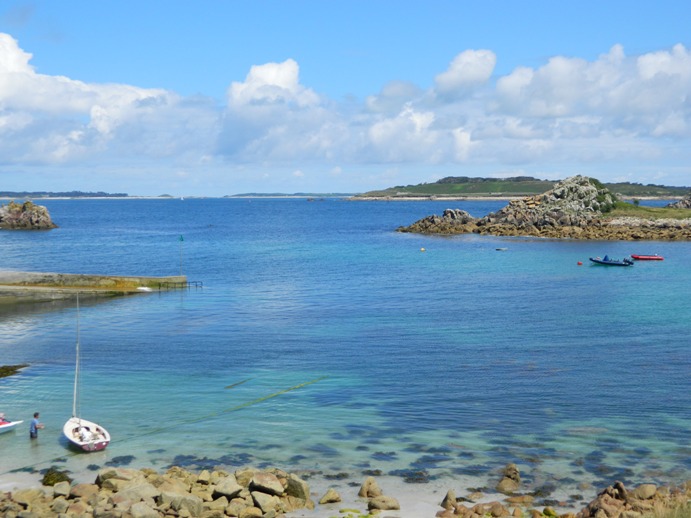 In the evening, we took Camilla's advice (!) and headed off to the Holy Vale Vineyard. I'm not a wine connoisseur, so a wine-tasting is not really high on my list of fun things to do. But I was up for it, having only ever been to one of these before. I always want more of the nibbles than the wine and this occasion was no exception! But hey, if Camilla recommends it then, it's got to be good surely? If you want to be the judge and give it a try, you can read up a bit more about the experience here, before you book and pay: https://www.visitislesofscilly.com/experience/things-to-do/wine-tasting-at-holy-vale-vineyard-p2604453
We went for a lovely walk from our B&B in the evening, looking for ancient burial sites. Yet another beautiful evening. We had a map – but we didn't find them – or get to them? We'd walked quite far and hadn't found them, so we turned back.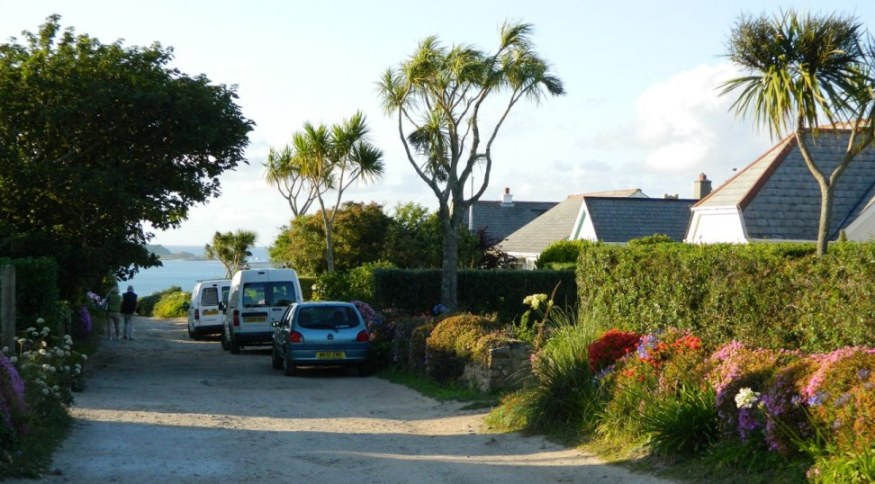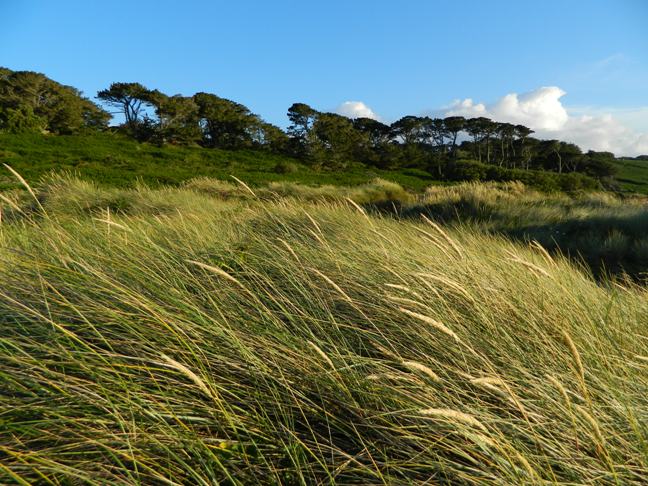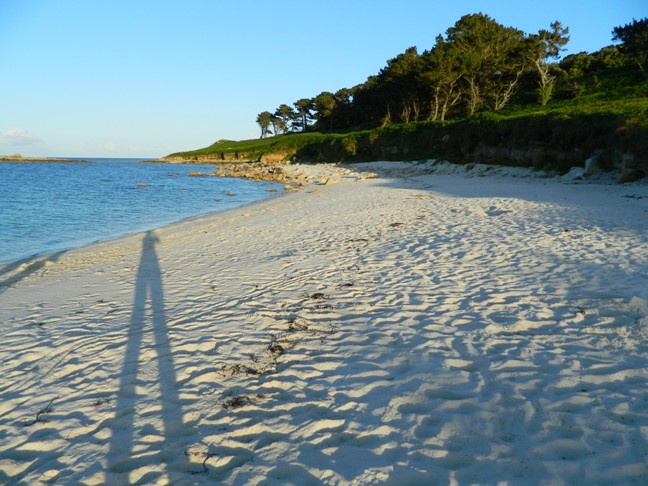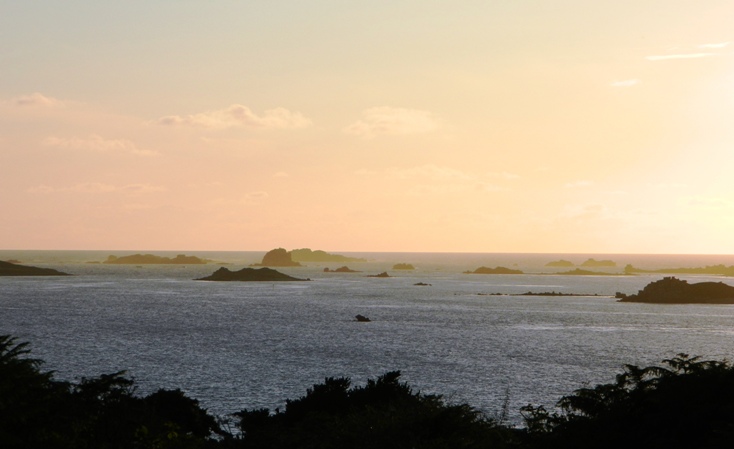 We did find a farm stall selling bulbs – no-one there. You are simply asked to put you money in the jar for what you buy. As South Africans, we were astounded at this!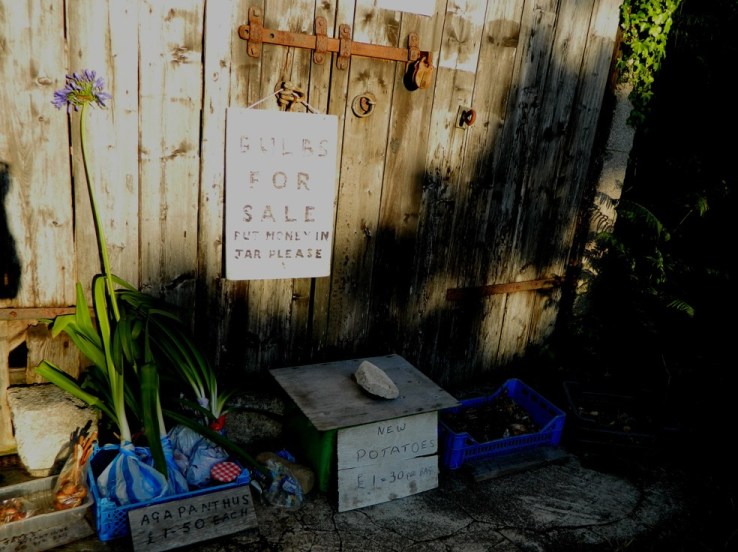 We were on the islands for much too short a time to explore properly, but if archaeology interests you, the Scilly isles have a lot to offer. Here is a good website: https://archaeology-travel.com/en-articles/archaeology-and-history-of-scilly-isles/
Tresco and Bryher
The next day dawned sunny, warm and windless again – beautiful – but it meant that we had to motor instead of sail to Tresco. Our yacht wasn't very big…….!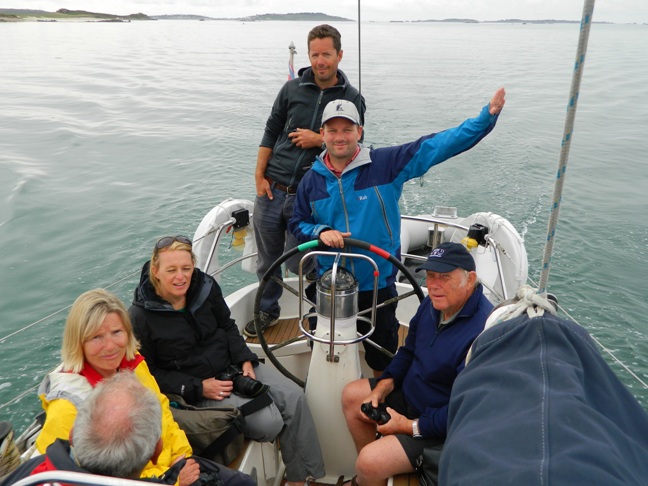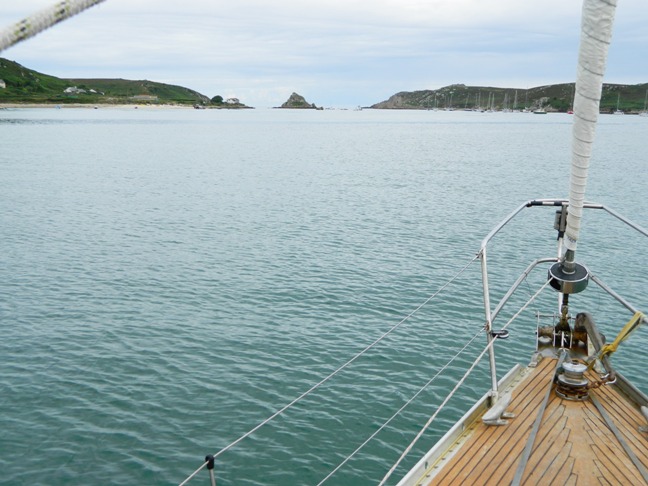 Tresco
We visited the magnificent Tresco Abbey Gardens, which are sub-tropical, so they have lots of plants that one wouldn't normally see growing in the UK e.g. pin-cushion proteas that are native to the Western Cape in South Africa. These Gardens are well worth a visit. We were intrigued by an enormous bee – definitely bigger that the ones 'back home' – and charmed by the red squirrels. https://www.visitislesofscilly.com/experience/things-to-do/tresco-abbey-garden-p504003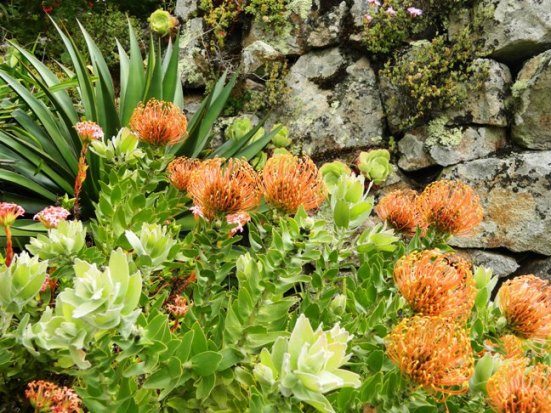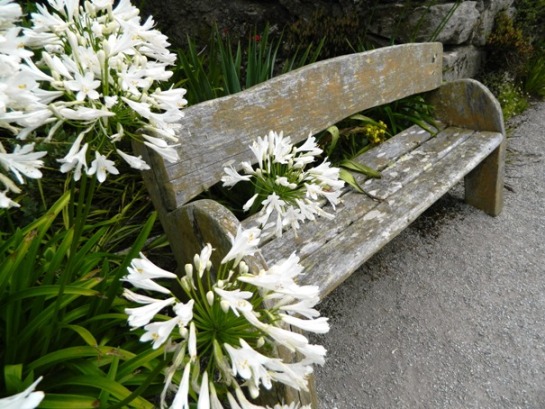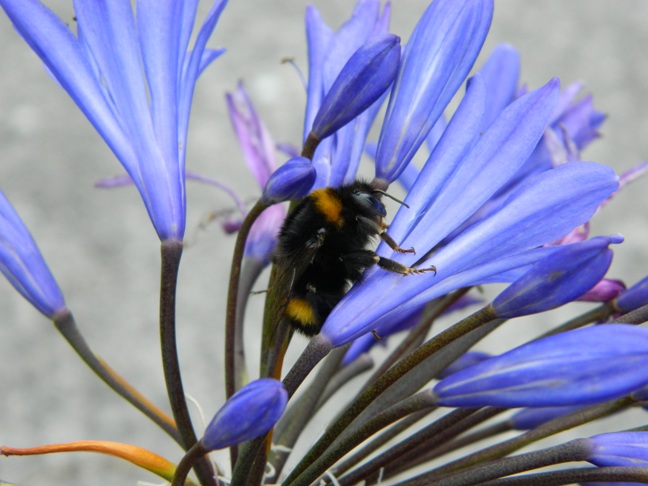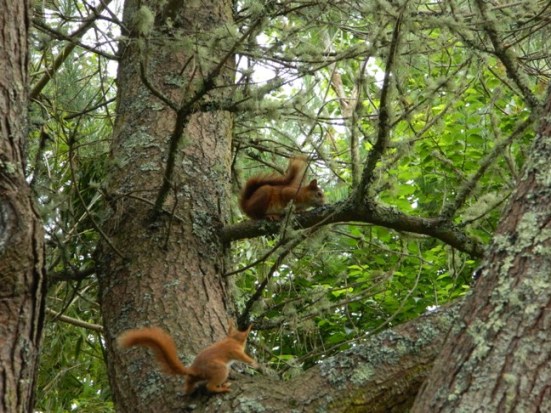 Then we worked up an appetite for our lunch – it was a  long walk from there to the Ruin Beach Cafe. Beautifully scenic.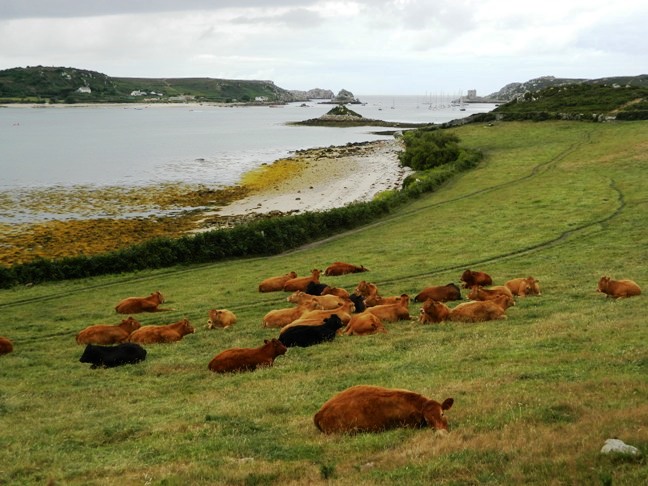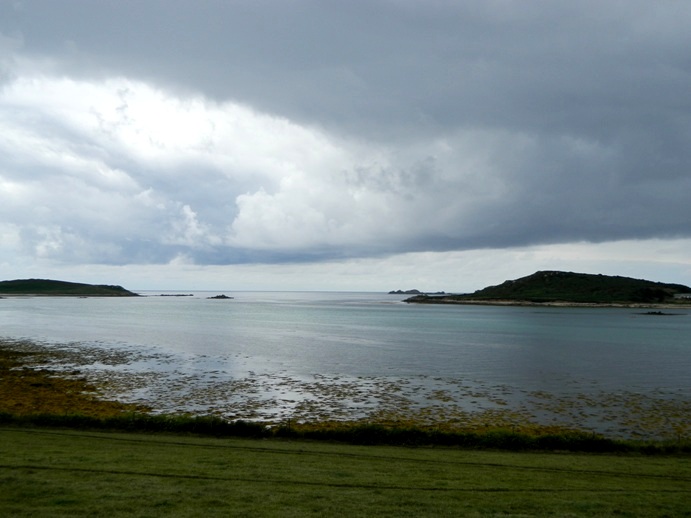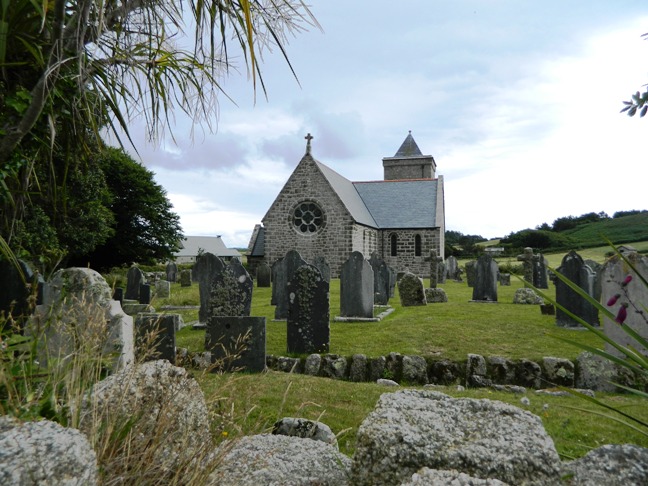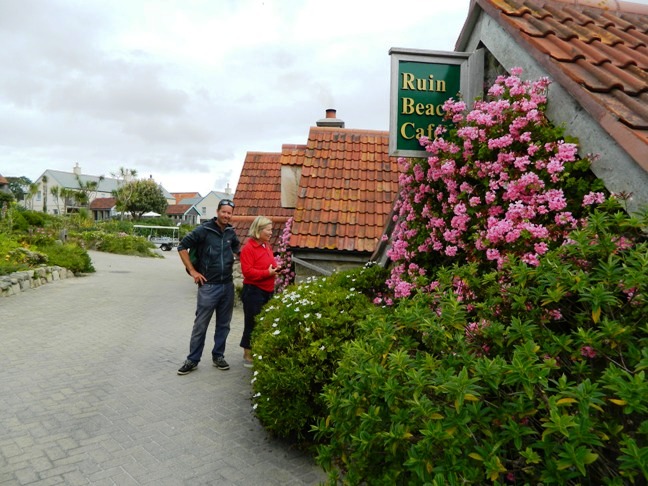 This restaurant had been recommended by our skipper, James. It was excellent. The view was superb as was the meal, if somewhat expensive when converted into South African Rands – and it was our turn to pay! https://www.tresco.co.uk/eating-on-tresco/ruin-cafe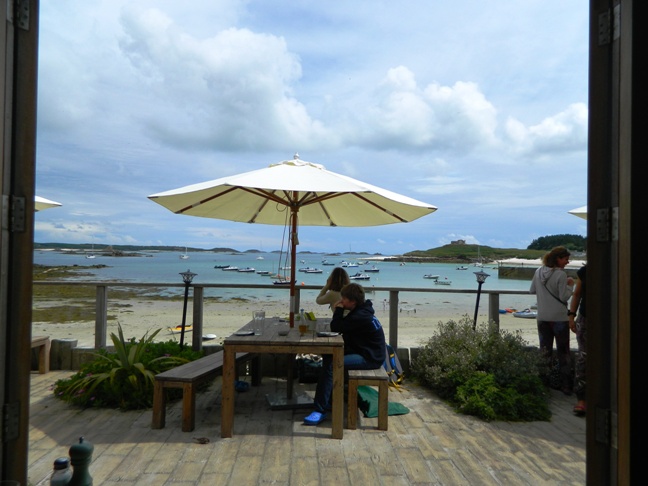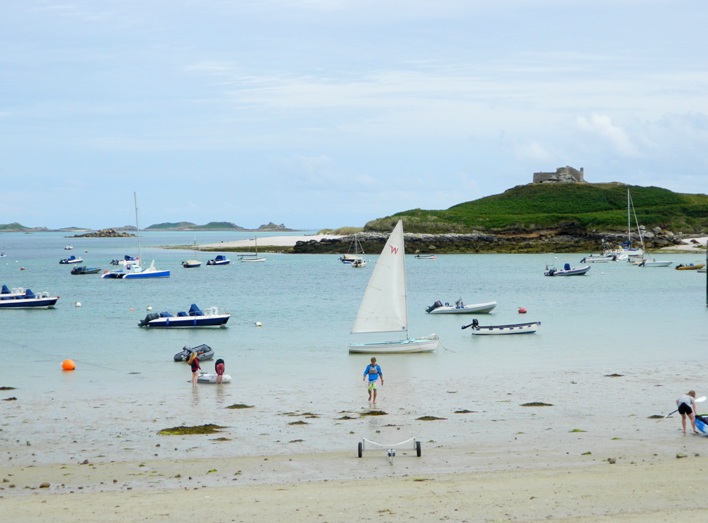 Bryher
Then it was the long walk back to the yacht and a short sail to the stunningly beautiful Bryher island. The isles around the main island of St. Mary's were starting to have a familiarity; wild, unspoiled, sparsely populated – Bryher has less than 100 inhabitants – and a walkers' paradise. Rugged, untamed, a sense of freedom and purity – I could go on and on with these sorts of adjectives to describe the 1 ¾ hours walk we did on that island.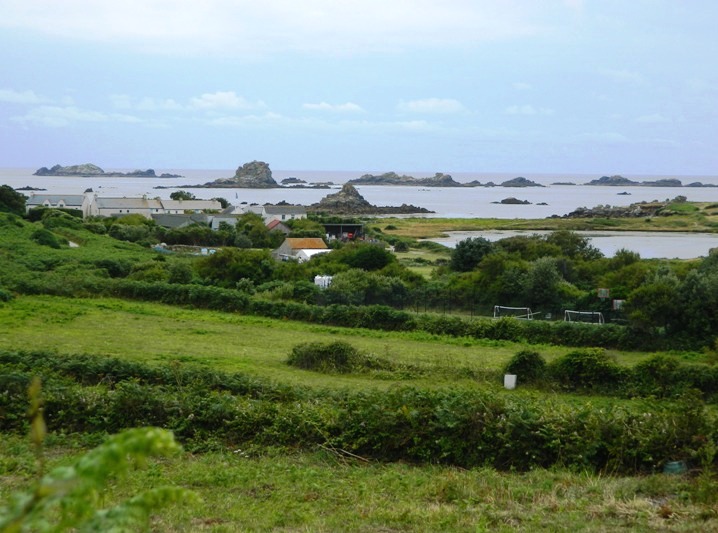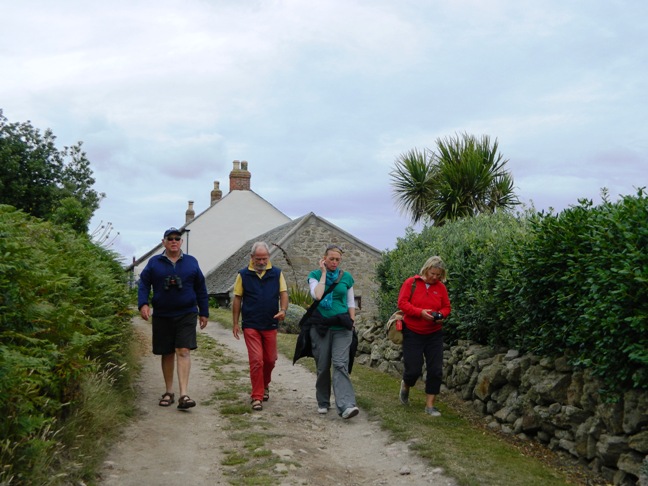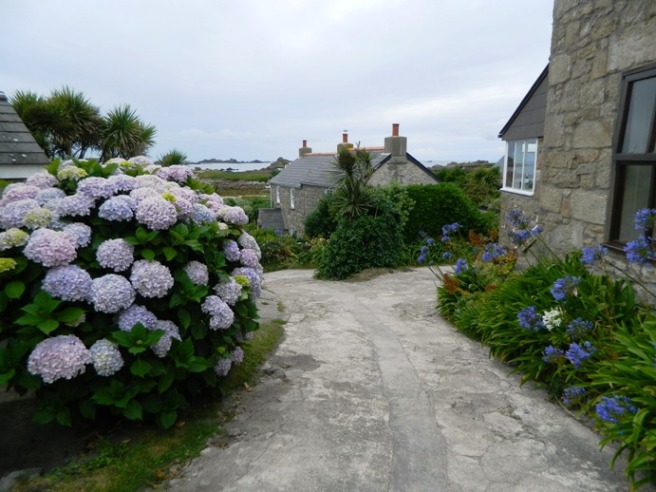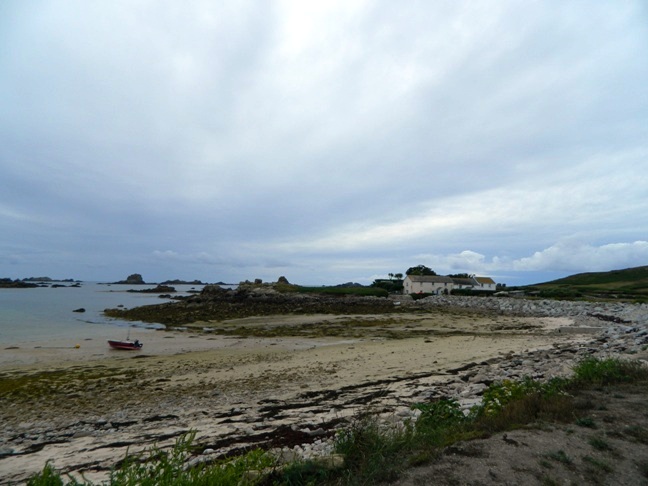 It is an island of dramatic contrast; one side is pounded by the Atlantic waves while the other has calm sandy beaches. We came across this pebbly area, with lots of cairns, so I built one for our other little family of three – wishing they could have been there with us….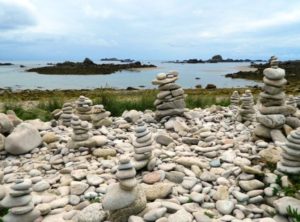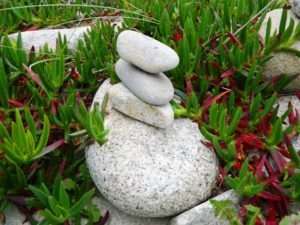 There are lots of little stalls selling eggs, fresh produce and even fudge! There is even a beautiful little Art Gallery, Richard Pearce's Eagle Gallery.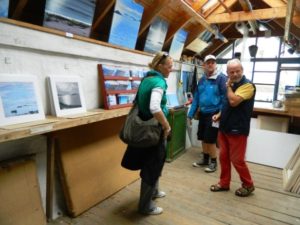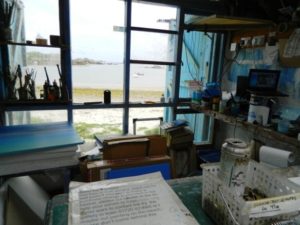 I found him on this website, which also has a lot of other suggestions for things to do on the Scilly Isles: https://www.islesofscilly-travel.co.uk/activity-types/things-to-see-and-do/page/7       https://www.visitislesofscilly.com/explore/bryher
By the time we got back onto our little yacht, it had turned rainy and cold – and too windy to sail! The tides were not in our favour, so we took the long route back to St. Mary's, to avoid any rocks that might be lurking just under, or poking through the surface of the choppy waves. We didn't want to be another shipwreck statistic. There have been so many of these over the years around these islands.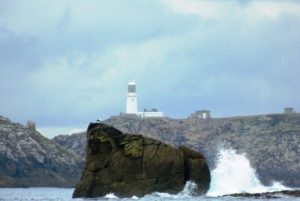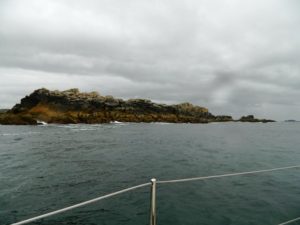 We'd had a big lunch, so we just ordered chips at The Mermaid Inn on the pier http://www.mermaidscilly.co.uk/ , before we headed to St. Mary's Church Hall. David McBride gave an excellent talk and slideshow on his diving adventures in the Scilly Isles. He entertained us hugely, recounting his encounters with seals, exploration of shipwrecks and salvage stories.
Back on St. Mary's
The next day was too rainy and windy for sailing. So we had to amuse ourselves in other ways. We moved to a different B&B: Beachfield House. It was comfortable and pleasant and perfectly adequate for our needs. We were hardly there after all!   http://www.beachfieldguesthouse.co.uk/ I loved its etched glass doors.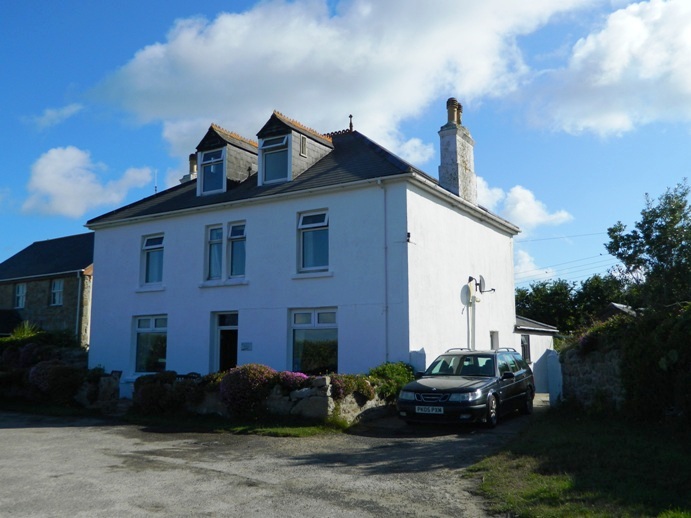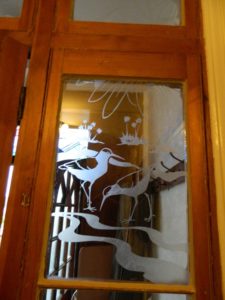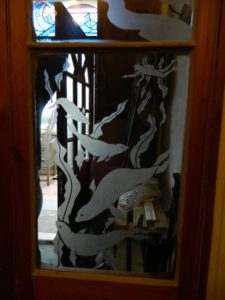 We walked back into town and then up to the Garrison.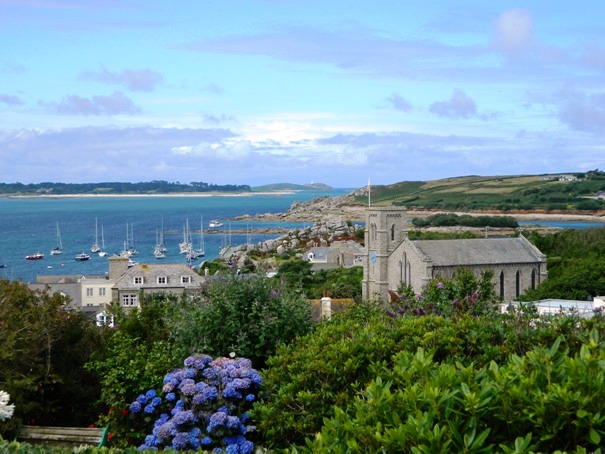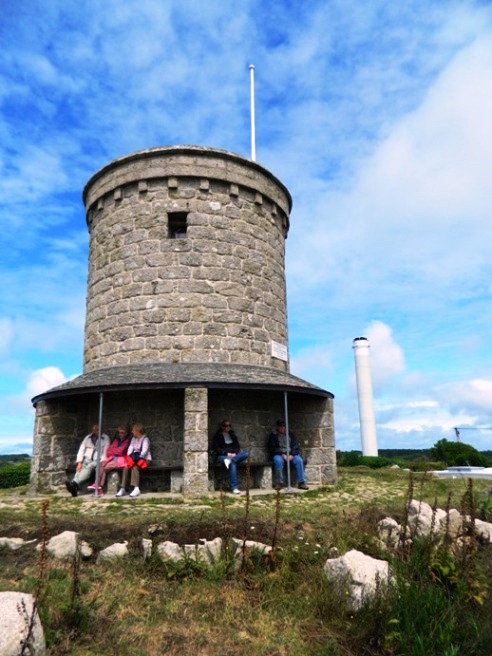 The history is fascinating. I found this excellent website:   https://www.english-heritage.org.uk/visit/places/garrison-walls/history/
From there, we set off on a 7km hike around Pennine Point. It was spectacular. The photos say it all I think.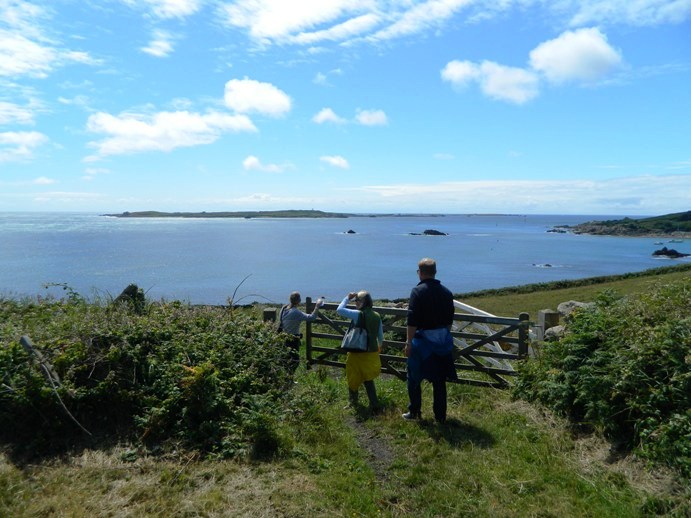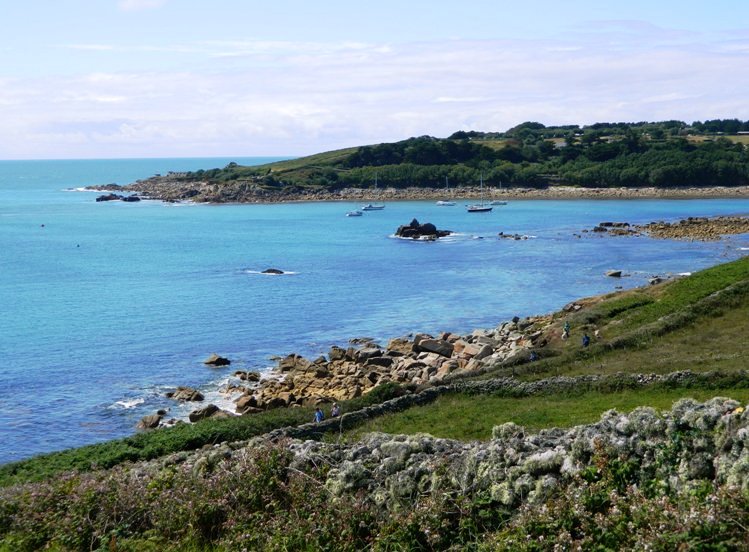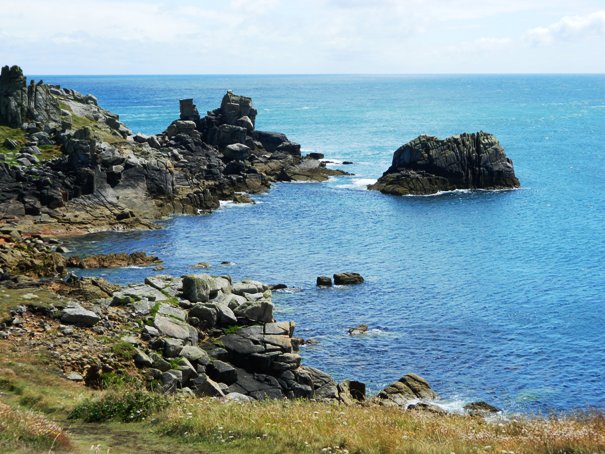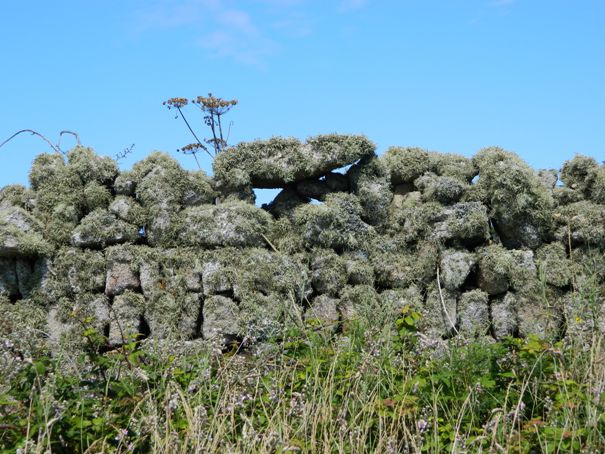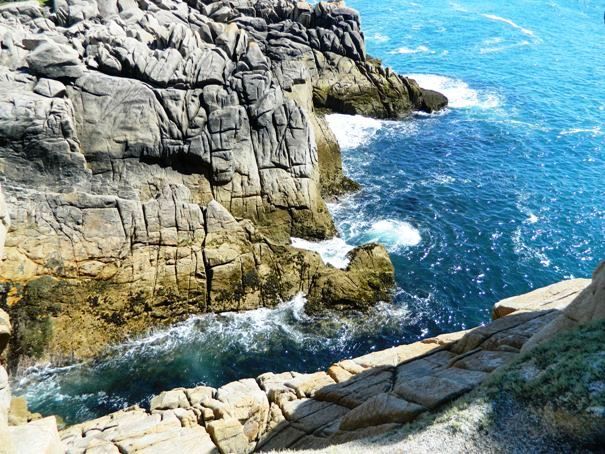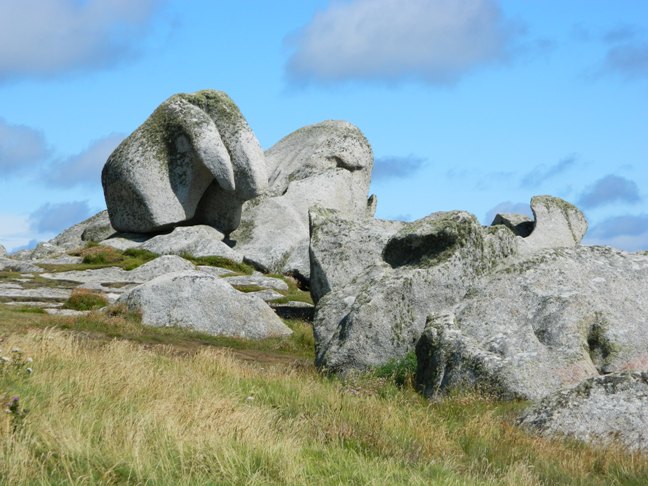 Everyone else lay down in the grass for a rest and a snooze and I walked around taking more pics.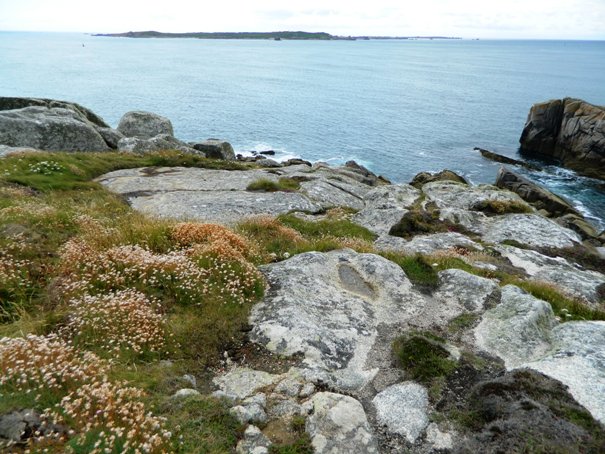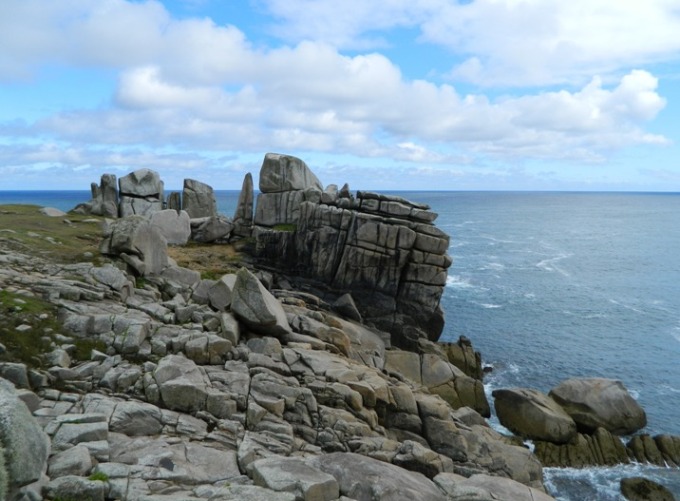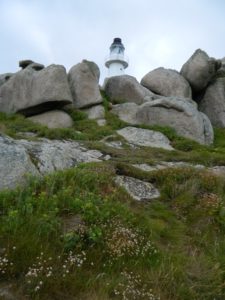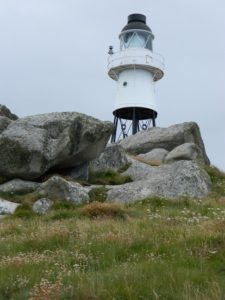 Then we all set off back to Hugh Town, via Old Town Bay.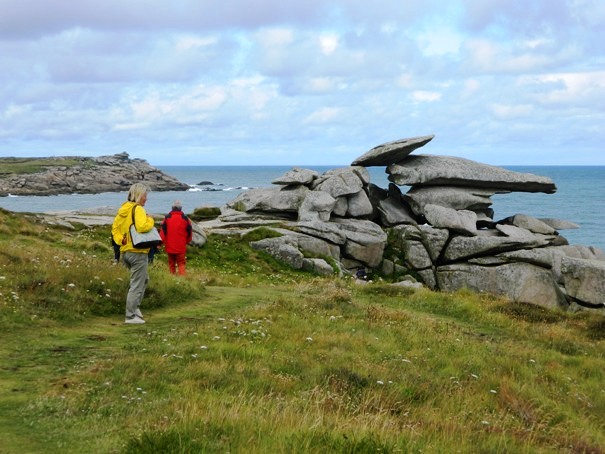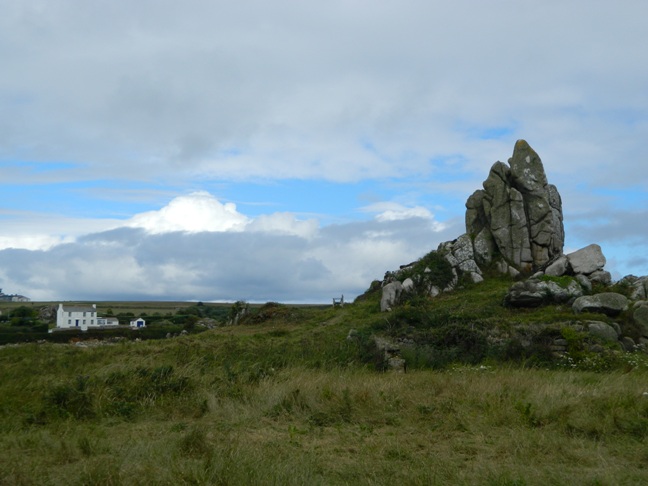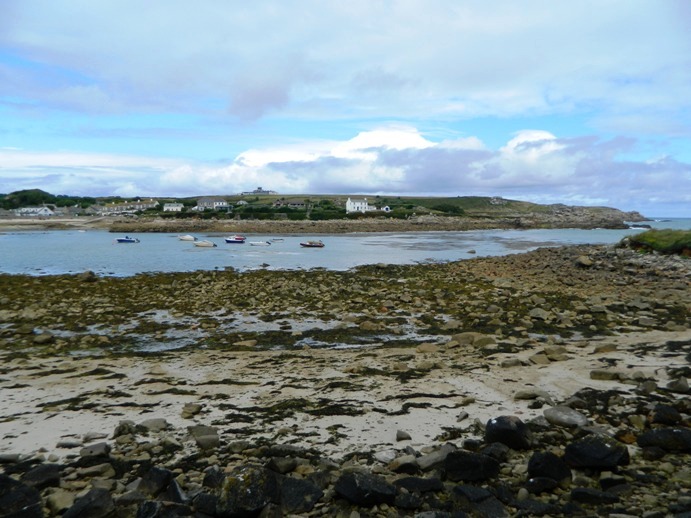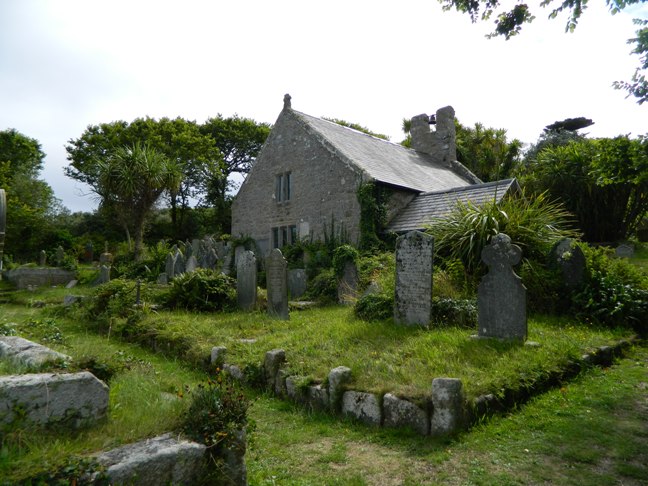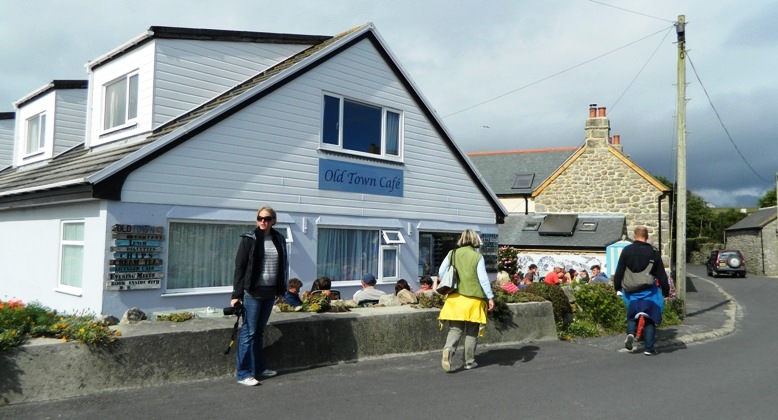 Back in town, we visited the Museum, which was excellent. You should definitely pay it a visit. For armchair travellers, you can visit it here: https://www.iosmuseum.org/
And what did we have for our last lunch together? Cornish pasties of course! I can't remember the name of the little cafe, but I'm sure every cafe in the Scilly Isles will have these on their menu. If the one you go into is full, there are plenty of others to choose from where you're bound to find a seat and something to suit your palette. That evening we had an excellent meal at St. Mary's Hall. https://www.stmaryshallhotel.co.uk/eat.html
Then it was the last day. The men left early to sail back to Falmouth. We girls had hoped to visit St. Martin's but we wouldn't have got back in time to catch the ferry. So instead, we did a bus tour around St. Mary's. The driver/guide was very good. He held our interest and also kept us amused with his anecdotes. It is worth doing:  https://www.visitislesofscilly.com/experience/things-to-do/island-rover-minibus-tours-p1474413
We had a delicious lunch at Juliet's Garden restaurant, which has a high up view of the harbour: https://www.julietsgardenrestaurant.co.uk/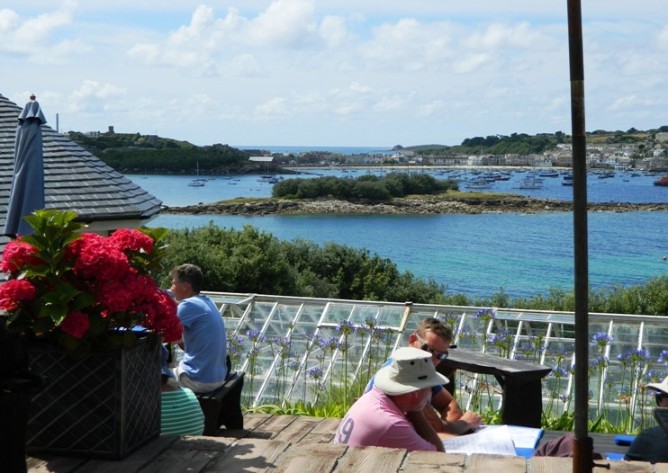 Back down at the pier, this was our last view of the pretty harbour.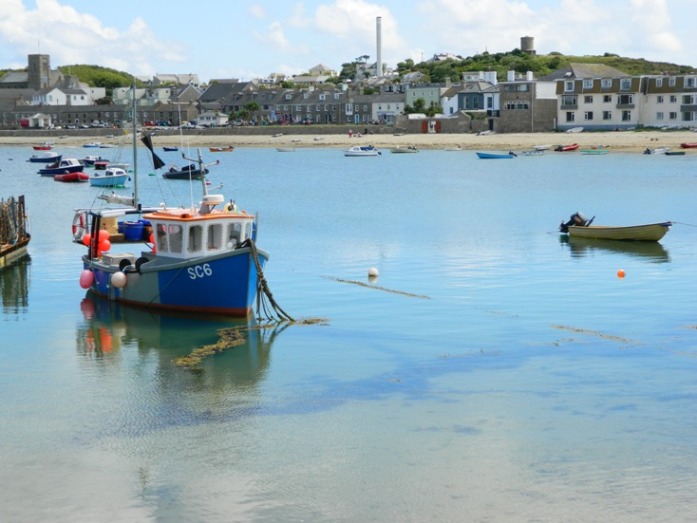 We boarded the ferry at 3pm to sail back to Penzance. And so ended our 'right royal treat'.