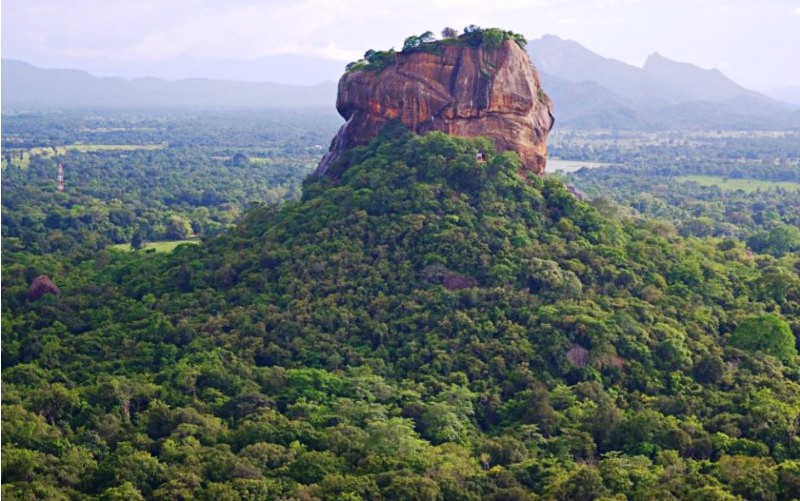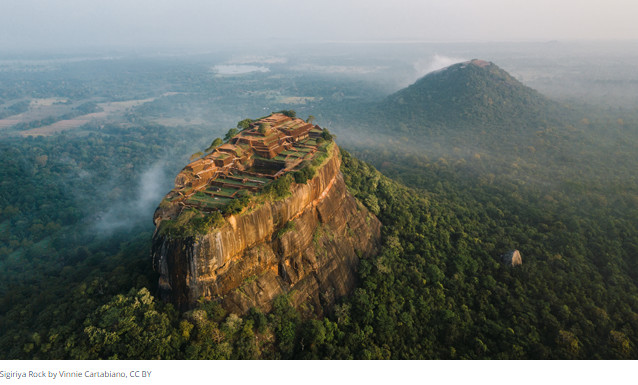 You should definitely visit and climb Sigiriya, Lion Rock, in Sri Lanka. It is a World Heritage Site. And one can see why. The above two photos are not mine. The top one was from this website: https://www.colemanconcierge.com/secrets-of-sigiriya-rock/ and the bottom one has the photographer's name underneath.
If you have a guide, which we did, it's obviously his job to tell you about it. Although his English was a lot better than many others, it was heavily accented, which made it hard to hear and understand what he was saying.  So I confess to tuning out, thinking that I would read about it online later – and save my energy for 'the climb'.
Today, the main points of interest of the Sigiriya rock itself are:
The Mirror Wall: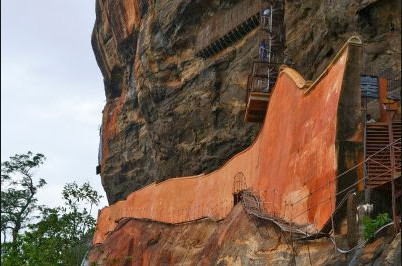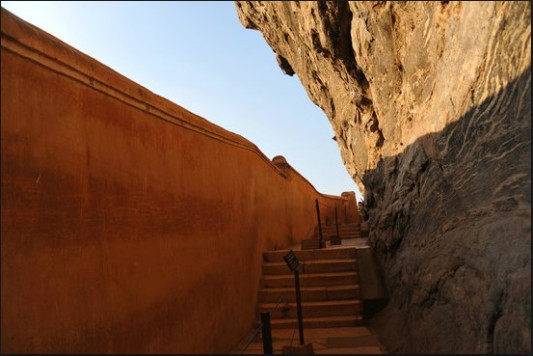 In ancient times, this wall was white, and so smooth and shiny that the king and his consorts could see their reflection in it. Today, it still very smooth, but it is a terracotta colour. These photos also aren't mine. You can read more about it and see more photos here: https://panique.com.au/sigiriya/sigiriya-mirror-wall.html 
The Frescoes: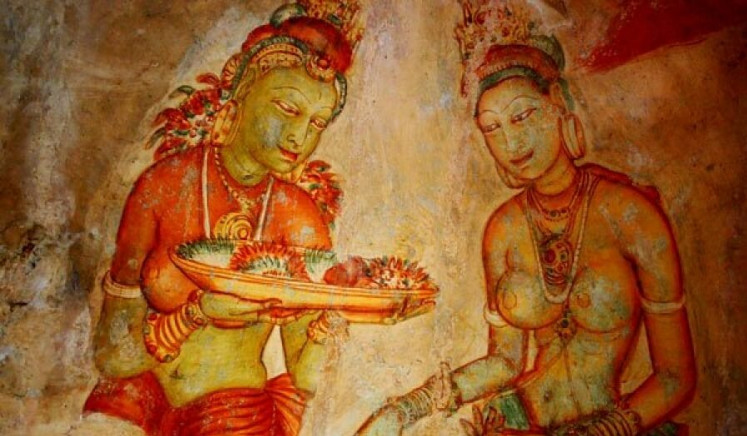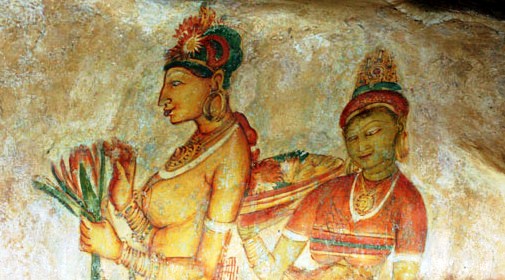 https://panique.com.au/sigiriya/sigiriya-frescoes.html  This site gives a good description of these and again, there is confusion about their meaning etc. but importantly, they are the only remaining frescoes at Sigiriya. Today they can only be viewed by climbing the spiral iron staircase and entering a screened off cave. We were not allowed to take photographs so these are not mine, but there are so many photos of these frescoes on the web that I don't think I will get into trouble for posting these!
The Lion's Paws: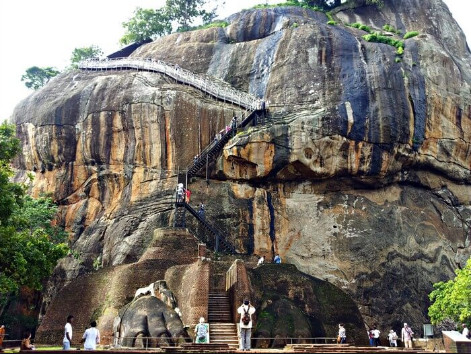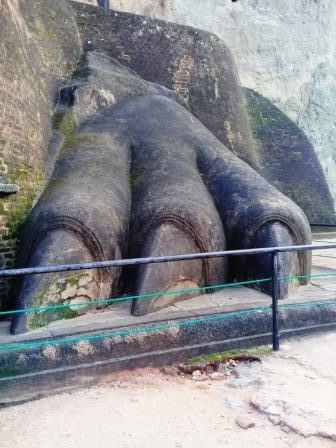 The top photo isn't mine either – it could've been though – stupidly, I just didn't take one! Again, there are so many on the web, that hopefully the person who took this one won't mind me using it!
As you can see , there is a stairway between the paws. They are all that remain of the carved lion that once graced the entrance to the palace. The head has been totally worn away over time. There is a large flat area in front of them, with magnificent views all around.
Many people take one look at the open metal stairs that you can see going up to the summit from there and decide that they will stay down below. But you should do it!
The Palace:
On the summit, you can wander around the ruins of what must once have been a magnificent palace in Kashyapa's era.  The views are even more spectacular than on the lower level.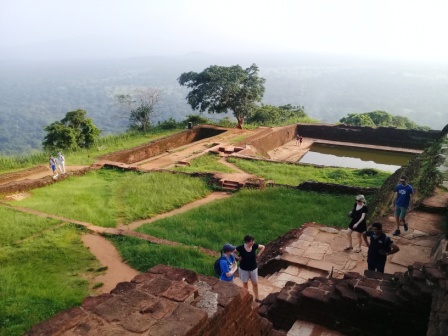 THE HISTORY of Sigiriya
I've written my own 'heaven/hell' potted history here and used Wikipedia as my main reference.
You may well want to read more on the web.  There are loads of different versions.
Our planet was a hellish place long ago; everywhere, molten lava was being spewed out of vents in the earth's crust and then hardening into columns of rock. The softer stuff around these wore away with time, resulting in impressive massifs rearing into the sky. A good example of these is the 200m high Sigiriya – although it wasn't yet named.

In the 3rd century BCE, Buddhist monks drew themselves closer to heaven in what they saw as a sacred site at Sigiriya. They established settlements in the western and northern slopes of the boulder-strewn hills surrounding this enormous rock.
477 CE, turned out to be a hellish year for a young man called Moggallana and his father, King Dhatusen, in the Kingdom of that time,. Moggallana was the rightful heir to the throne, but Kashyapa 1, the son of the King by a non-royal consort, walled up his still living father! and then seized the throne in a coup. Moggallana fled to South India.
The area of Sigiriya was seen as a safe haven/heaven by Kashyapa and he moved the capital and his residence there from Anuradhapura. During his reign (477 to 495 CE), he developed the rock and the area surrounding it into a complex city, both a fortress and a pleasure palace, with defensive structures and elaborate gardens.
However, it must have been hell on earth for the 100,000 men who laboured over many years to construct these edifices, not only down below, but at the top of a 200 metre high rock! This country is hot and humid all year round, so no doubt, much blood, sweat and tears was shed. Hundreds of elephants too were involved in the building of the King's dream palace and fortress.
But once complete, it must have felt like heaven on earth for the King and his consorts – for a brief spell….
But Kashyapa's time to rot in hell was coming! In 495 CE, Moggallana returned and declared war on his half-brother. During the battle Kashyapa's armies abandoned him and he committed suicide by falling on his own sword. Moggallana claimed his rightful ownership of the throne.
Heavenly peace returned. Moggallana returned the capital to Anuradhapura and according to Wikipedia, converted Sigiriya into a Buddhist monastery complex, which survived until the 13th or 14th century. After this period, no records are found on Sigiriya until the 16th and 17th centuries, when it was used briefly as an outpost of the Kingdom of Kandy.
Major Jonathan Forbes of the 78th Highlanders of the British army, must have felt he'd 'died and gone to heaven' with excitement when he came across the bush covered summit of Sigiriya while returning on horseback from a trip to Pollonnuruwa in 1831.
It seems amazing that archaeological work at Sigiriya only began on a small scale 60 years later in the 1890s. H.C.P. Bell was the first archaeologist to conduct extensive research on Sigiriya.
Serious archaeological work on the entire city only began almost 100 years later, in 1982,  after the Government of Sri Lanka launched The Cultural Triangle Project. Now, one gets an idea of what a magnificent place it must have been.
CLIMBING "THE ROCK"
Need to know:
Tourist: $30 Rs3700 (Dec 2018) Rs50 for locals.
If possible, get there as early as possible in the morning before it gets too hot and too busy. (We weren't able to do this. We began our climb at 3.45pm. It was very hot and didn't really cool off later either – and it was very busy.)
Go to the loo at the ticket office. There is nowhere on the rock!
It is over 1200 steps to the summit, so be prepared – but don't be daunted!
Take water – lots of water.
Wear a hat or cap.
Smother yourself in suntan lotion.
A cloth or something to mop your sweating face and body is recommended!
Wear sandals or shoes that don't come off easily – I saw quite a few flip-flops that people must've lost on the way up.
Take a camera but one that's not too bulky. I was happy with just my mobile phone.
Wear cool clothing. Shorts and sleeveless tops are acceptable as you don't go into any temples. Dresses or skirts are okay too, but you may find yourself doing a 'Marilyn Monroe' for the crowd on the summit, as the wind can blow quite hard up there!
You'll see lots of monkeys – and they're not afraid of people at all. Best to ignore them and keep anything they might want to steal out of sight and out of reach.
You are bound to see stray dogs, some of them high up on the rock. We were advised by locals not to even look at them, never mind pet them. Sad as this is, it's the safest option.
If you stay down below, someone – a local guide – will badger you and offer to 'help you get to the top' – and when you still don't make it, they will aggressively demand a fee for their services. This was my husband's experience.
To get to your vehicle after the climb, there is no way you can avoid being assaulted by people trying to sell their wares. They too need to try and make a living. If you have no intention of buying anything, it is best to not engage with them at all, not even to say "That's very nice, but no thank you".
There are ice lollies too though and our little girl was certainly happy about that!
OUR EXPERIENCE: 17 December 2018
Stairway to heaven/hell?
It is heavenly cool inside our air-conditioned vehicle, as we drive from our hotel to Sigiriya.
Then the hellish hot breath of a December afternoon hits us as we step out of the vehicle at the venue – even at 3 in the afternoon.
The Rock is an impressive site; a 200 meter high column soaring heavenwards out of the lush surrounding bush and by neatly laid out gardens.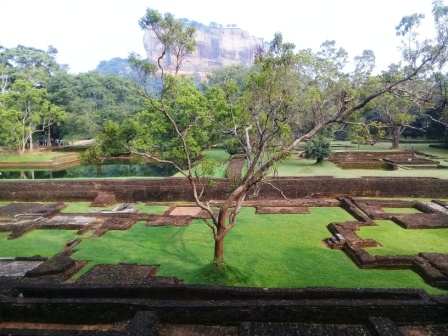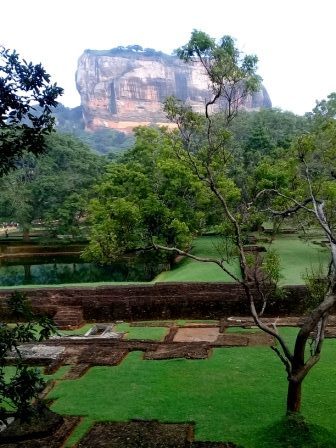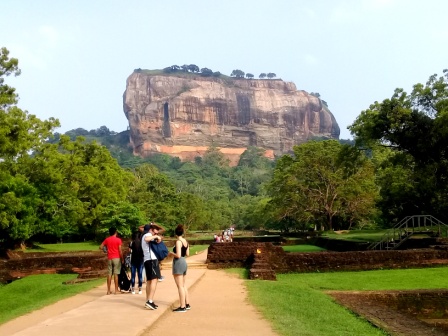 My husband decides that it would be hell to climb 1200 steps and opts to stay down below on the level where the tourist buses are.
Our little granddaughter, not quite 3, looking heavenwards, announces, "I want to go up – I'm not scared of steps."
Her grandmother, not yet 73, decides that even if it turns out to be hell in this heat, she will do it.
The first bit is easy; well-worn shallow steps and lots of places are in the shade. Our little girl is in heaven on her Daddy's shoulders.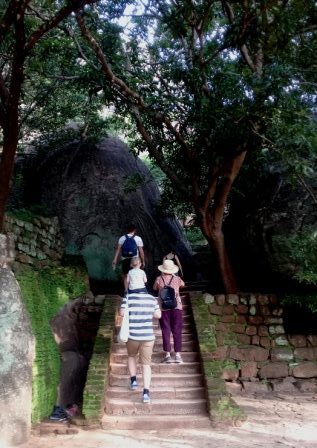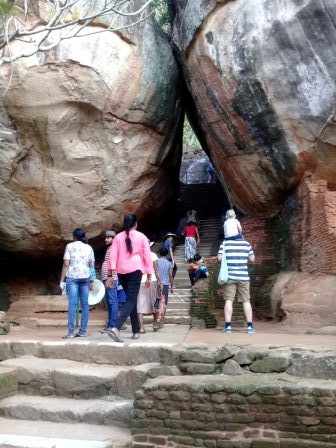 But it is a bit like a hellishly busy railway station with all the human traffic jostling to get to the top.
There's a heavenly sense of "I can do this" when you look out over the trees – and back down at the stairs you've come up – and you've arrived at the mirror wall. It's a relief not be able to see your reflection in it though  – sweaty and no doubt red in the face.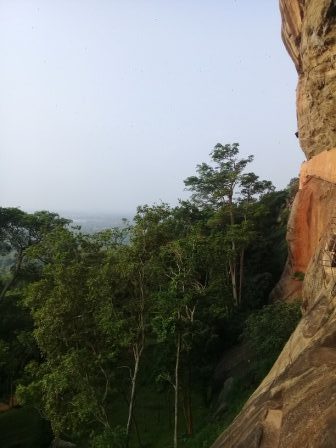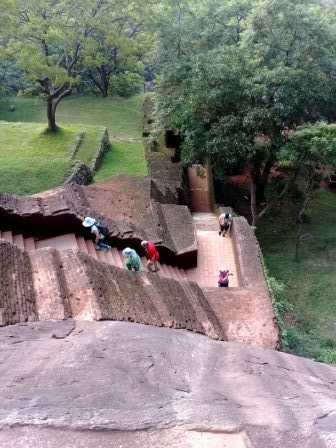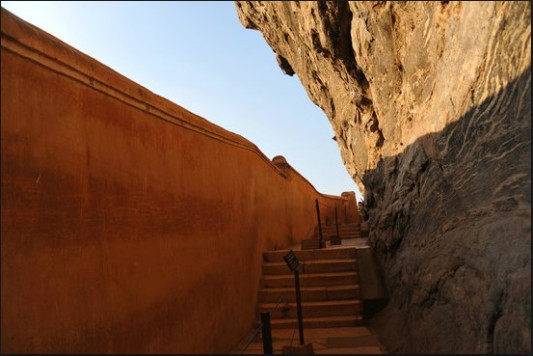 Then comes the hellish bit if you're afraid of heights: the metal cage enclosing the dizzying spiral staircase up to the frescoes. Luckily even our little girl didn't flinch.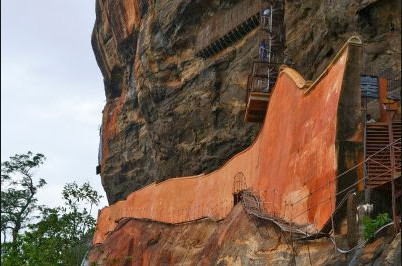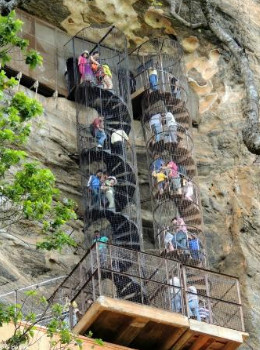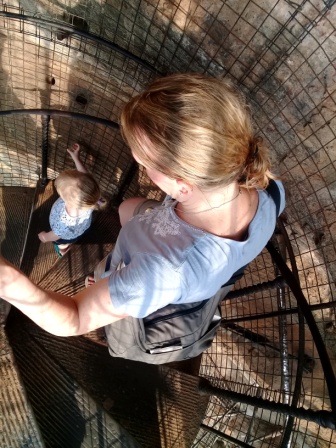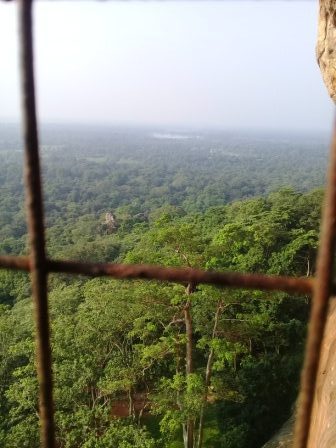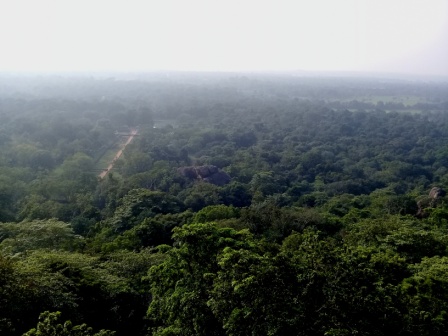 And then, a heavenly sense of achievement as we come out onto the level area which was once the entrance to the palace; steps going up between the massive paws of a lion, still intact. The face of the lion has long since worn away.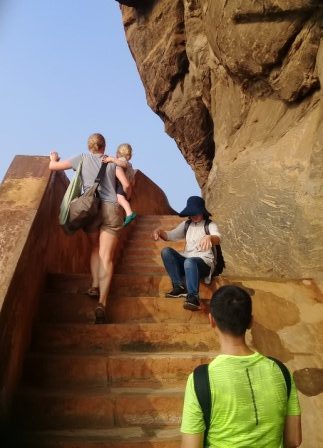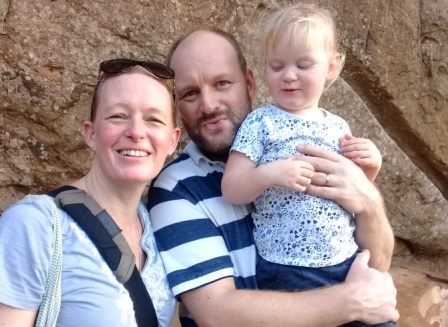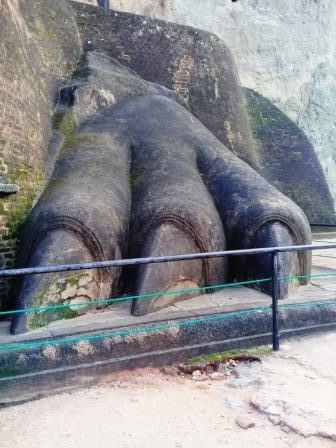 But wait, is there hell to pay soon, as the hoards of people up there are making a helluva noise and a sign warns of wasps attacking if you're not silent? Luckily none appear. Obviously, monkeys aren't scared of them either!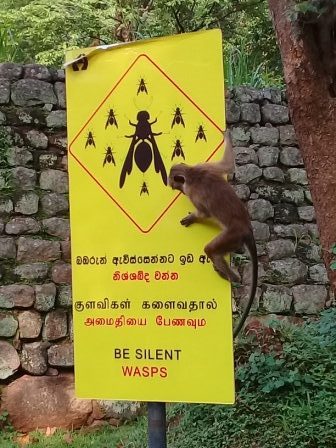 Our little girl and her Daddy decide to rest at the lion's feet. What a magnificent view and there are still wild elephants roaming around down there!.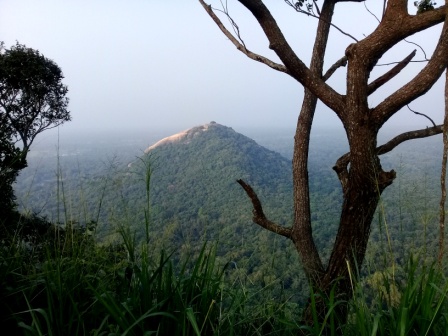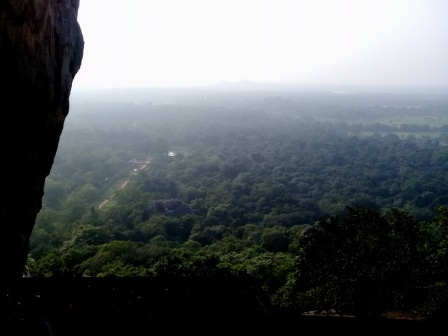 The last bit, the metal stairs to the very summit of Lion Rock, look hellish after our long hot climb – but they're a heavenly substitute for the original carved footholds that we see alongside!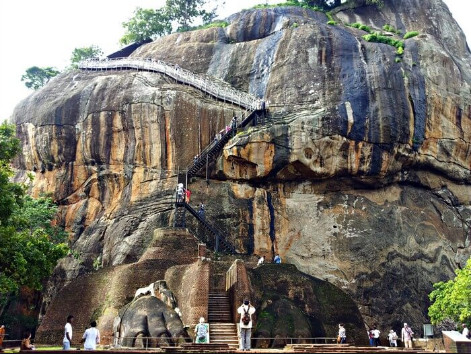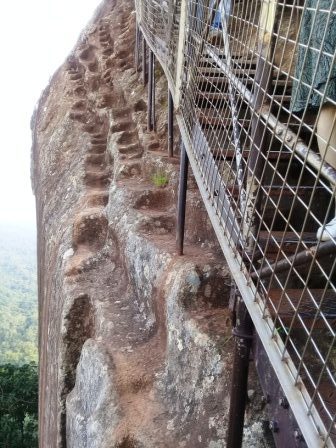 So, after about 45 minutes of climbing, my daughter and I reach the top. A heavenly sense of triumph washes over us. The views take our breath away. The mind boggles comprehending the enormous effort that had gone into constructing a palace up here – but what a place for a kingdom!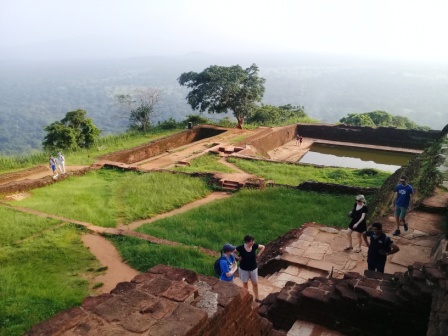 The descent: Calf muscles start to cramp – a warning that tomorrow they may be aching like  hell?
The above photo isn't mine either, but again it could have been! It gives you a great idea of how it feels coming down from the summit. But going down the rest of the way, is actually a heavenly respite; it's a different route and much easier and quicker. Near the bottom, there is Cobra Rock, that used to have paintings on the hood.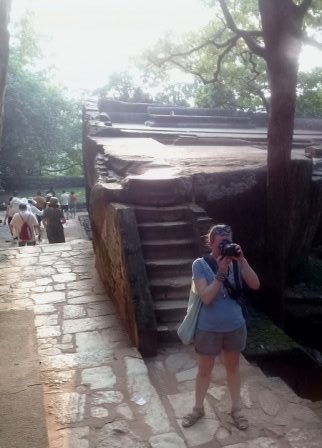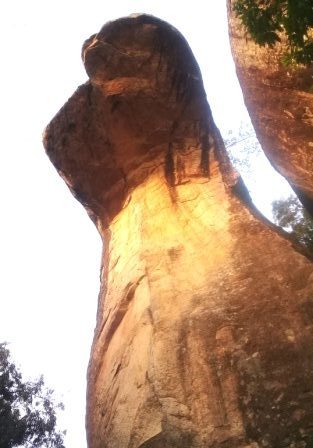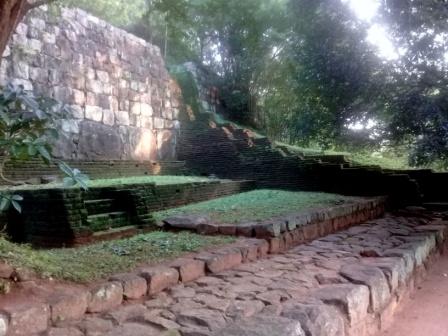 We are down in 20 minutes.
So even if you are only 2 3/4, or 72, you can do it, if you are determined enough and fairly fit!
You can read more about beautiful Sri Lanka and it's surprises here: https://footeloosefancyfree.com/1-sri-lanka-land…es-and-surprises/