In 2001, my husband started a 4 year contract with Air Mauritius, as a helicopter pilot. He then got a further 2 year contract. We enjoyed  6 happy expat years on this beautiful island. We lived down in the South Eastern corner, Blue Bay and Pointe D'Esny, which we loved  – more like the 'real' Mauritius than the more touristy Northern  and Western areas, in our opinion. But here is the official website for Mauritius https://www.mauritius.net/ You can take a look and make up your own mind.
Here are some photos of beautiful Blue Bay, where this fishy story is set. Story below the photos.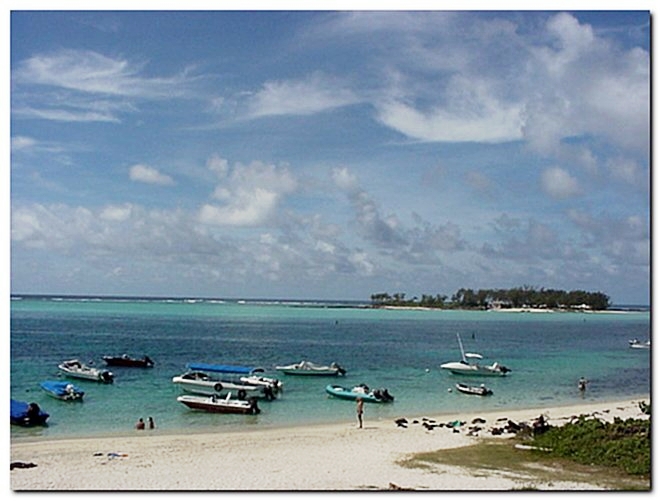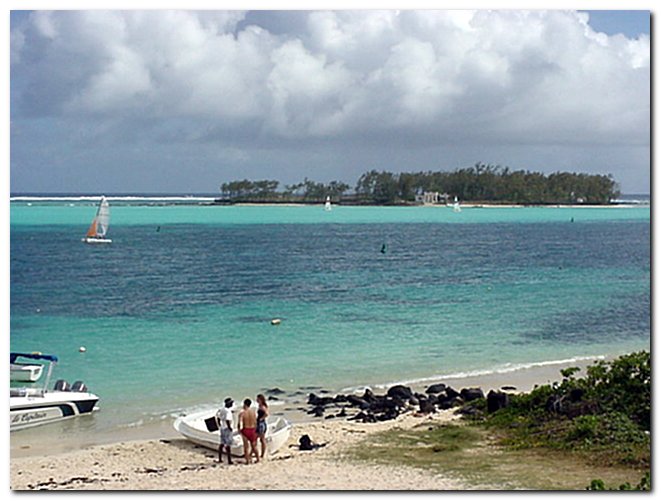 And our boat.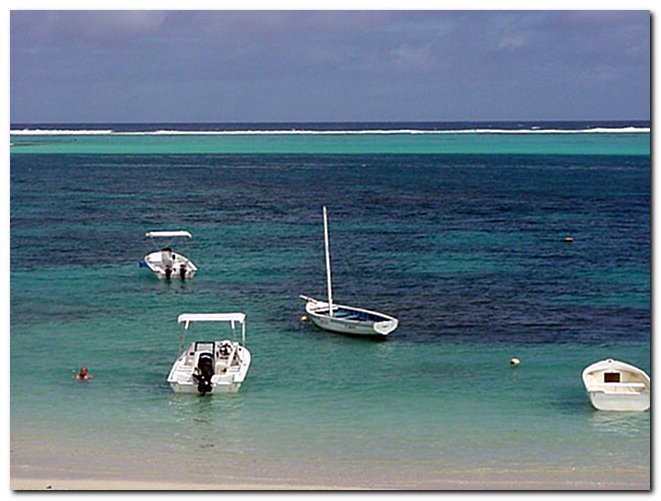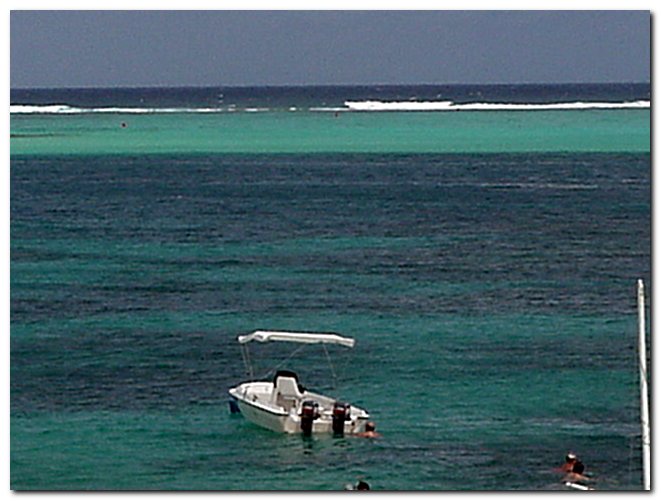 One fun thing to do was to go squid fishing in the evenings. What's not to like about catching and cooking your own calamari? You have to be prepared to get squirted with slimy black ink sometimes though – squid revenge. There is a knack to getting them into a bucket without them squirting – lower them in very gently and they then loosen their grip on the lure. But this doesn't always work…
A Fishy Story
Fri 24th May 2002 is red-ringed in everyone's diaries.  It's the first squid fishing competition in 2 years in  Blue Bay.  Excitement is mounting. Kong's, the expats favourite shop in Mahebourg, is buzzing. Stocks of beer, wine, OBies (Old Brown Sherry), cider, gin and tonics, are diminishing at an alarming rate. Snacks, and braai meat too – to mop up all that booze that is going to be sloshing around in stomachs. Some dedicated wives busy themselves making home-made eats to fortify their boat crews. Rods and lures are readied.
The Big Day arrives. We've invited our neighbours, Jean and Geoff Garret and their young son Geoffrey to join us on our boat, Footeloose. Dudley can only get back by 4.30pm so Geoff goes down early to get the boat ready. D attends the skippers' meeting at 5pm. Jean, Geoffrey and I arrive later with the drinks and food.
Then it's all stations go.  There are 10 boats participating. Everyone casts off. It's about 6pm, twilight, which is when the squid start to bite. Only two rods are allowed per boat. Geoff and I are fishing, D's driving and Jean is feeding us her delicious home-made sausage rolls to go along with our beers and G&T's. To add to the excitement, the Coast Guard guys are scooting around checking the legality of everyone's boats. Fortunately, nobody is chased back to the beach.
It is a beautiful evening. There's a spectacular sunset and afterwards an almost full moon shining on the water. It is very lovely to be out there. But it isn't peaceful. The boats are zig-zagging back and forth across the lagoon, intent on their mission. There are shouts of "Got one!", "Aarrghh!' as someone gets sprayed, followed by hoots of laughter.  Geoff catches a biggish one, which really let's Dudley have it – right in the face! I catch a smaller one. As boats pass close to each other there's yelling, "HOW MANY HAVE YOU CAUGHT?"  "A HUNDRED AND TWO – YOU?"  "TWO HUNDRED AND TWO!" Geoff catches 3 more.
By 8.30pm, everyone is back on the beach. The judging begins. The prizes are: most squid caught – which we win, much to our surprise; biggest squid – this was a 2 Kg one, which was caught in 'the gap', the channel between the lagoon and the sea; most decorated t-shirt (with squid ink); and the booby prize for the smallest squid.
Then we braai and party on the beach till late. We go home with a lovely hamper full of goodies; a t-shirt with Dodos on it, 2 bottles of wine, a box of Quality Street chocolates, 2 attractive candles and a Billabong key-ring.
Great fun is had by all – probably not such fun for many the next morning though!
We loved Mauritius with its mix of cultures and its many eccentricities. You can read about some of our funny experiences here: https://footeloosefancyfree.com/mauritian-funny-…r-laugh-out-loud/ ‎