Introduction
Well…weren't we all just so taken by surprise by the speed at which the Corona virus changed all our lives forever? We'd all been happily flying off in all directions around the world, revelling in our travels – and then, BOOM, LOCK-DOWN! I'm happy to say that I ended up being privileged enough to go on the most wonderful 'butterfly journey' here in our small town in south Africa.
Disappointments!
We were fortunate in that we had been able to fly to England to spend Christmas with our daughter and family. But we had made plans for a five week trip in March to visit our son and family in New Zealand and then my husband's sister and cousin in Australia. We were due to fly out on the 17th March and then on Sunday the 15th, Jacinda Arden announced that anyone coming into New Zealand would have to self-quarantine for 14 days. That wasn't going to work for us, so we cancelled our whole trip – what a disappointment. And this was of course happening to so many people world-wide.
The butterfly journey begins – a lift to the spirits…..
So…..here in South Africa, our lock-down started on Friday the 27th March 2020. We were not allowed out of our homes except to go and buy food. Suddenly, here, up on a hill in the beautiful little town of Port Alfred in the Eastern Cape, we became aware of all these butterflies in our garden – more than ever before surely? I got out there with my camera and began the fascinating journey of watching and photographing them. It was something to look forward to every day. Would I see a new one? What new behaviours would I observe? My butterfly journey was a zig-zagging circular one; back and forth, following a particular butterfly and hoping it would settle for a minute, and around and around the house and garden innumerable times! They are not at all easy to capture, but I do have zoom lens and I set the camera on a very fast setting and managed to get some fairly good photos.
On my journey, I got to know many different butterflies
I began to notice their different habits: some are more aggressive than others e.g. the brown-veined white ones, which were also the most numerous. Others like to 'pas de deux' with one another e.g. the Wet Season Gaudy Commodore with Painted Ladies and the Yellow Pansies;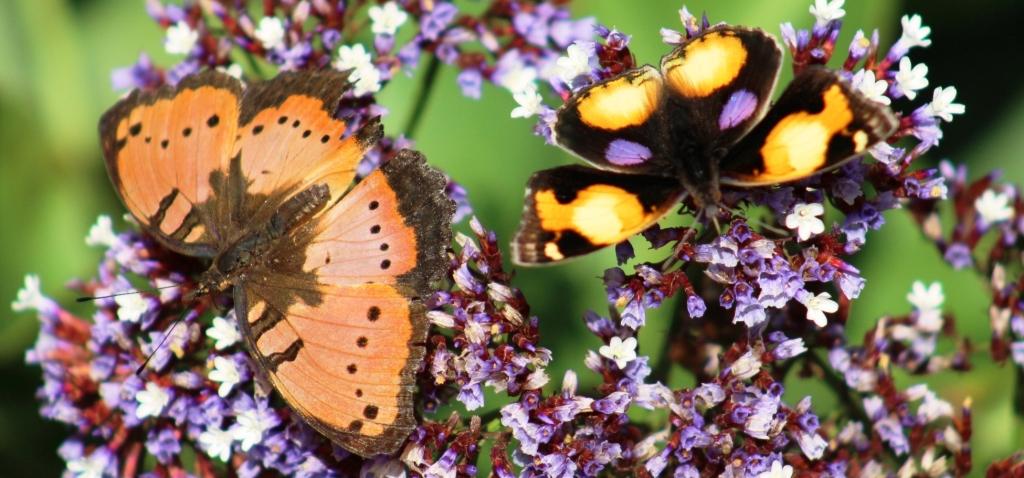 The majority showed a preference for an indigenous plant in our garden called Statice, which has clusters of mauve flowers. Here are my photos of some of the most beautiful butterflies.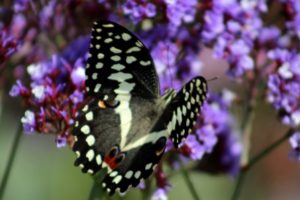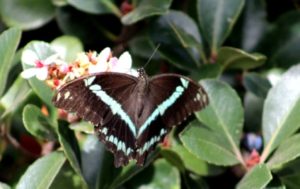 Here we have the Citrus Swallowtail (L) and the Broad-banded Blue Swallowtail (R)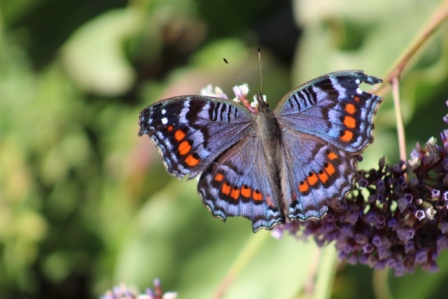 This exquisite one is called the Gaudy Commodore, which has other variants;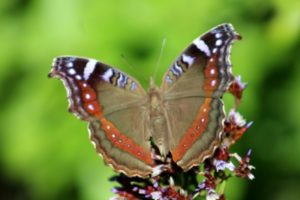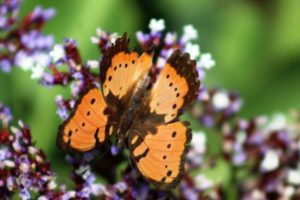 (L) Dry Season Gaudy Commodore                  (R) Wet Season Gaudy Commodore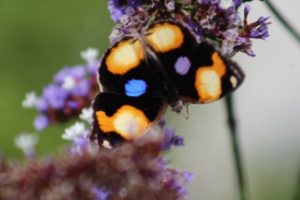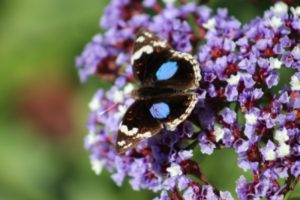 3 versions of the Pansy butterflies: Yellow (L)                         Dark Blue Pansy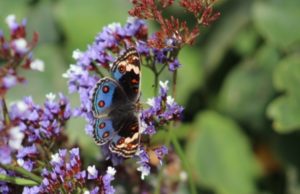 Ox-Eyed Pansy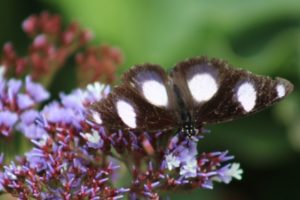 Common Diadem (no idea how that name came about!)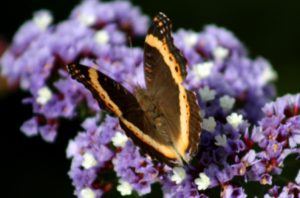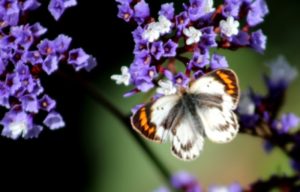 African Leaf Commodore                                 Common Orange Tip
Note: These are the names that I got through my references but their names often differ.
Butterflies spark an idea
While having lunch one day, only a few days into this journey, an image for a painting popped into my mind – or Someone put it there?! I could see it so clearly; the world in lock-down in black and white at the bottom and the sky above this teeming with beautiful, colourful butterflies.
The difficult part of this butterfly journey
Then came the difficult part, actually executing the painting. It took me weeks to finish it; I tried collage for buildings; in one version, there were cartoon viruses and crosses floating in the spaces; the positions and sizes of the buildings changed innumerable times. In the end I decided that it wasn't necessary to have any virus images in it at all. I put small unobtrusive crosses in each of the buildings to represent the deaths. I wanted to put in the South African flag somewhere, because, even though the whole world was in lock-down, this was the country in which the butterfly bonanza was happening.
Initially I had called it "In the year of Covid-19" but then decided I wanted to add to that. After much procrastination all round, my husband came up with "The power and the glory". Perfect! It has so many connotations and interpretations.
I feel this was a 'meant to be' painting. For me, it symbolizes hope and that we will all eventually be free again, like the butterflies.
See the end of this post for the price of prints of this work.
 Butterflies, birds and other wildlife……
While I was working on "The power and the glory", we started hearing about the skies clearing over cities and wild life appearing in the empty streets. A new idea started to germinate. Apart from all the butterflies we were seeing here at home, we also seemed to be seeing more birds than usual perching in our Norfolk pine tree – or was it just that we had more time to notice them? I decided that in this second painting, I wanted to include: Our built up world, forced into submission and instability; animals in the empty city streets; butterflies; and the prettiest birds we'd seen in our tree. Basically I was going to 'go wild' myself with what I packed into this narrative work!
When I'd drawn it up, I realized how incredibly demanding it was going to be to paint all the minute details. But I got drawn into these, almost obsessively; just the tiniest spot of bright red on the wing of a Dark Blue pansy butterfly, the exquisite blending of blues and greens in a Knysna turaco's feathers, the very specific curve of a civet cat's 'smile'. What amazing creatures inhabit our earth!
Damaged but still flying
I decided to include quite a few damaged butterflies. I'd photographed so many of these all happily flying around. They seemed like a good metaphor for all of us. Every single one of us has been damaged by Covid-19 in some way. Sadly many people have died, but most of us are surviving and persevering, if not always as happily as the butterflies! My absorption in this painting was a wonderful distraction from Covid-19.
The title came toward the end, when I'd almost finished the painting: Animals, birds and butterflies started a 'rewilding' of our cities for a brief time when most of the world was in lock-down. I like to hope that this virus has shown us that if we ease up on the polluting of our planet, she can heal and wildlife can be given a chance to thrive. I called it "Our world went wild in the year of Covid-19".
Most of the birds and all of the butterfly references are from my own photos. All the animals in my painting were genuine sightings (to the best of my knowledge): Turtle in Santiago California, pelican in London, hare in Germany, African penguin in South Africa, wild boar in Israel and India, peacock in India, civet cat in India, goat in Wales, spotted deer in India, puma in Chile. I worked from various reference photos for these, including the ones from the news stories.
See the end of this post for the price of prints for this work.
The butterfly journey continues
I felt pretty sure that these paintings would strike a chord with a lot of people out there and that this would be pretty universal too. Who doesn't love a butterfly and who doesn't want some feelings of hope? So I decided to do limited editions of prints of both of them.
Also, so many people have suffered during this pandemic, including the people in our local informal settlements.  I have been involved with our Port Alfred Soup Kitchen for a number of years (but more of a backseat now. So I decided to donate a percentage of the proceeds from the prints to this very well run NGO.
Info re the works, the editions, the prices and shipping costs
The originals are A3 in size and are mixed media works: water-colour and pen.
The prints are also A3 in size and are printed on good card.
Each print is hand-signed with the edition number on the left, the title in the middle and my signature on the right.
I can ship to anywhere in the world.
Note: Shipping 4 prints together is the same price as shipping only 1, so if anyone you know would also like to buy a print, it would reduce the overall cost.
"The power and the glory" in the year of Covid-19:
A limited edition of 366 prints (the number of days in the leap year of 2020) is available.
They are R250 each in South Africa, and shipping is R100 to anywhere in South Africa.
"Our world went wild in the year of Covid-19":
A limited edition of 100 prints is available.
They are R325 each in South Africa, and shipping is R100 to anywhere in South Africa.
(The prices and shipping in other countries are different. Make an inquiry.)
If you would like to order a print, or have questions, contact me by email: djfeet@gmail.com