We recently had the pleasure of staying at Kariega Game Reserve's Ukhozi Lodge with friends, for two days and two nights – the 8th and 9th of October, 2020. The reserve is situated in the Eastern Cape, a short way inland off the R72, about a 20 minute drive from Kenton-on-Sea and 40 minutes from Port Alfred. They have a special going for South African residents until the middle of December. Here is their website: https://www.kariega.co.za/ On it, you will find everything you need to know about rates etc. We liked the simplicity of the all-inclusive price.
Kariega Game Reserve has a very interesting history. It is a family-owned property and was the vision of Colin Rushmore, who began buying up farms to create this wildlife haven. This is an ongoing venture, so Kariega will keep growing for the foreseeable future. You can read all about this on the website.
What you get for your 2 day package:
Day 1:
12.00 Coffee and or drinks on arrival
14.00 Lunch – not just a sandwich! Drinks prior to that.
15.30 – 18.30 Game drive, with snacks and drinks
19.30 Dinner (3 courses) and whatever drinks you'd like before and after
Day 2:
05.45 Coffee and muffins
06.00 – 09.00 Game drive, and snacks and drinks
09.30 Breakfast
14.00 Lunch – not just a sandwich! Drinks prior to that.
15.30 – 18.30 Game drive, with snacks and drinks
19.30 Dinner (3 courses) and whatever drinks you'd like before and after.
Day 3:
05.45 Coffee and muffins
06.00 – 09.00 Game drive, and snacks and drinks
09.30 Breakfast
The food was outstanding and everything beautifully presented. What a talented chef Eliman Topoya is!
You get your money's worth, that's for sure!
Ukhozi Lodge – Deluxe!
Rosie Rickards is the Manager. She did us proud. She was always around, making sure that we had everything we needed and that we were happy with everything.
There are 10 luxury suites that accommodate 2 people each, so that means 20 is the maximum number of people that can stay there at any one time. The deluxe suites are very tastefully decorated and have every comfort imaginable, including plush towelling gowns, a coffee machine and even your own little swimming pool! It wasn't warm enough for us though.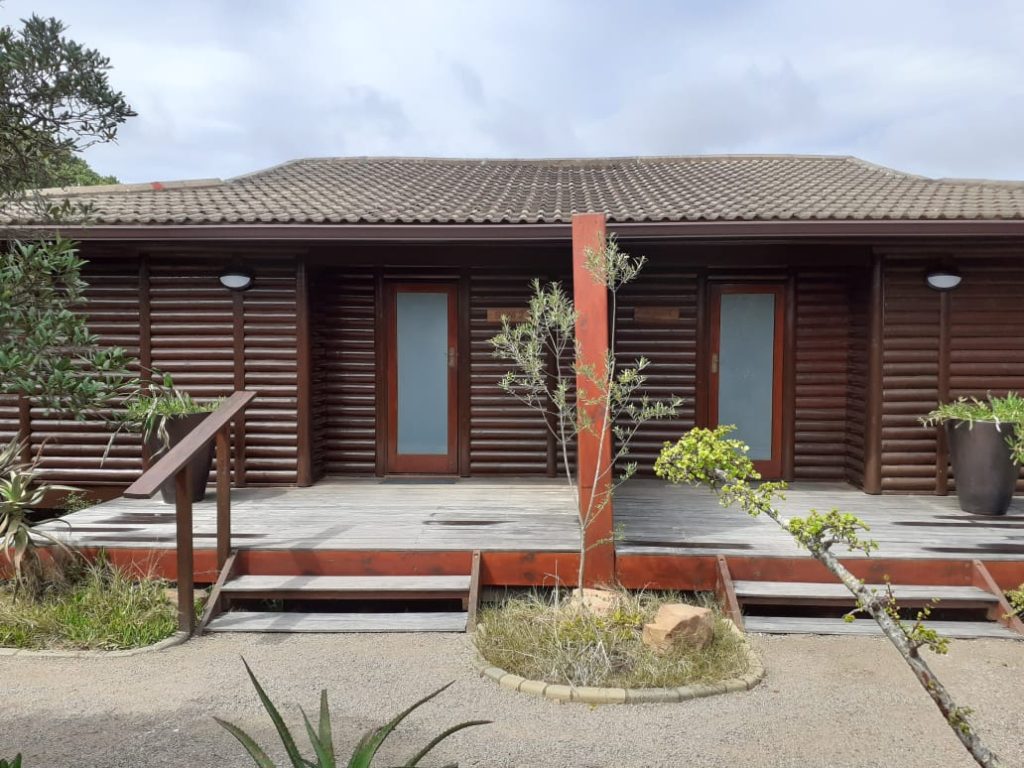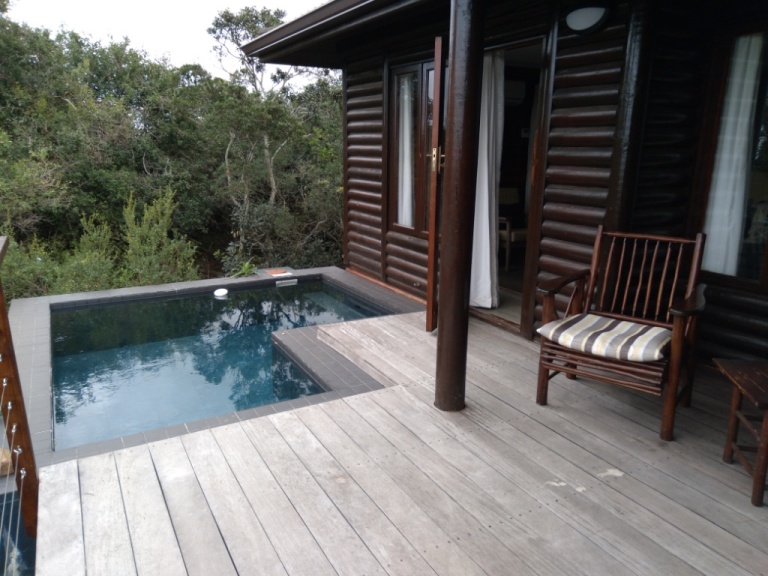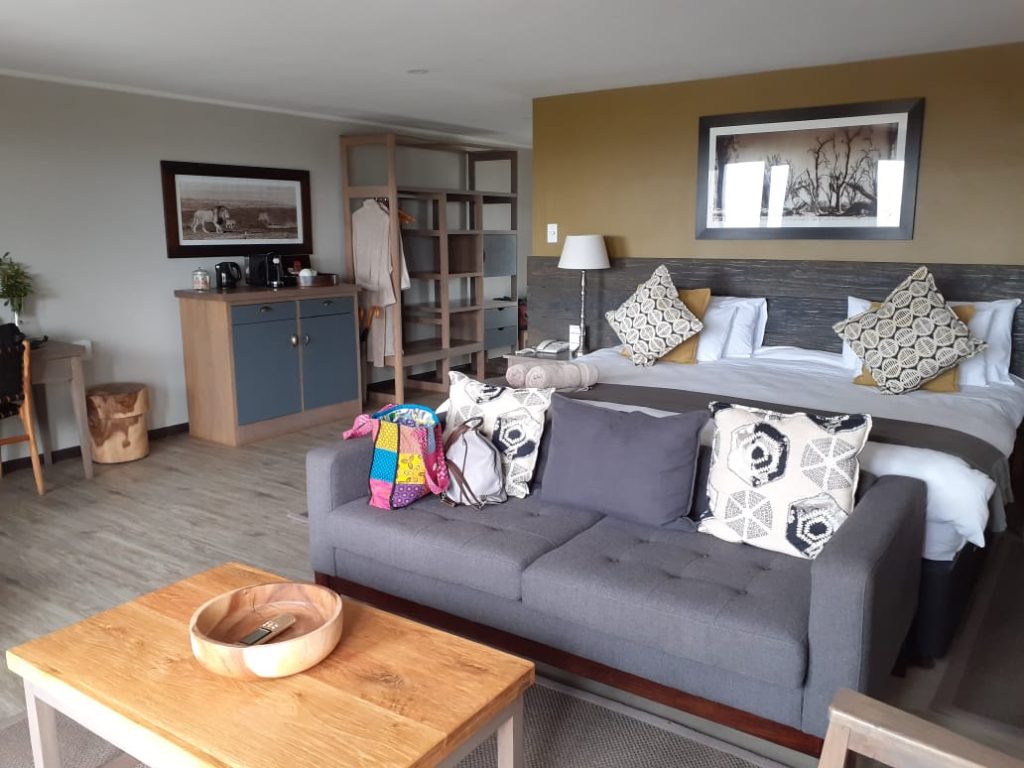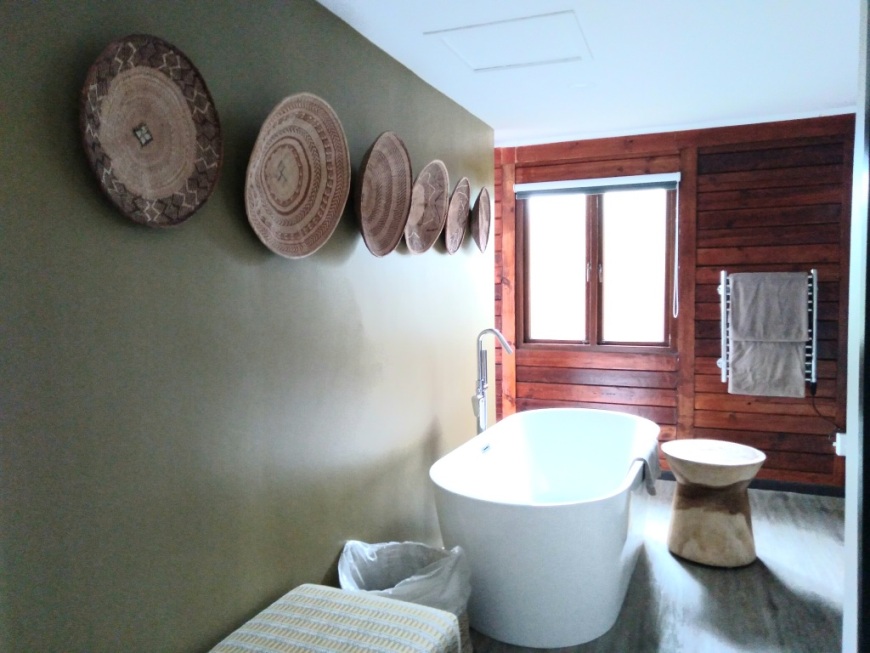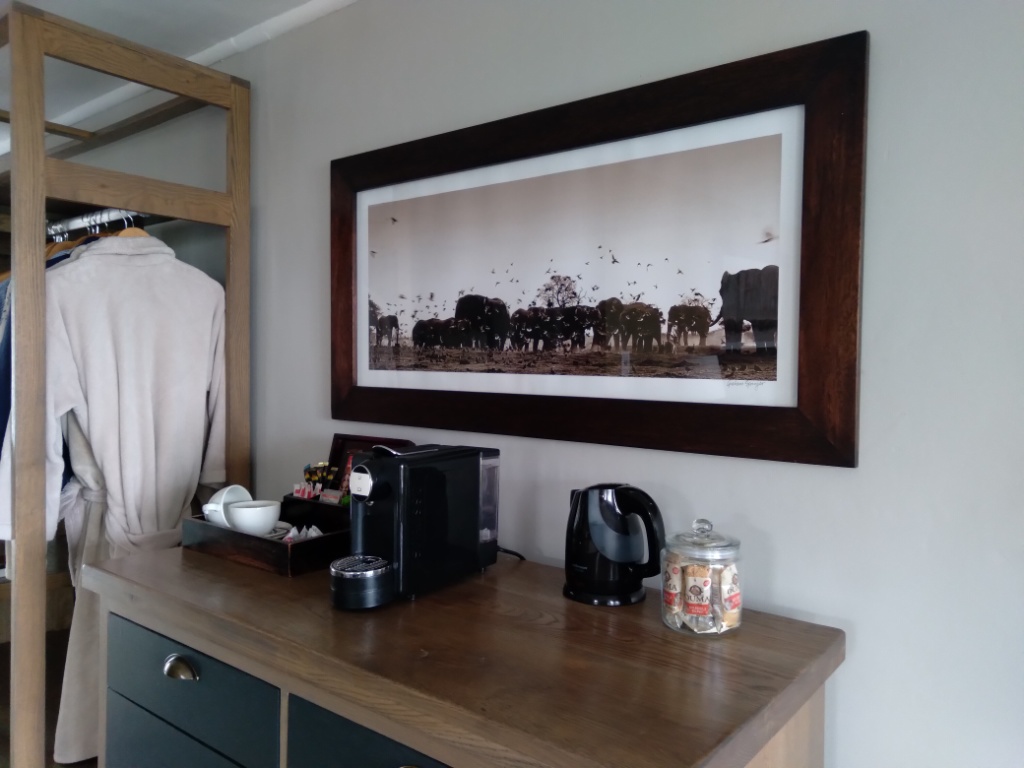 The main lodge is U-shaped and open plan with a bar area, a very large lounge, a TV room and a dining area, where all the meals are served. There are a number of fireplaces and even though it wasn't mid-winter for us, these were still very welcome, as it was chilly. We were the only ones staying there on the first night. The next day it was nearly full, but it never felt crowded.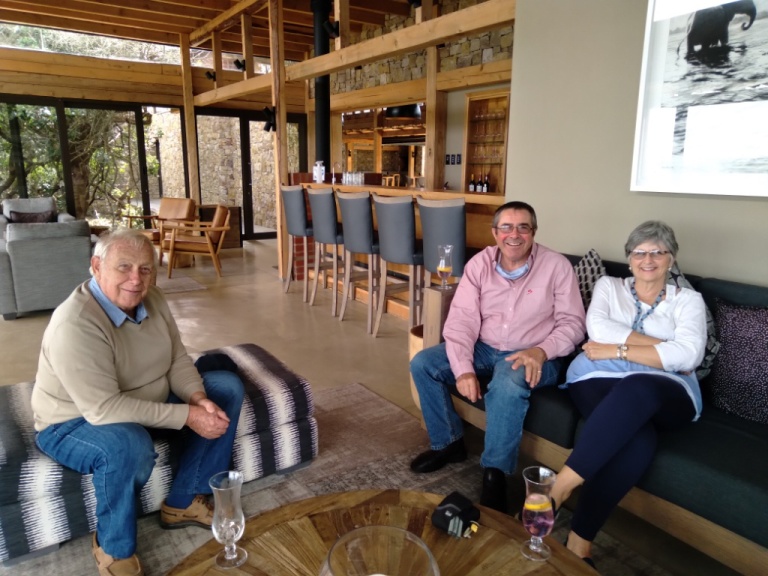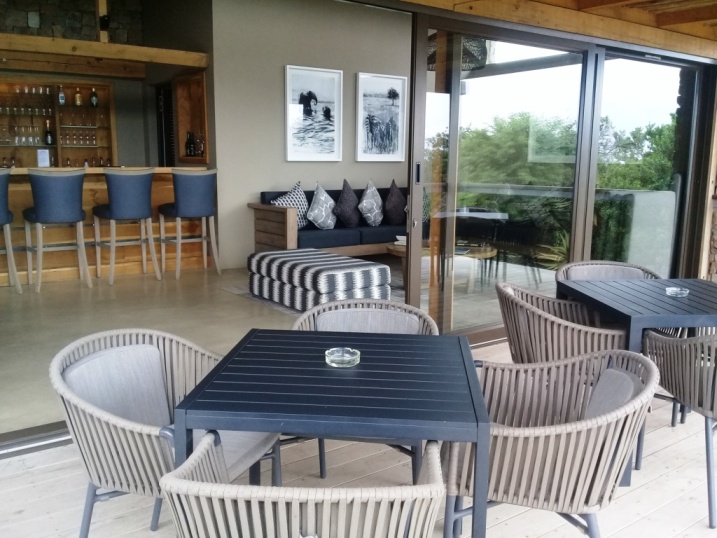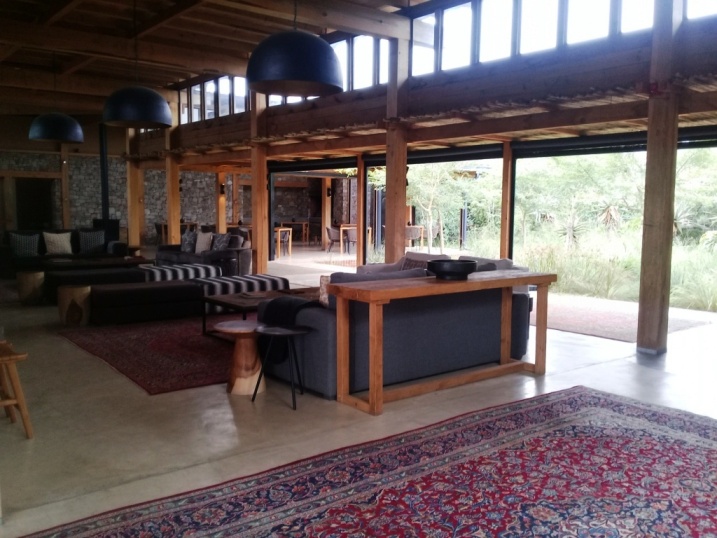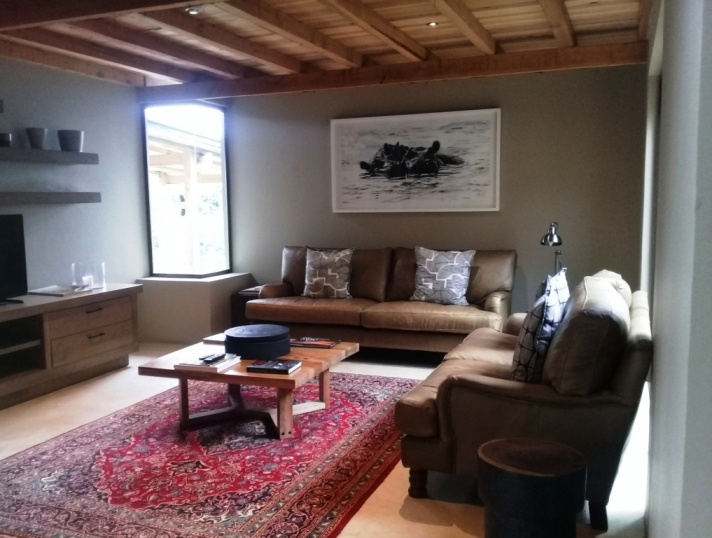 The architecture and building materials used are striking. We loved that all the vegetation around the lodge is indigenous too – no manicured lawns, flowers etc.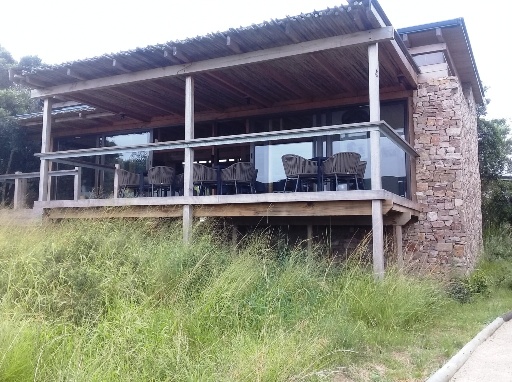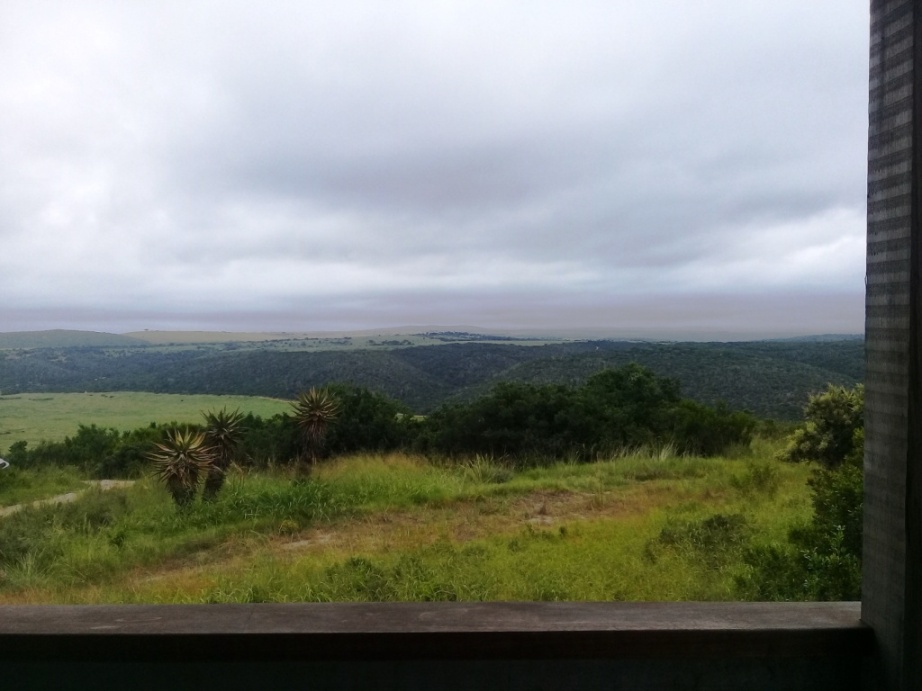 There is also a delightful infinity swimming pool with loungers, where you can lie back after a swim and gaze out at the game on the plains below.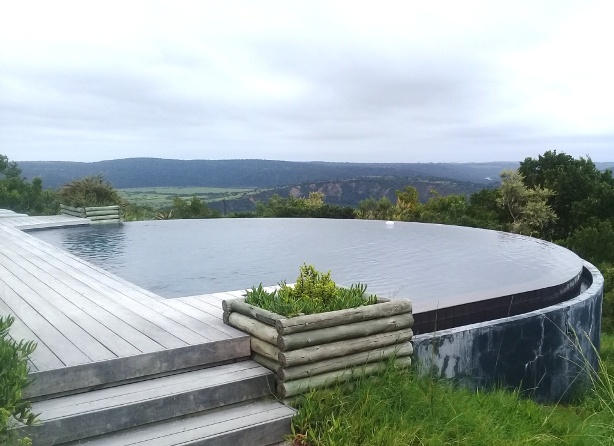 Game drives
Of course, the game drives are what it is all about. Melissa Louw was our guide and she was excellent.
We were entitled to 4 game drives; 2 morning and 2 evening ones. But on our last morning, it was raining quite heavily off and on. Melissa was very willing to take us regardless, even shifting the time to after breakfast instead of before, if we'd wanted that – that's how accommodating they are at Kariega Game Reserve. But we felt we'd been so fortunate with what we'd seen, that we decided to give it a miss.
Kariega Game Reserve is a 'Big Five' reserve. We were so fortunate, seeing 4 of these; lion, elephants, white rhinos and buffalo. This seems even more remarkable given that it is a 10,000 hectare reserve. But do remember too that it is not just about the 'Big Five'!
The reserve is crisscrossed with so many roads for game-viewing that it is just as well that self-driving is not permitted – it is highly likely that one would get hopelessly lost! Also, these are not tarred roads and although in good condition, 4X4-ing is required in many places. We were so impressed with our diminutive guide's driving skills of the quite unwieldy game-viewing vehicle. Our comfort was paramount; blankets in case we got cold (which we did), ponchos in case we got rained on (which we did – but just a little bit), drinks and snacks in case we were thirsty and hungry (which we weren't, having had so much to eat and drink at the lodge, but which we enjoyed anyway).
1st afternoon game drive: 15.30 – 19.00
Melissa and her assistant, Monde, met us in the lounge at 15.15 for a brief briefing; no standing up while the vehicle is moving, no sticking out of arms or legs. She would warn us of low hanging branches by raising her hand. If we came across elephants, rhinos, buffalos or lions, we could alight from the vehicle and go and stroke them……NO!
We were 4. There are 3 rows of seats behind the driver and passenger seat, each with 3 seats. We were very lucky to have the whole vehicle to ourselves. Our friends, the Fishers, chose the middle row and the Feete decided to sit in the highest seats right at the back. The best view maybe, but they also turned out to be the bumpiest!
Off we went. Melissa said that she wanted to take us to the western section of the reserve, where she hoped to find us lions and elephants.
The scenery of Kariega Game Reserve is spectacular and so different; it consists of a lot of quite dense Albany thicket interspersed with large open grassy plains. There are some rivers too and small dams. The game-viewing vehicle is not enclosed and so even if when you aren't seeing game, it is just wonderful driving through the spectacular landscape with the wind blowing in your face.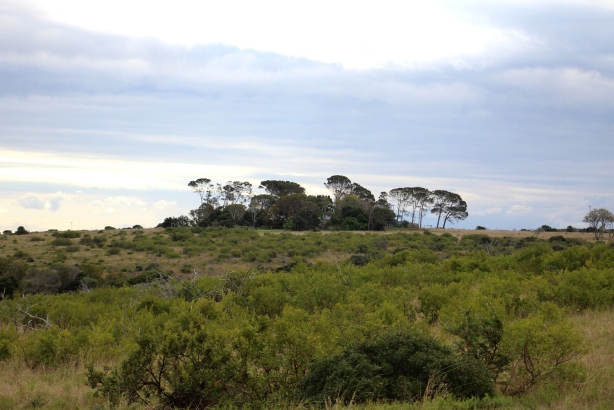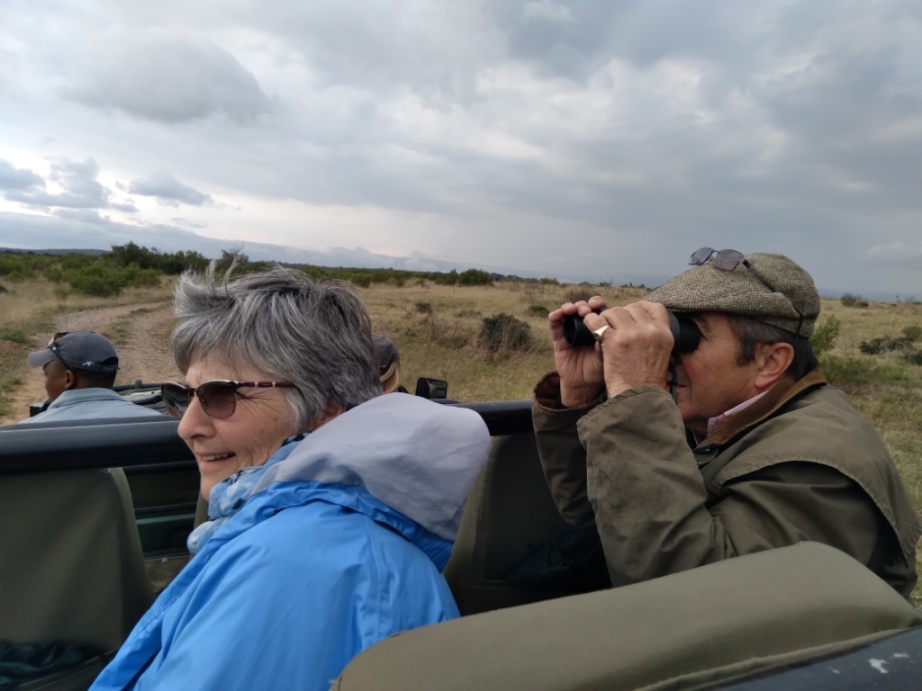 You won't go far before you see giraffes in the reserve and what a treat it is to see them every time! That was our first sighting.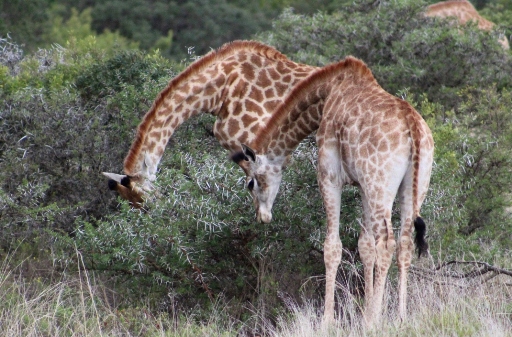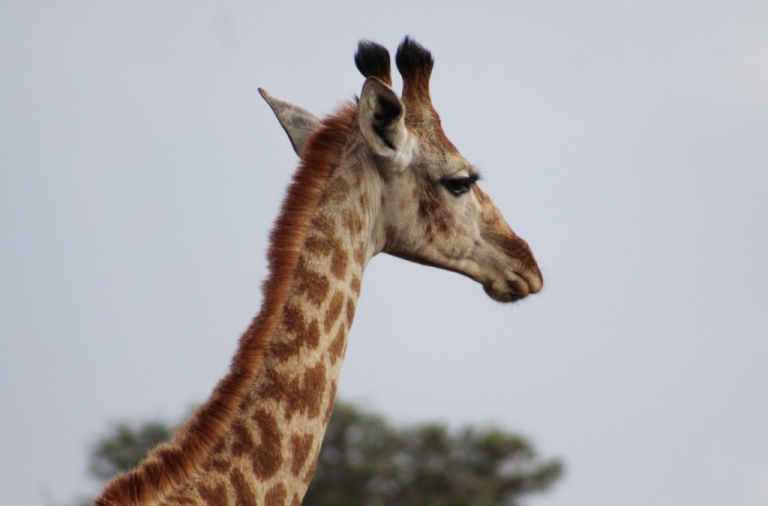 Big Five – 1st tick:
LIONS! Kariega Game Reserve only has one pride of lions consisting of two male lions, a father and son, and three lionesses, one of which had 4 cubs in June. Two males and the lioness with her cubs were lying dozing in the late afternoon sun – what excitement! It is not known who fathered the cubs. The female will probably have mated with both, because, if the males suspect that the cubs are not theirs, they will kill them. We parked pretty close to them and they seemed totally unfazed by our presence.

A little narrative played out for us: Scene 1: Happy snoozing family comprised of one lioness, her 4 cubs and 2 male lions (father and son). Scene 2: Cubs wake up and wake Mom. She doesn't get cross. Grooms one of them affectionately. Scene 3: One cub is feeling mischievous. Goes across to see if Dad will react if he plays with his tail – he does, but very half-heartedly – lazy growls. Scene 4: Mom seems to need some 'me time'. She gets up and ambles off. Cubs say "No way Mom!" and follow her. She lies down with a sigh and 4 happy cubs nuzzle in at the milkshake bar. Scene 5: We can almost see the thought bubble: "Oh blow this – let's take the little blighters for a walk!" And off they go. The males lazily raise their heads, then lie back. Thought bubble: "Peace….."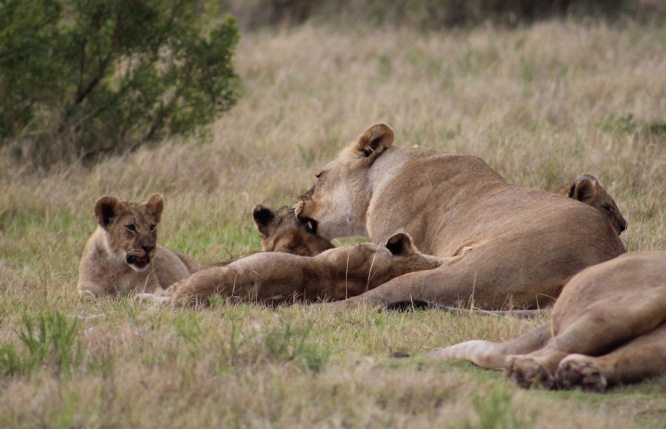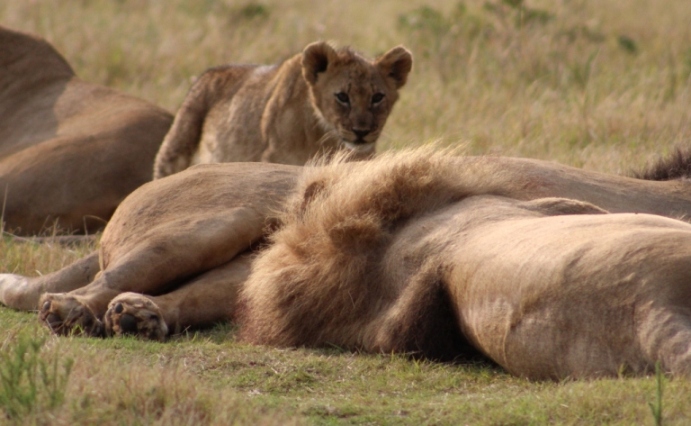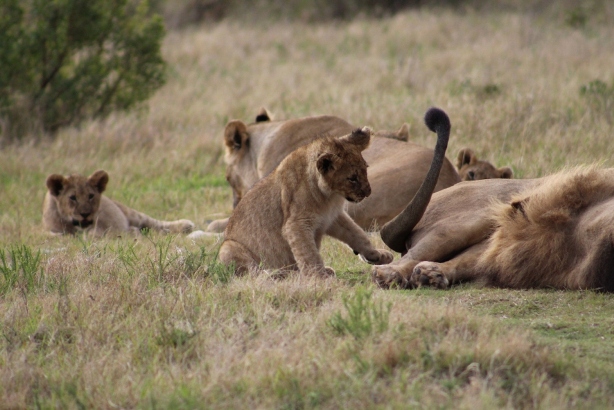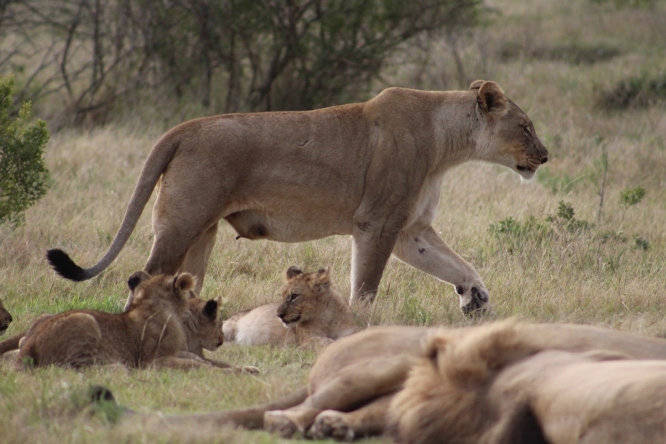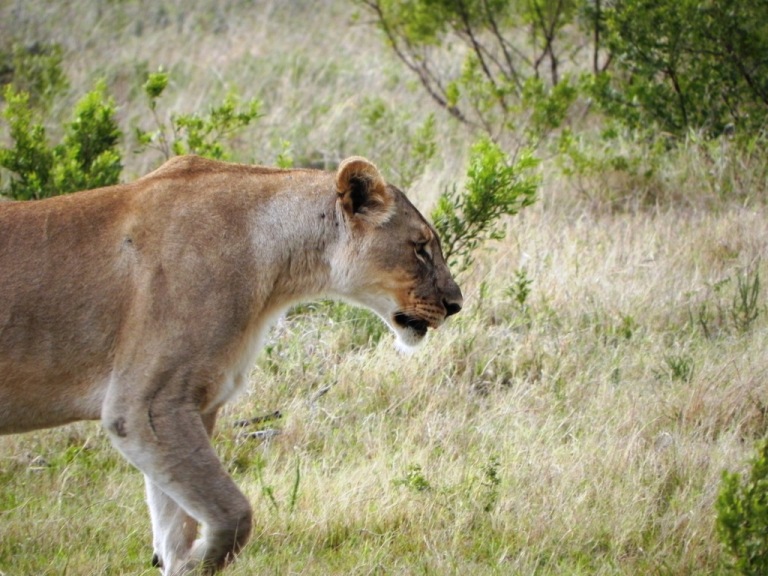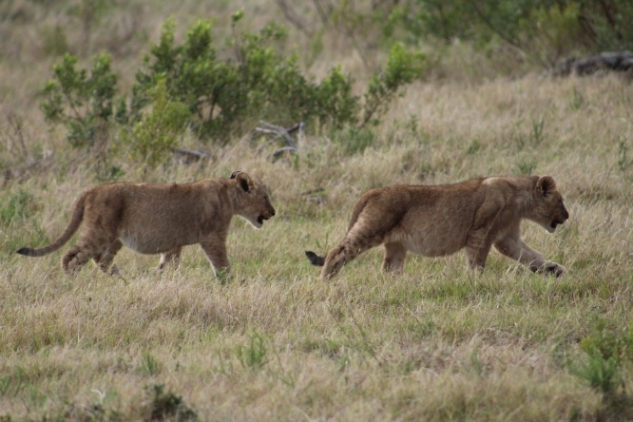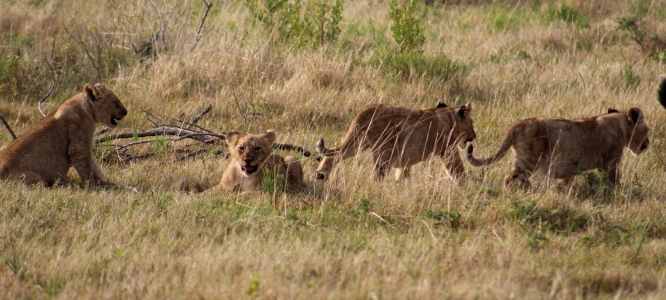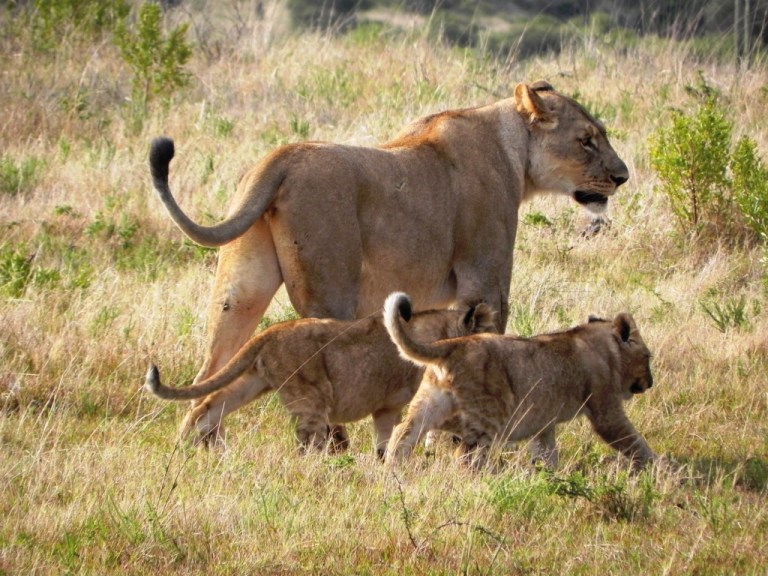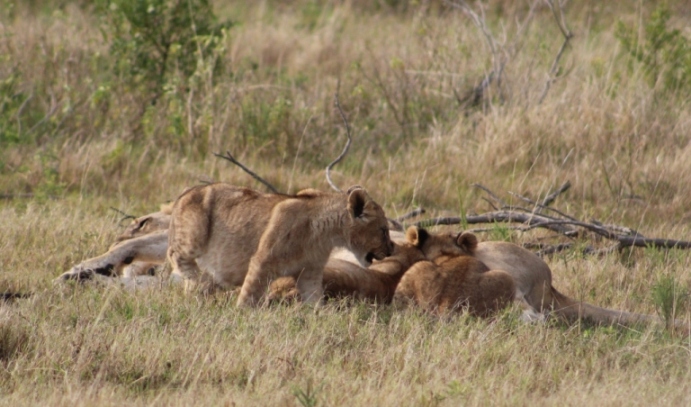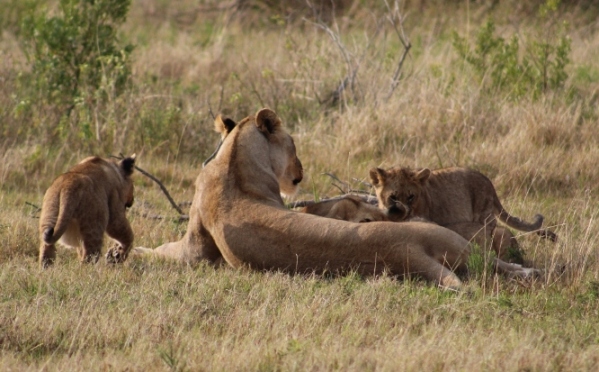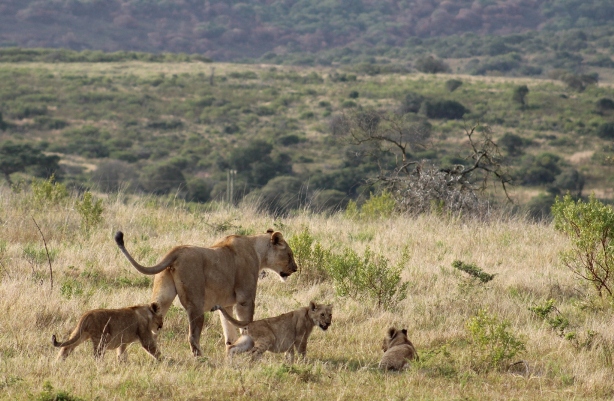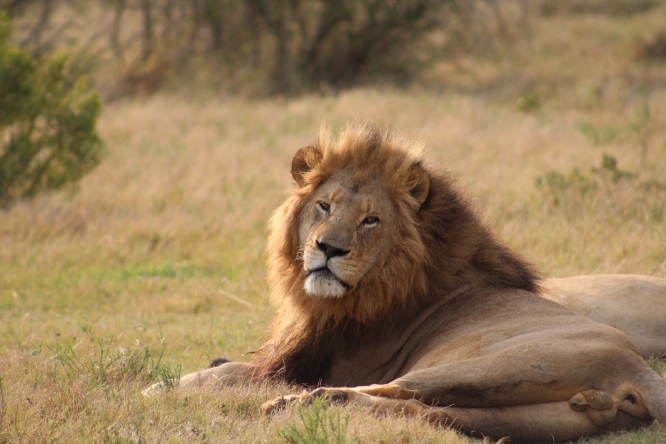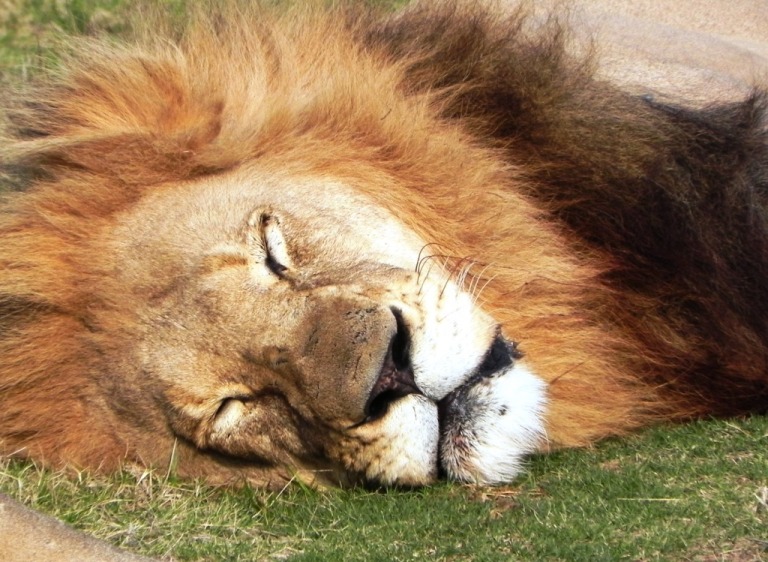 It was good to get out and stretch our legs and have drinks and snacks, after all this excitement,.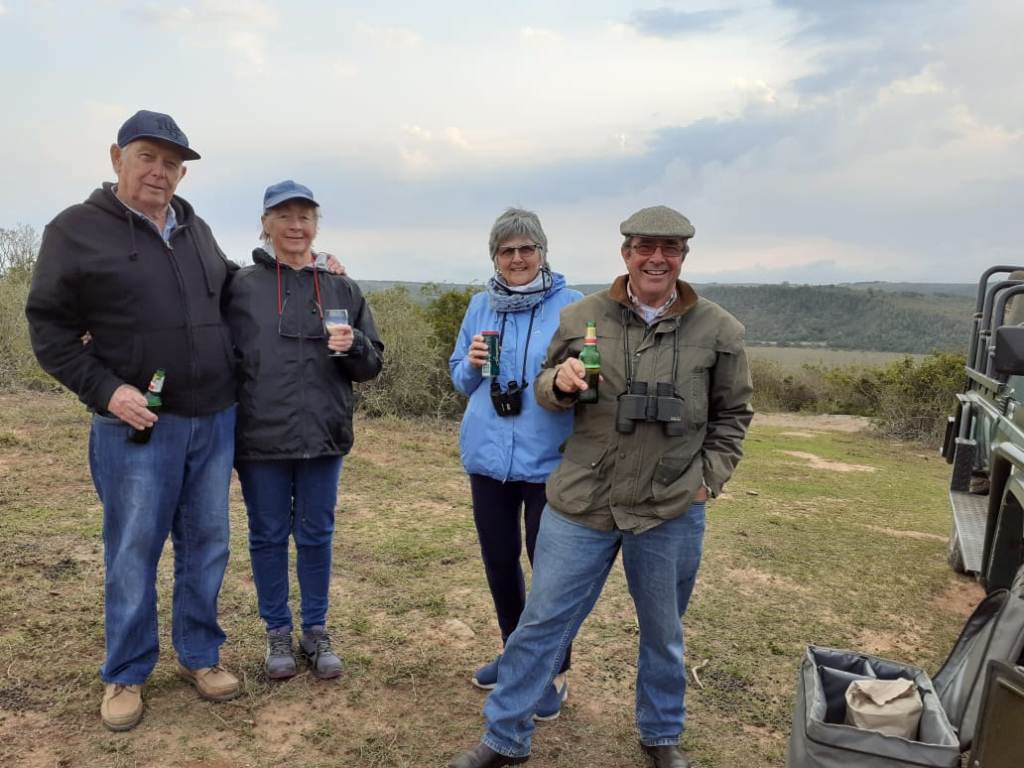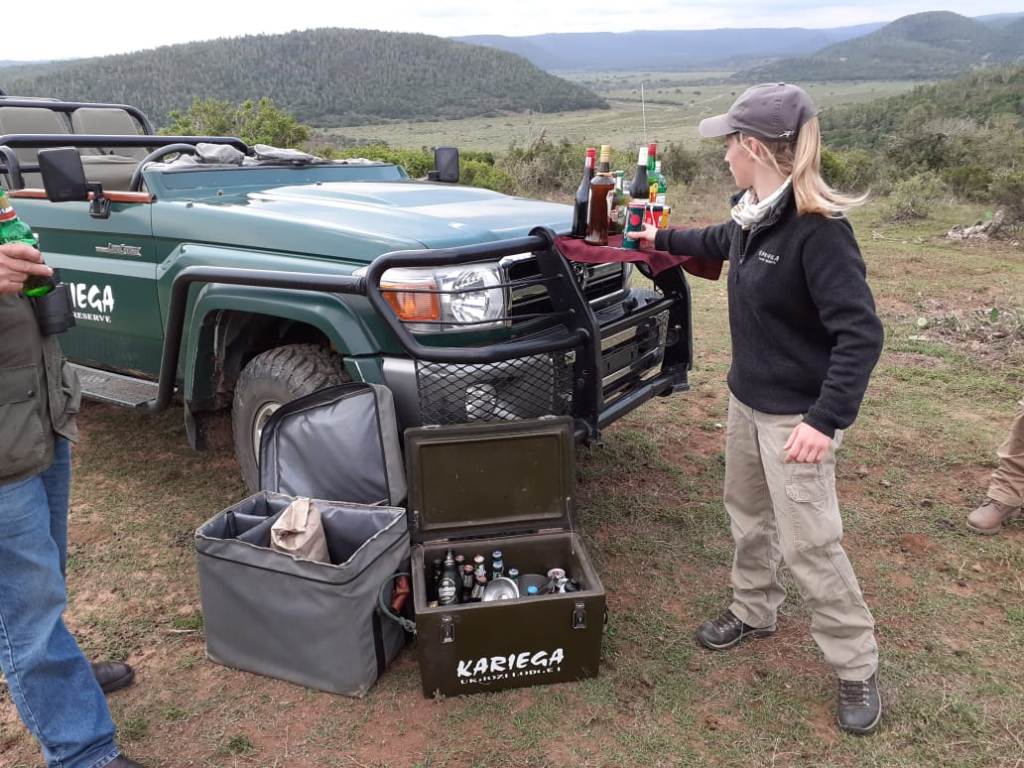 And a 'bush loo break' – what would we have done if even a warthog had surprised us on our haunches?! Such a variety of drinks was on offer – it was hard to choose, but I couldn't turn down the offer of Amarula on ice – so 'Africa'! And it also reminded me of our trip to Antarctica – this was a popular drink on the SA Agulhas. If you are interested in reading about this wonderful (and privileged) experience here is the link: https://footeloosefancyfree.com/antarctica/
Many antelope wander through this extensive reserve. After our refreshments break, we saw a small herd of impala and then two lone bulls, an Nyala and a Kudu, both sporting impressive horns.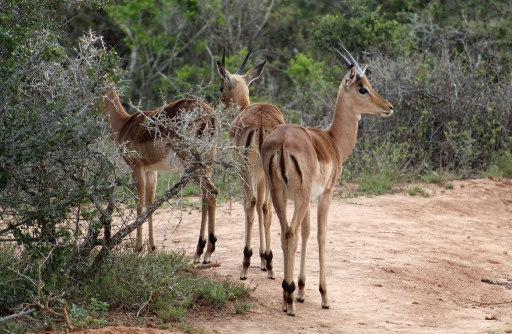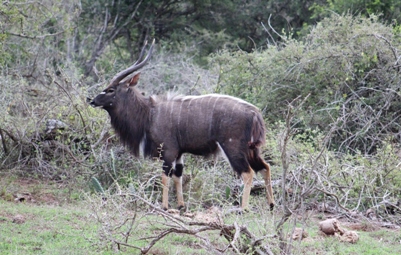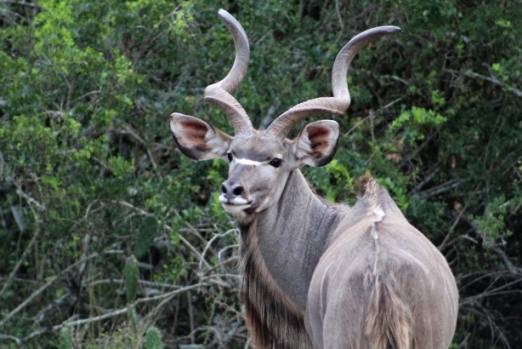 Big Five – 2nd tick:
Down by the Bushman's river, we came across two bull elephants. Again, we got very close. It was amazing to us how all the animals seem totally unfazed by the vehicles – a testament to how safe they feel – a wonderful thing. Some unusual things about these two ellies: One was '5 legged' for a while, but no females around? The poor guy has an injury at the top of his right leg that is obviously still troubling him – he kept worrying at it. Melissa said that they think he must have got into a fight with another bull and that it is probably a tusk wound. The other guy only had one tusk. Who knows how he lost the other one. Was it perhaps a fight between these two? Now, though, they seemed perfectly happy to be browsing in close proximity to one another.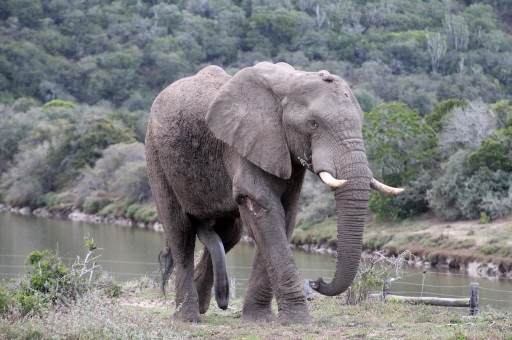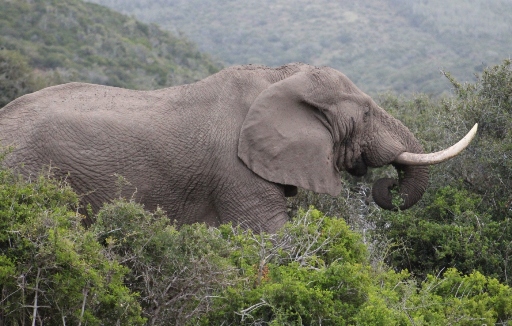 Many birds flitted back and forth as we drove. We only saw most of these through binoculars; Fork-tailed Drongo, Common Fiscal and Fiscal Flycatcher (hard to tell the difference – but Monde knew and told us – but I've forgotten already!), Mousebirds (don't ask me if they were Red-faced or Speckled!), Glossy Starlings, African Hoopoe, Knysna Turaco, Yellow-billed Kites, a Jackal Buzzard, Cape Longclaw and more. But then, something special, two love birds – a pair of African Fish-Eagles, high up in a euphorbia tree. They really did seem to be 'kissing' and the only reasonable photo I got (they were far away), shows the one leaning affectionately against the other. And then there was that deliciously spine-chilling moment when their distinctive cry filled not only the air around us with magic, but our souls as well.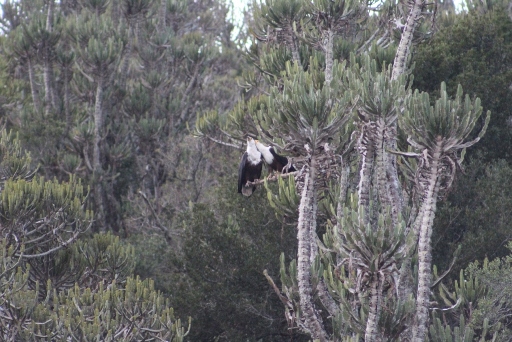 Then it was time to head back. The last bit of the drive was in the dark. This too was special. Melissa and Monde took turns to swing a big powerful lamp from side to side, as we bounced along. We saw a couple of nightjars – they seem to like sitting on the road and only fly off when you get close. A bush pig dashed across in front of us. Then we saw a black-backed jackal trotting along in the darkness. There were a couple of scrub hares, hopping about attending to their nightly business. And then the welcoming lights of the Lodge came into view. What a memorable game drive.
2nd game drive: 06.00 – 09.00
It was a shock to the system getting up at 5.15, but it was already light, and the blow was softened too by coffee and muffins in the lounge before we set off. Melissa and Monde were extremely cheerful and chirpy for that time of the morning – they both obviously love their jobs! The Feete moved to the seats behind Melissa and Monde – not quite so bumpy we hoped!
Apparently there are 15 different types of antelope in the reserve. We'd seen plenty, including eland, waterbuck, duiker and the Mountain reedbuck, but hadn't got photos of them. So it was great to be able to photograph some Blesbok in the long grass and then a female bushbuck in front of a prickly pear.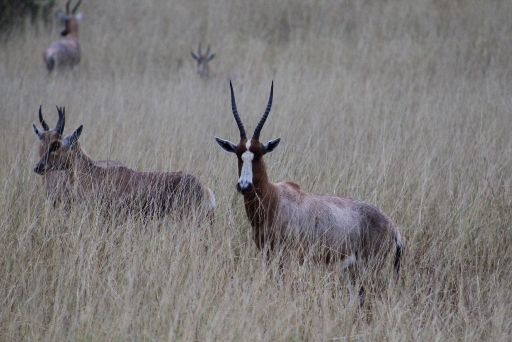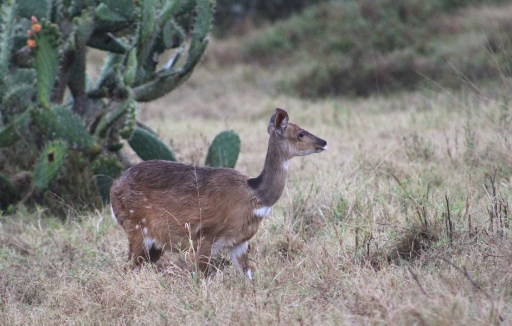 Do you know why so many antelopes, including bushbuck, lift their tails to reveal the white underneath when fleeing from a predator? We didn't. It's a distracting tactic. Melissa is so knowledgeable and was constantly telling us interesting facts like this, about the fauna – and the flora too. Prickly pears are not endemic and so the ideal thing would be to eradicate them, but this is not easy. Cochineal beetles have been introduced as they like to eat them. They lay their eggs on the prickly pear. These look like little white blobs, but when crushed they turn into the red cochineal dye we're all familiar with. At some point, Melissa got out of the vehicle to demonstrate this – fearless! Elephants apparently also like to eat prickly pears, and are unaffected by the spiny hairs on them.
On we went and came across a huge herd of Blue Wildebeest, as big as the migrating herds one sees on the  Serengeti – NOT QUITE! But still worth seeing. What strange looking animals they are.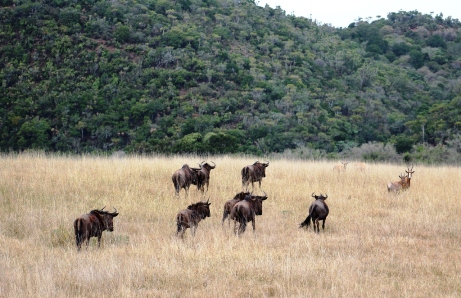 Our trusty Landcruiser 'steed' crossed a small river and soon after that, on a slope with quite a lot of bushes, we came across some ostriches, both males and females. The males were strutting about with white feathers fluffed out, but then they seemed to give up trying to charm the ladies and lay down.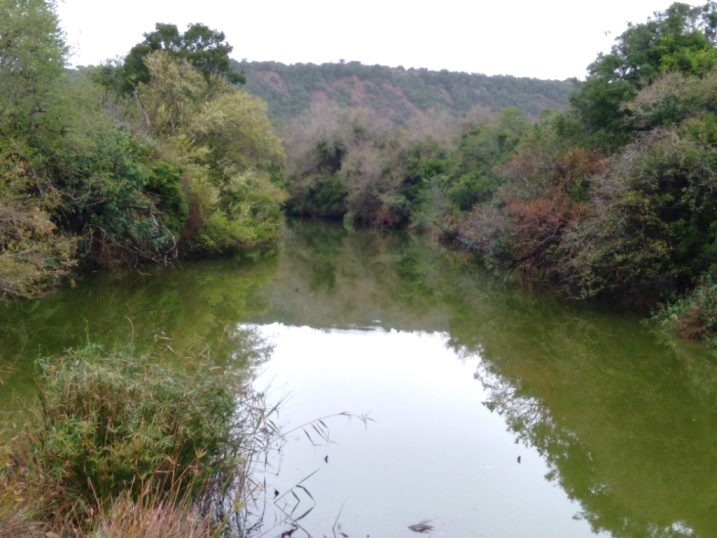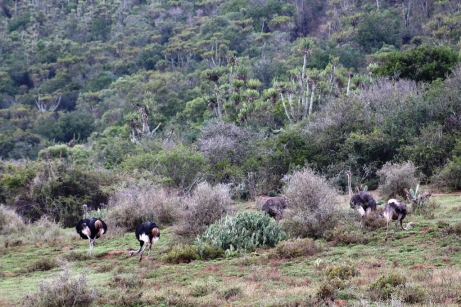 Big Five – 3rd tick:
Rounding a corner we came across quite a big herd of buffalo browsing on the lovely new green grass on the slope of a hill. Even more special, there were a couple of calves as well, sticking very close to their mothers. Interestingly, the calves seem to suckle, not from the side, like cows, but between the mother's hind legs.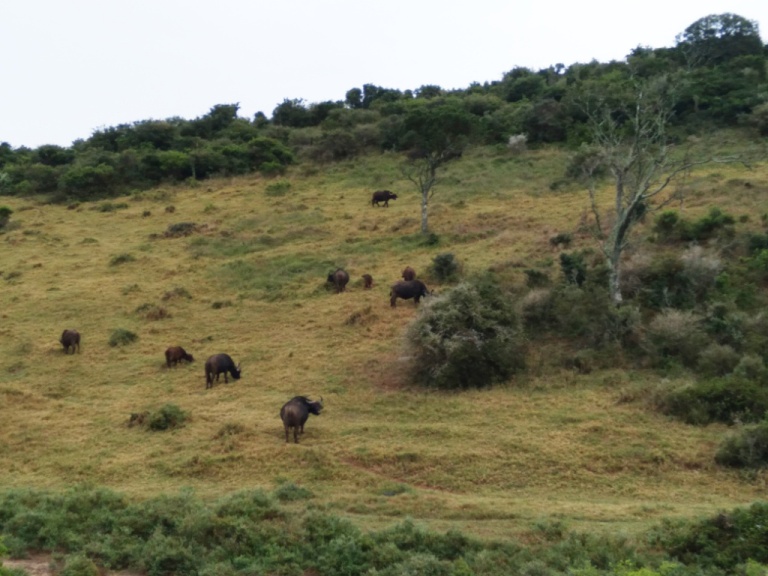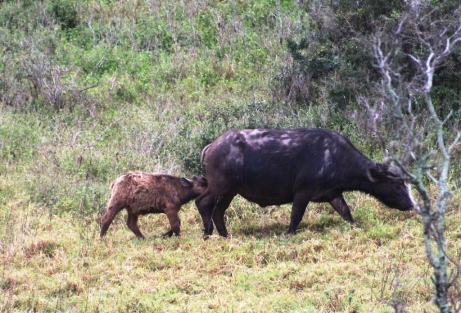 Quite far away, we saw more giraffe, stretching their long necks to get at those tender leaves at the tops of the trees.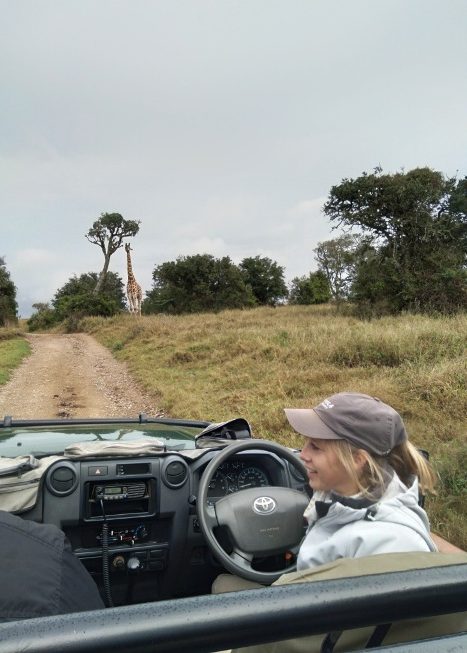 Surely no-one ever says "Oh no, not another giraffe"? Did you know that even though their necks are so long, they only have seven vertebrae, the same as us?  This I know, having heard this on one of the many wildlife programmes dear hubby and I like watching. Every giraffe is uniquely patterned and how beautiful those patterns are. Here's another interesting fact: their markings are not just for camouflage (and to make them pretty), they help control their temperature. The darker patches have more blood capillaries and act as thermal windows to release heat, helping them to cool down. Amazing isn't it?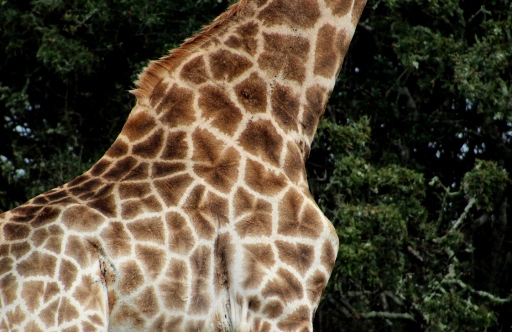 When you've hoped so much for something, you don't want to be disappointed. We were on the alert for rhinos.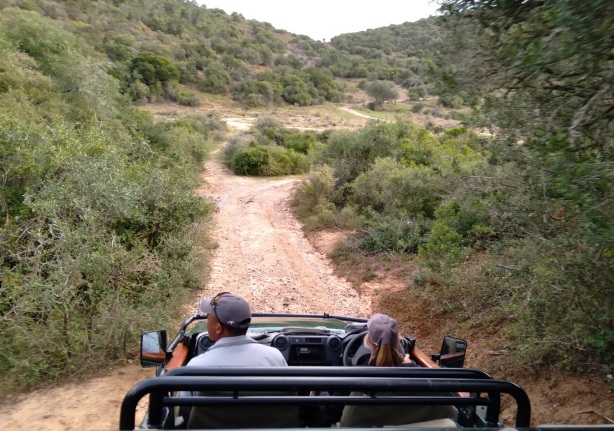 Big Five – 4th tick:
Suddenly, there they were, seven of them, all browsing contently and totally unconcerned by us. What a privilege. What a treat. Inevitably the discussion about poaching came up. Melissa told us that since the decision to dehorn all of their rhinos came into effect, the poaching has stopped, which was wonderful to hear. Kariega also has an excellent anti-poaching unit, protecting these magnificent animals.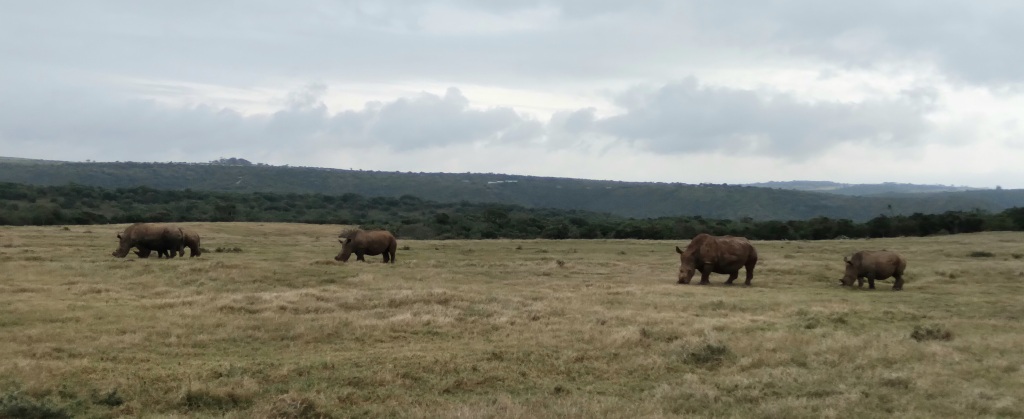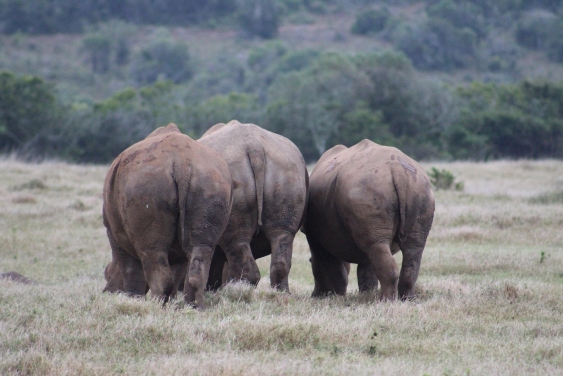 There have been some horrific instances in the past, but one happy ending at least; a rhino called Thandi survived the brutal attack on her and has gone on to produce 3 offspring. And there she was with her latest calf, right in front of us, chilled and happy – you could tell by the big smile on her face, in spite of the ugly scar where her horn used to be.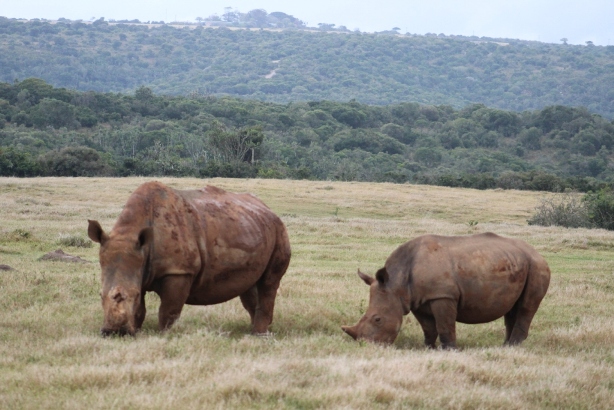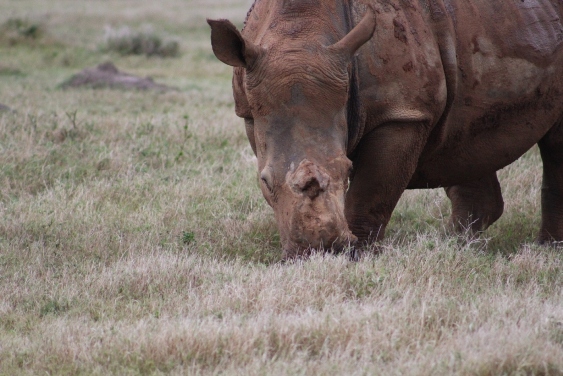 Zebras are also animals that one often sees, but never tire of. We'd seen quite few but here were two nuzzling each other affectionately – zebras do seem to like to do this. As with giraffe markings, zebra stripes are also unique to each animal. Here's an interesting zebbie fact: It isn't easy to tell the sex of zebra from their genitalia. So how do you tell them apart?; the black stripe in the crease of the rump coming down from the tail between their hind legs it is much broader and longer in the mares than in the stallions. When I first heard this I thought the guy was joking, but Melissa confirmed this.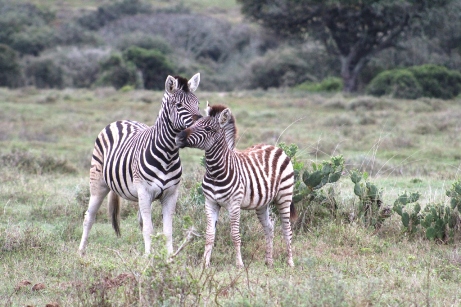 It is hard to photograph birds without a really good zoom lens, but I did manage to get a couple of photos of the very cute Rufous-naped Lark. We'd seen a few of these. They like to perch on something and sing their little hearts out, and we distinctly heard this little one trilling "Breakfast time". A happy ending to our morning game drive.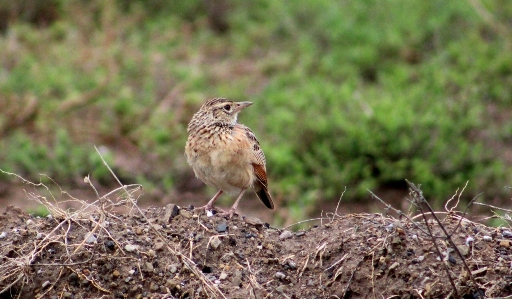 3rd game drive: 15.30 – 18.30
Rain had been predicted, so we were mentally prepared for that and had our ponchos within easy reach. It was chilly, so we did use the blankets. This time Melissa was on her own and she wanted to take us back to the western area where one of the other guides had seen a herd of elephants. It was just wonderful driving through that magnificent landscape. The rain held off and the light was beautiful.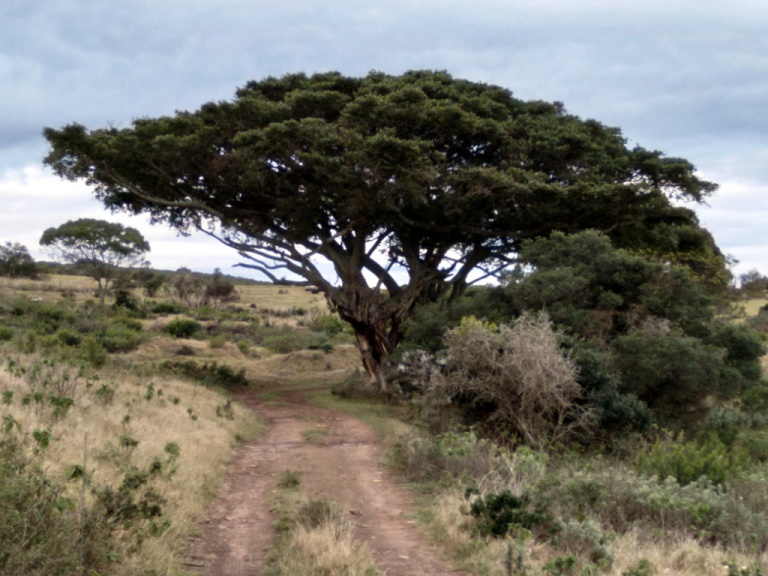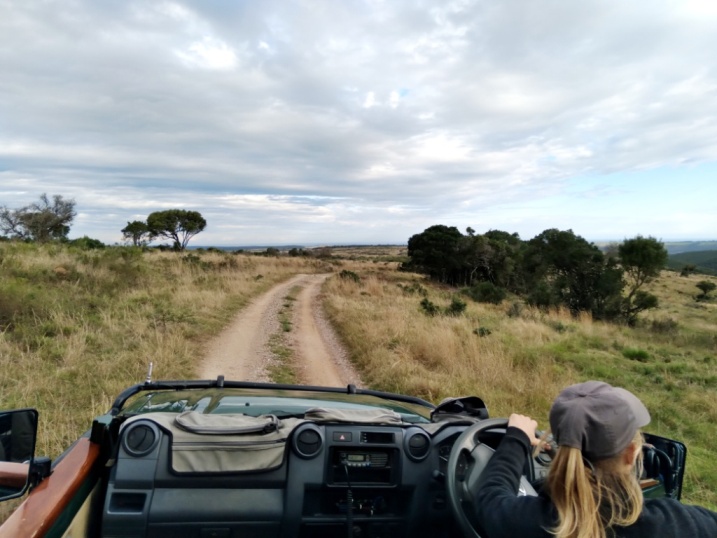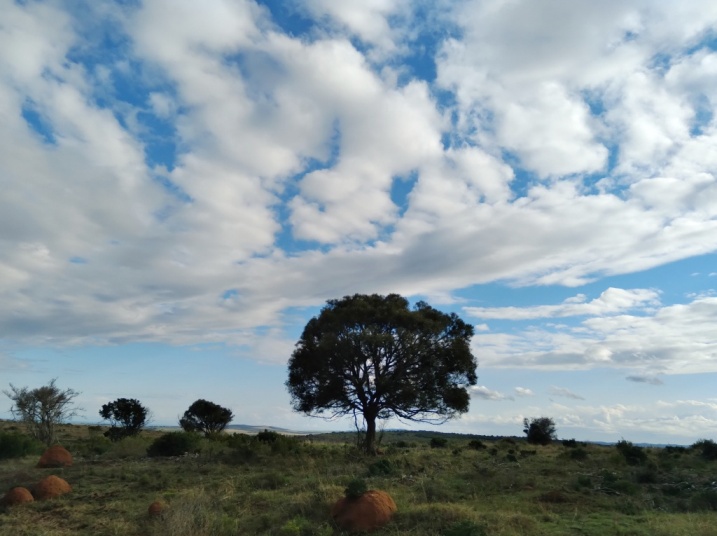 Little Five – tick 1:
Remember I said, it isn't just about the Big Five? Well, we'd been lucky enough to see four of the Big Five; lion, elephant, buffalo and rhino, but not the leopard. Well what did we find ponderously crossing the road? The leopard tortoise, one of the Little Five. The others are: elephant shrew, rhinoceros beetle, ant lion and buffalo weaver.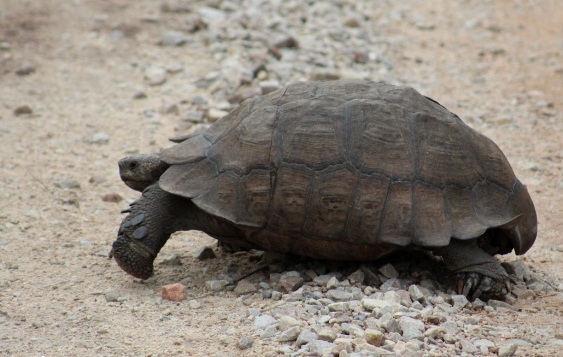 Even though the vehicle was moving most of the time, we did catch glimpses of quite a few birds; helmeted guineafowl, the flash of red wings of flying Knysna Turacos, African Hoepoos, rust-coloured with striking black and white wings. Only the Glossy Starlings and a Brown-hooded Kingfisher posed for us and were close enough to photograph.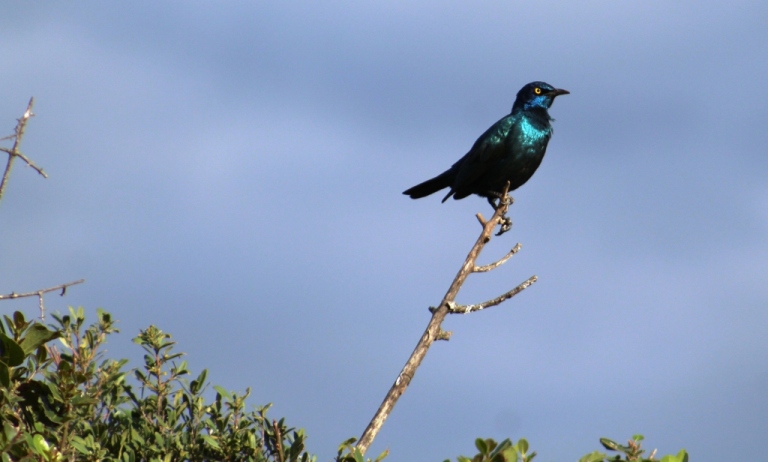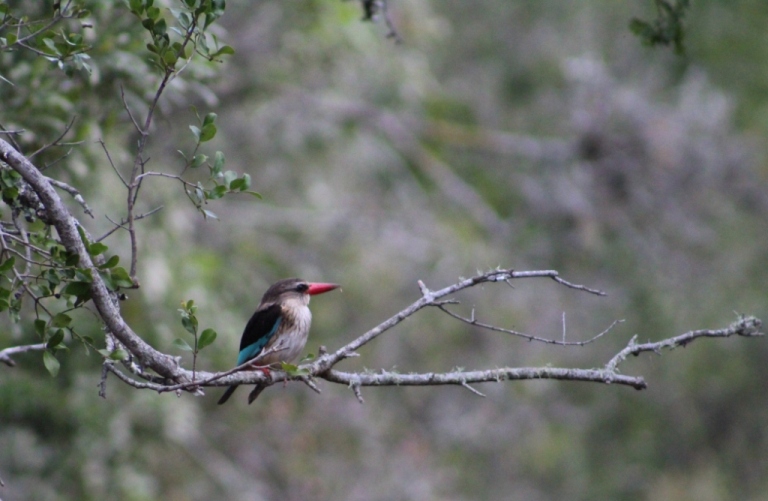 And then Lyndie squeaked "Lion!" and there they were on a grassy hillock, father and son, revelling in the afternoon sunshine. How lucky were we to see these magnificent King of the Beasts two afternoons in a row? The light showed them off to perfection.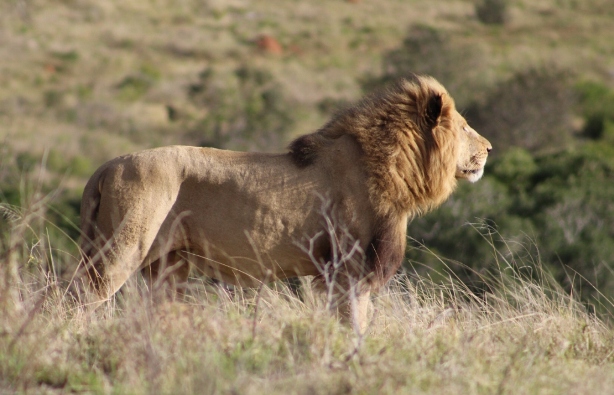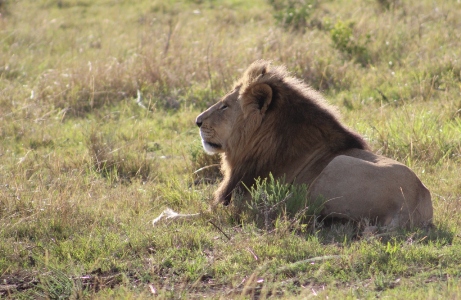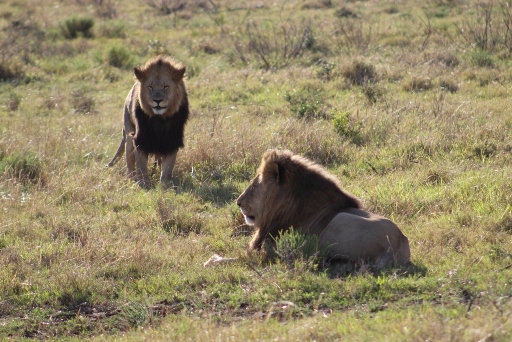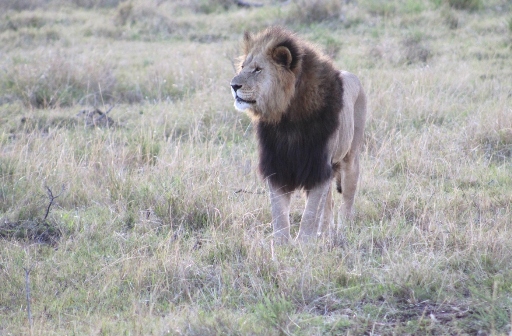 A secretary bird was strolling through the grass quite near to these lions, but although the one seemed to have seen it, he either wasn't hungry or laziness prevailed, and the bird went on its merry way and disappeared.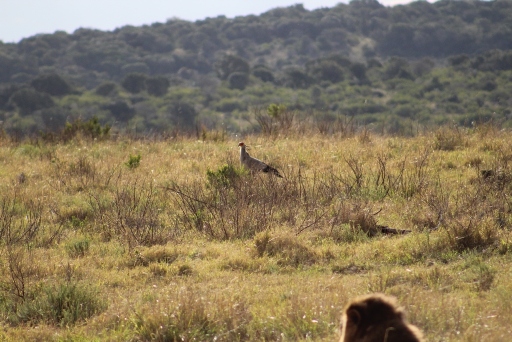 Then we headed off again to find the herd of elephants. A brief stop at a midden of a black rhino. I'd asked if you can tell the difference between black and white rhino dung. Yes you can, Melissa said. She climbed out of the vehicle and scratched around in the dung – this girl also doesn't mind getting her hands dirty! She found some twigs to show us. Black rhino are browsers and eat shrubs, so they have twigs in their dung, whereas white rhino only have grass in theirs as they are grazers and only eat grass. She gave us even more info, but I'll leave that for you to find out for yourselves – it was something about the twigs being chomped off at a 45 degree angle?!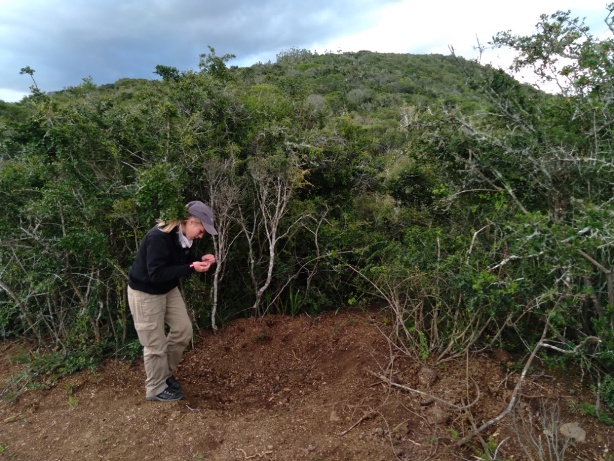 Dark clouds were building and the wind had picked up and it had started to drizzle a bit.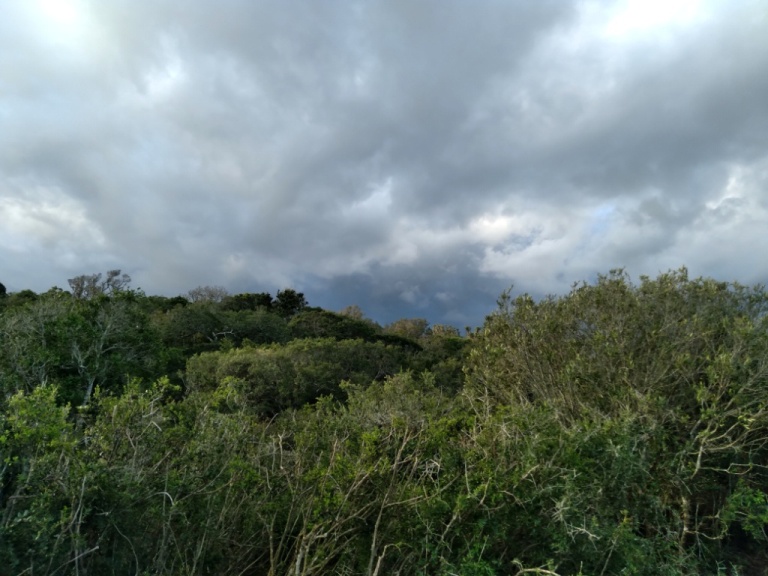 Round and round we went looking for the elephants. We could see the footprints of their pads in the red mud where they'd gone up into the trees. It was amazing to us that they had forced their way through the thick bush and up these steep slopes and had become virtually invisible. We could only catch glimpses of their big grey bodies by craning our necks and peering through the dense thicket. They seemed to be seeking shelter from the storm. It was getting late, so we had to head back.
As if in compensation, a beautiful rainbow arced across the sky in front of us. Our last sighting was more giraffes, and we were content with that.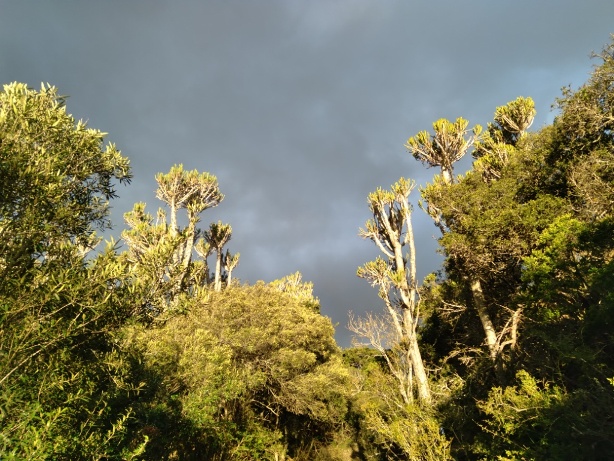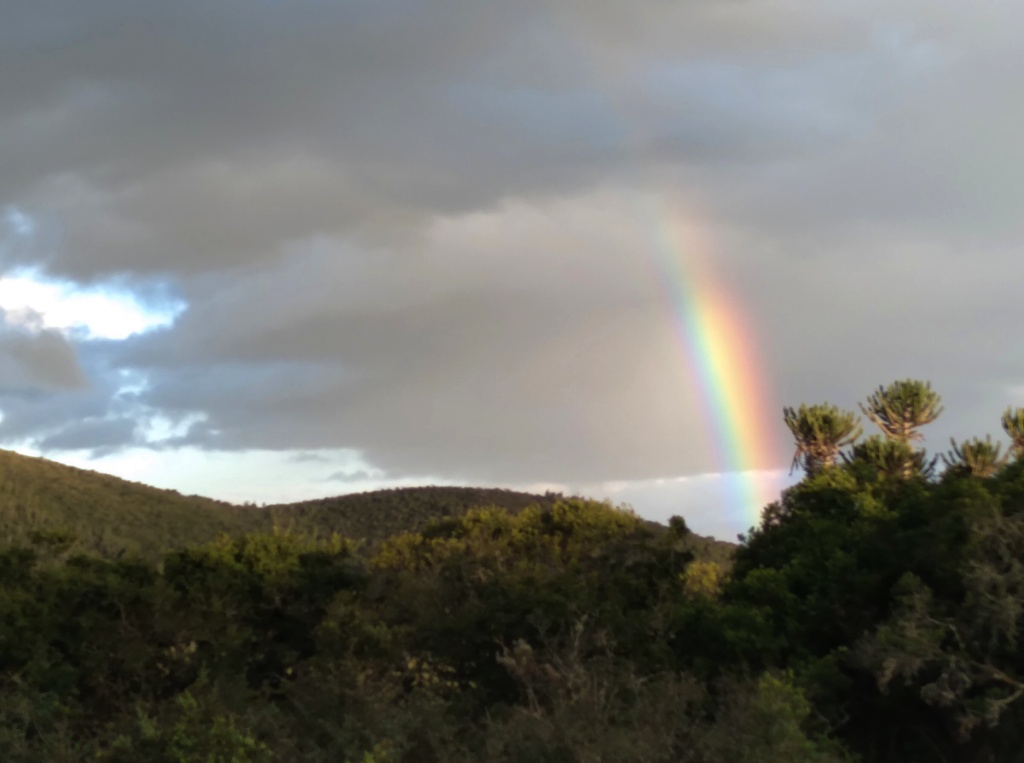 We knew we had another sumptuous meal to look forward to.
Just to whet your appetites, these were some of the delicious meals we enjoyed.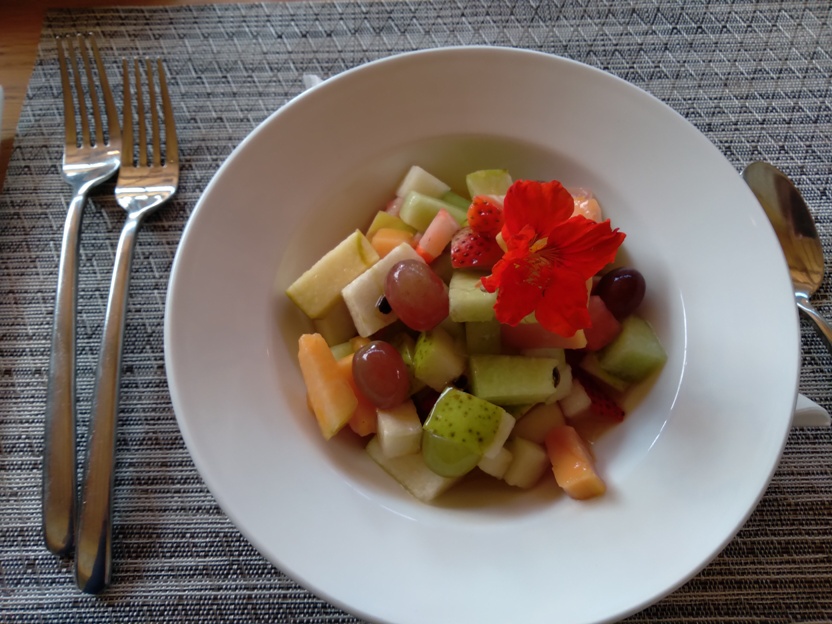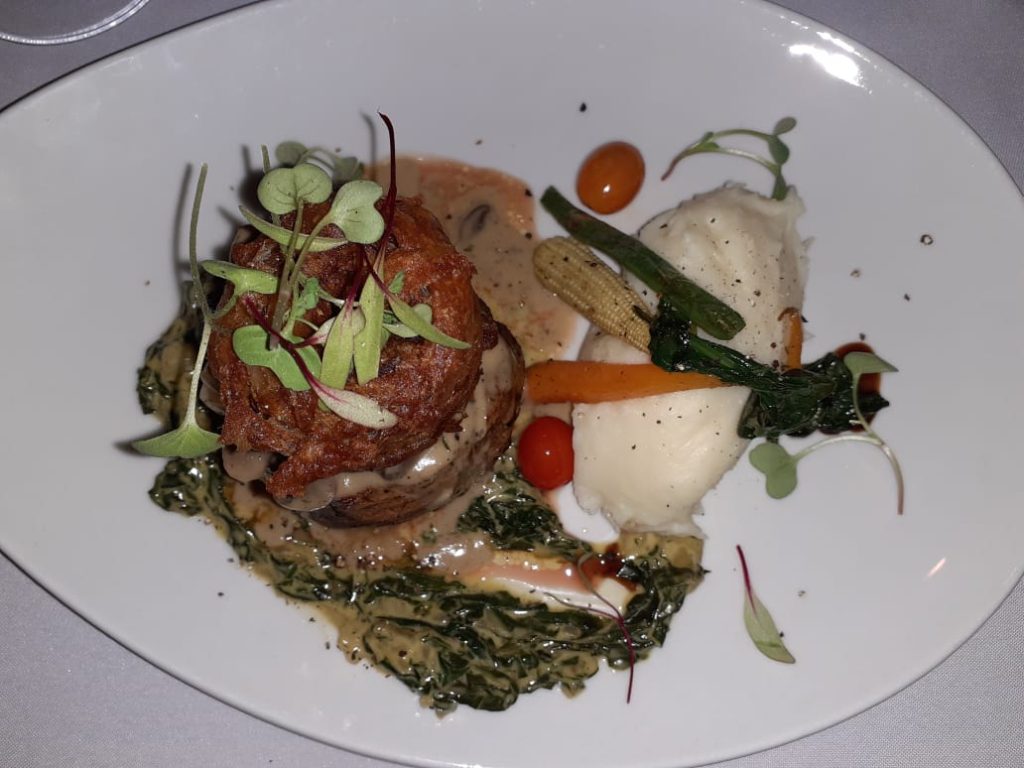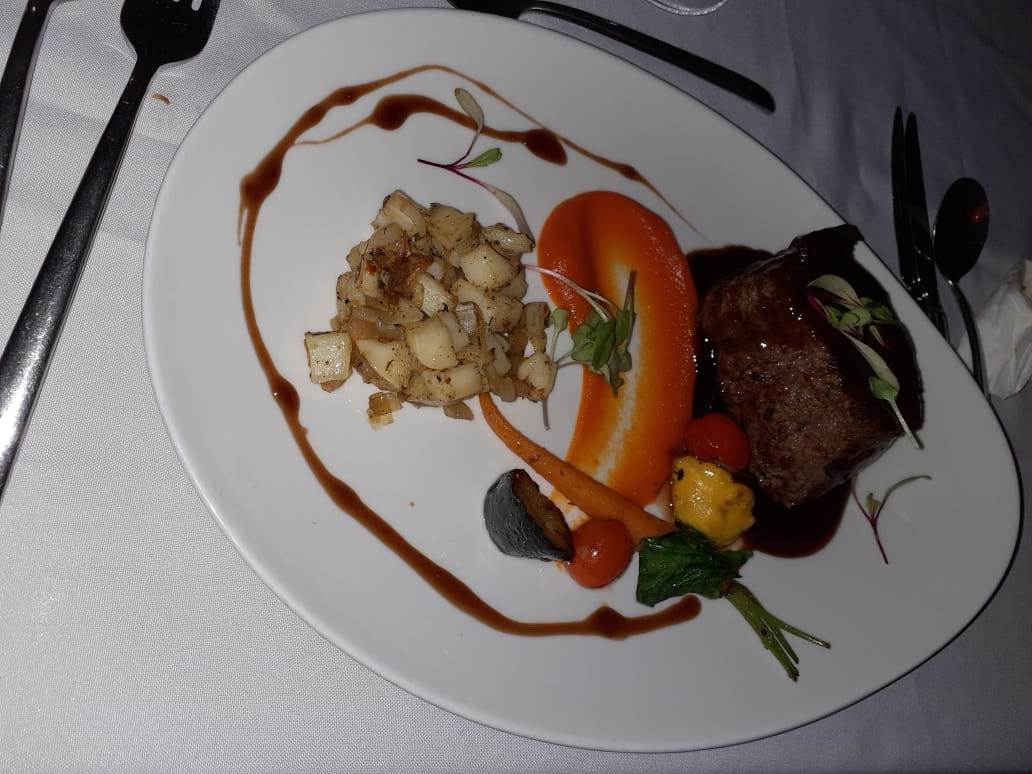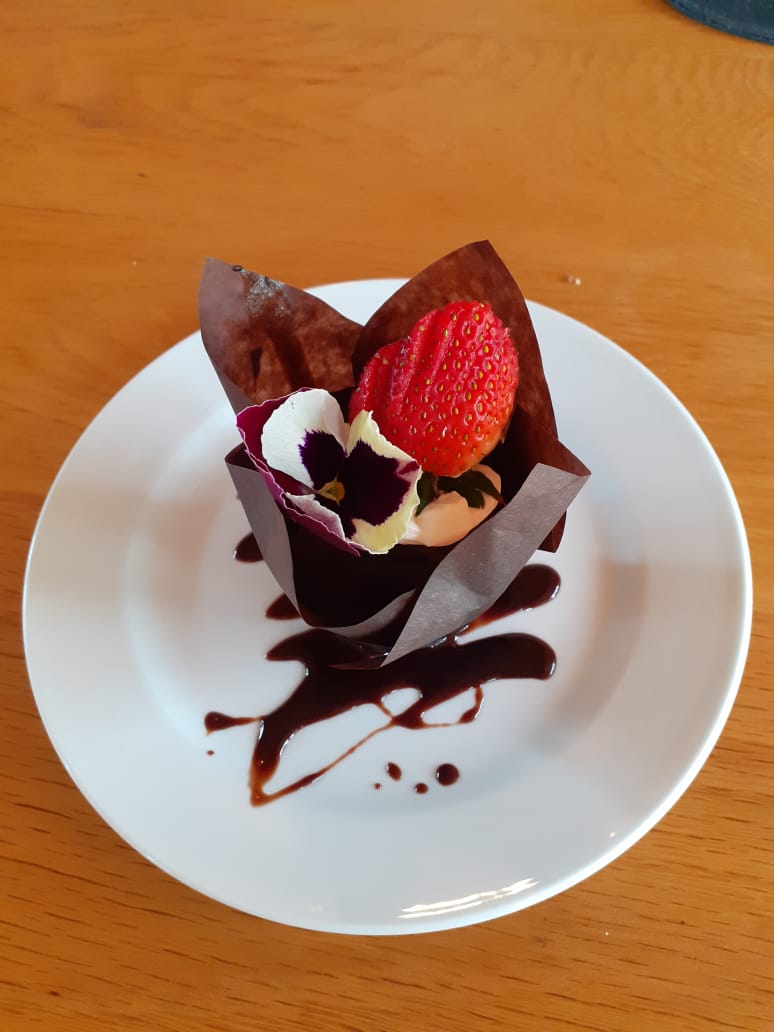 Don't wait! Book now for Kariega Game Reserve. https://www.kariega.co.za/ You will not be disappointed, you will be bowled over!
If you'd  like to read about the very different wildlife in Sri Lanka, here's the link: https://footeloosefancyfree.com/3-sri-lankan-wildlife-fun-sights-and-bun-fights/