Our trip to Thailand in October 2011, was a lot about water. Before we left, we were hearing alarming reports about the possibility of flooding in Bangkok. We wouldn't have had room for gumboots in our backpacks, even if our daughter Sal had included these on our packing list. Our combined packs weighed 18 kgs – very good we thought, but they still felt heavy!
'Slow Life'
It was wonderful for the bleary eyed and travel weary parents to be met at Bangkok airport by their vibrant smiling daughter. We went by taxi to our delightfully quirky hotel, Phranakorn Nornlen,  'Slow Life'. Charming murals decorate almost every wall and the English signs make you smile e.g. outside the children's playroom, 'Don't food'.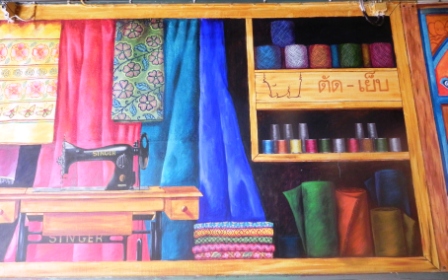 We had to climb over a little wall they'd built at the entrance and there were sandbags everywhere – evidence that they were bracing themselves for flooding. And a day later there were two boats in readiness too.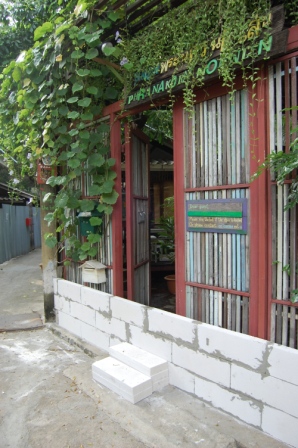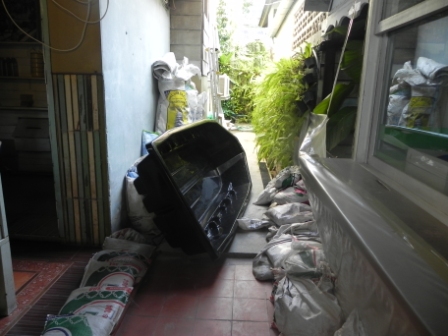 Afloat – just
We were booked in for 3 nights but on the 2nd day, feeling a bit spooked by all of this, we decided to try and change our train booking out just in case. At the station, Sal sat her elderly parents down amongst the vast number of local rush hour  workers waiting patiently on flimsy plastic chairs for their trains home – we discovered that Bangkok is a huge city with a population of 12,000,000 people – and said 'You wait here, while I quickly go and sort this out' and off she strode. But the only bunks left on the train for that night were spaced far apart. So we decided to take our chances and stay on in the hotel as originally planned. And we were lucky. The water stayed away from where the hotel was. The only thing we weren't able to do was go up and down the very swollen river. We were able to take a ferry across to a temple though. We did see some flooded streets and shops and were impressed at how placidly and stoically people handled this.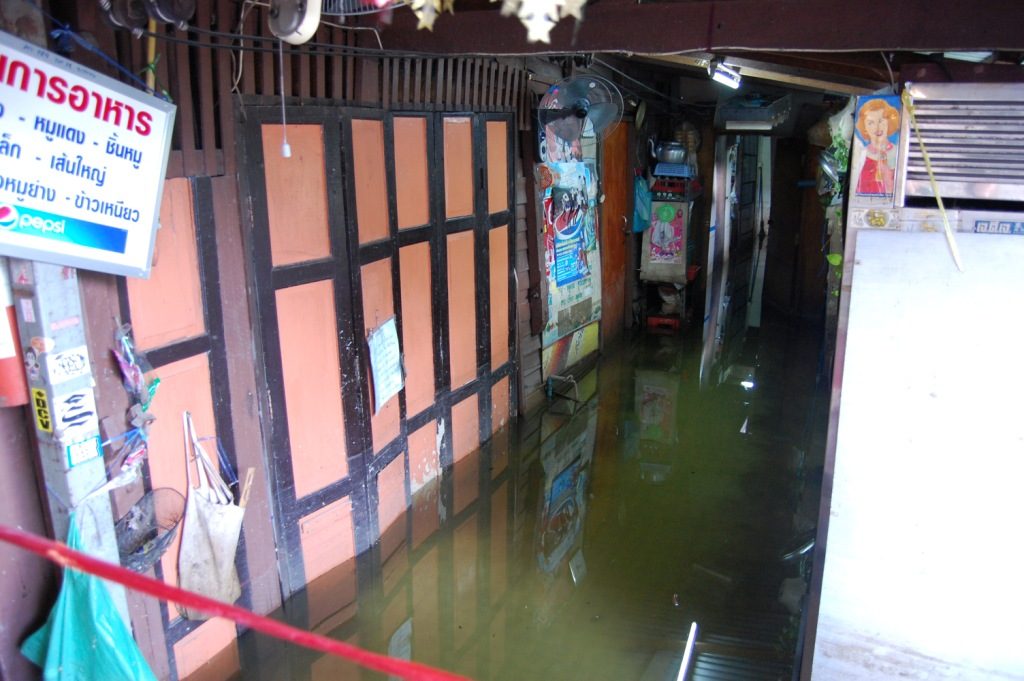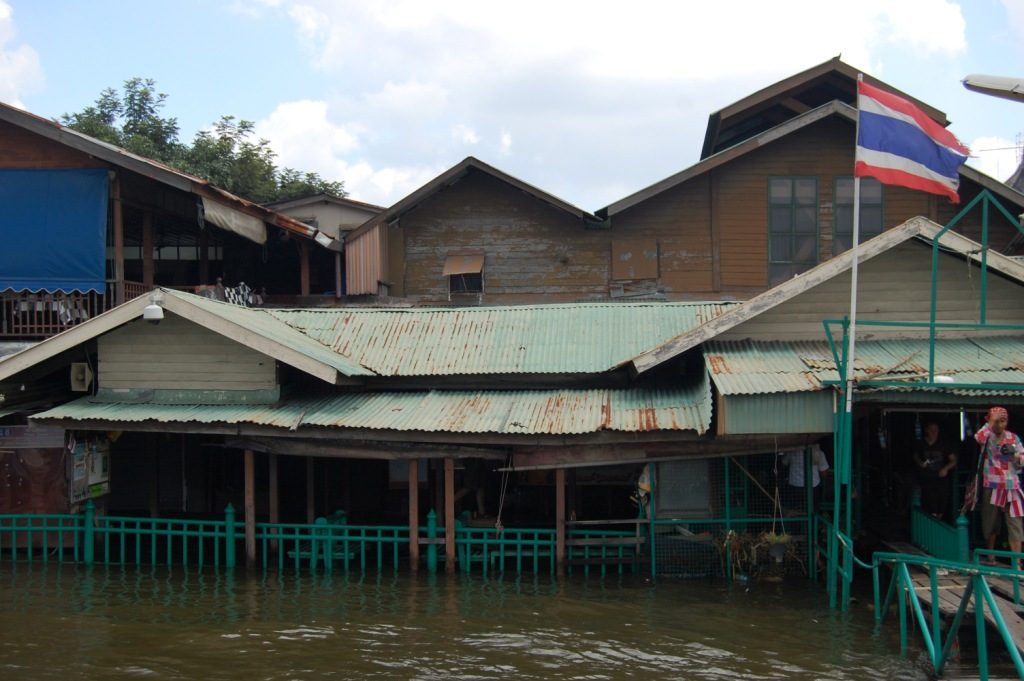 The Tuk Tuks carried on as normal too.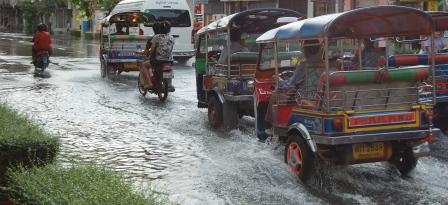 Lucky escape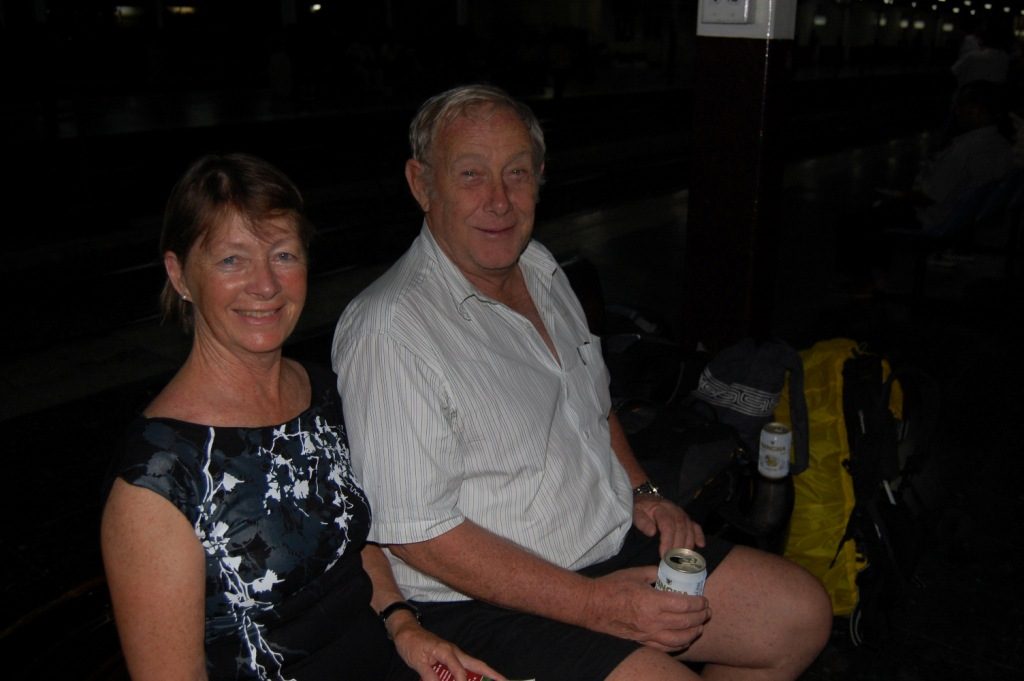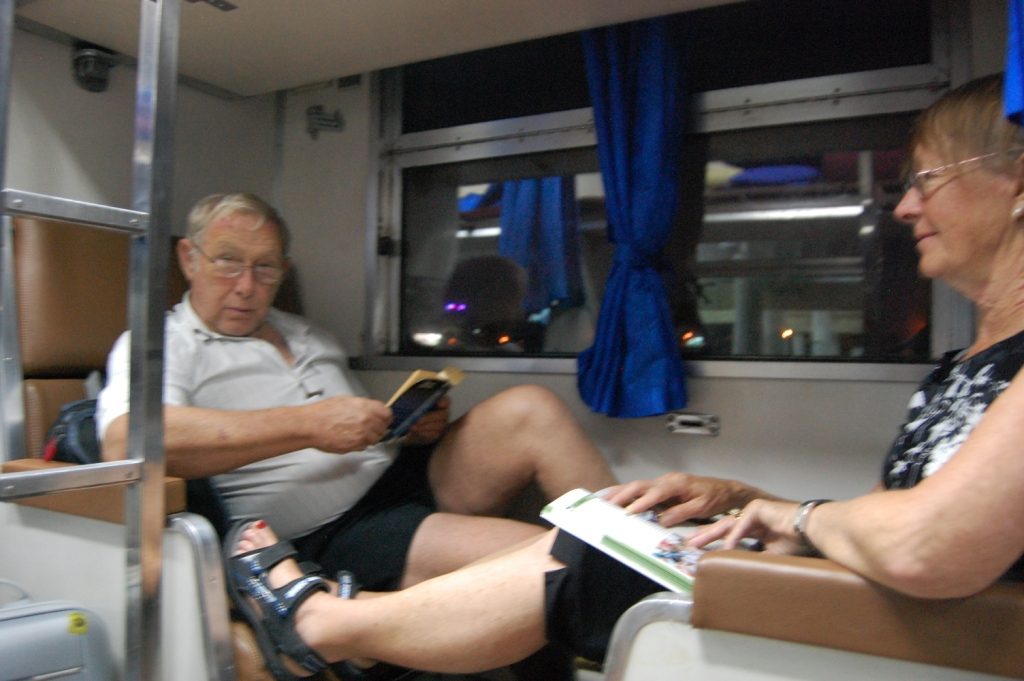 But we had our scary half hour heading out of Bangkok:  we were tucked up in our bunks on the train in our 2nd class carriage ('it will be an adventure for you' said our intrepid daughter – and it was!), when my sensitive nose caught a whiff of something foul. I looked out of my window and could hardly believe my eyes – the water appeared to be level with the bottom of the train! We held our breath while the train crawled along the flooded tracks. Houses next to the tracks were flooded up to the first floor level. And then the water subsided.  We were safe, dry and mightily relieved. The thought of wading through that water didn't bear thinking about. We clickety-clacked our way all through the night, to Sura Thani.