Exclamation! Encounter 1
Addo Elephant Park, https://www.sanparks.org/parks/addo/ is only an hour and half's drive from our home. It is small enough for a day trip. We have visited it many times. In the early days of this park, the rangers would put out citrus to attract the ellies. But they began fighting over the fruit, endangering themselves and tourists. Until recently, the park's brochure warned visitors not to bring citrus into the park, as the elephants would attempt to get at it! These days, the jumbos seem very chilled. They walk so close to the cars that you could reach out and touch them – don't!
On a hot day, hundreds and hundreds of these magnificent pachyderms gather at the bigger dams such as Hapoor. Babies wallow, teenagers spar, adults harrumph and bully, mothers protect their little ones, and of course, they drink gallons of water and squirt it over themselves as well.
The park has a variety of accommodation and it is definitely worth spending a night or two to avail yourselves of everything the park has to offer – not just elephants! Our favourite place to stay is Matyholweni, which is self-catering and away from the milling crowds of the main camp. You can also camp. Check out the website: https://www.sanparks.org/parks/addo/
Exclamation!! encounter 2
We were in the Okavango Delta, https://www.okavangodelta.com/, staying in a Mobile Camp on one of the islands. We'd been for a wonderful boat ride, cruising the waterways and on the way back to camp for lunch, we saw this ellie wading his way to shore. What a wonderful sight –  he was just going about his business.
We looped around and back to our island, disembarked and gathered in the open tent for lunch. There was a rustling in the bushes and the next thing we knew, a huge elephant emerged from the bushes and he was heading straight for our dining tent!
But we think he got as big a fright as we did, as he did an about turn and disappeared back into the bush. Our guide said that it was probably the same elephant that we saw wading to the shore – he got out on 'our' island. These camps are temporary. So of course the animals that come and go off them would be taken by surprise, finding strange 'human animals' on them. You are lulled to sleep by the grunts of hippos – or maybe not?!
This is a wonderful thing to do, as you are truly in the wildest possible place in the Okavango Delta.There are so many options to visit the Okavango. Visit the website to make your choice: https://www.okavangodelta.com/
Exclamation!!! encounter 3
We decided to treat ourselves to a night drive at Imfolozi/Hluhluwe Game Reserve in KwazuluNatal,
We decided not to take cameras – stupidly, given what was about to happen…. Going on a night-drive is pot-luck – you might not see much at all. So we were pleased to see quite a few animals; a white-tailed mongoose, a duiker, a herd of buffalo, rhinos and giraffe. Heading back to camp, we came around a corner and there was this huge bull elephant slap bang in the middle of the road and far too close for comfort; we could tell he was in musth because the headlights picked up the wet streaks coming out of his temporal glands. It's a well-known fact that they will be very aggressive in this condition and boy, was our guy looking grumpy! He was determinedly stomping towards us. Our very competent driver quickly got into reverse and backed off. She stopped after a bit, hoping he would realize we meant no harm. But on he came. She reversed some more. On he came, picking up speed. We could almost feel the ground shaking beneath his feet. She reversed faster. There was no stopping him. He had one thing on his mind; let me get that annoying thing out of my way.  Our driver expertly reversed some more and then managed to quickly turn around so that we could make an easier getaway. But we were supposed to be going back to camp. So she'd drive a bit around a corner and then we'd wait for a bit, hoping he'd gone off into the bush. But NO, there he was again, with a very determined look in his eye! We carried on like this for a couple more kilometers, hearts thumping every time he reappeared. Eventually, after about 5 kilometers, we got to a little bridge that crossed a river and at last he veered off into the bush. We were just breathing a sigh of relief, when suddenly a hippo appeared out of nowhere and ran across in front of our vehicle. We almost collided with it. So ended our exciting night drive! Browse this site for accommodation options and more about other KwaZuluNatal parks: http://www.kznparks.com/
Exclamation!!!! Encounter 4
One thing we'd been really been looking forward to on our trip to Sri Lanka was to see some serious wild life. We were headed for Yala National Park.
We'd booked to stay at a hotel nearby, Jetwing Yala  http://www.jetwinghotels.com/jetwingyala/  It's most impressive and at sunrise on our first morning there, we were delighted to see a buffalo and her calf stroll past on the sand dunes just below our room. When we walked down a path to the beach later though, we were very surprised to see that we were following ELEPHANT FOOTPRINTS – yes really!
In the hotel notes it said don't go out of the hotel buildings after 6pm so we presumed this is when the ellies take a stroll down to the beach. At about 4.45 pm – 'safe time' – Dudley and I decided to go for a birding walk. We were just strolling around in the bushes, when suddenly, not very far away at all!!, we saw an elephant walking in the direction of the beach!! My voice went high and squeaky "What are we going to do now?" The elephant then spotted us, and spun around ears flapping. We thought it might charge, but it turned and trundled back the way it had come. Whew. Asian elephants are not as big as African elephants and this one was tusk-less (apparently only 2% of them have tusks), but it still looked BIG and we felt very vulnerable out in the open. It could still easily have stomped all over us. No photo – I was stumbling away from it! I looked for a picture of my memory and found this one,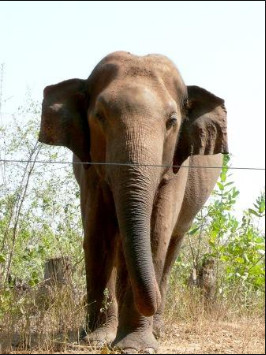 on this website. http://srilankaelephant.com/elephant-facts/ It has some interesting info too.
Legs shaking, we continued on our walk but went away from where we'd seen it to the main hotel entrance. When we got inside, there'd been a bit of a panic, because elephants had walked right past the front of the hotel and the dining area. Our ellie also came back, we think not long after we'd gone, because our daughter saw it walking right past our rooms and then it went down to the beach, where our son-in-law and granddaughter were! But no-one was hurt. They are probably more frightened than we are?
In the following days we went on 3 game drives in beautiful Yala National Park https://www.yalasrilanka.lk/ and saw lots more elephants – but from the safety of the Jeep. Read about this here:  https://footeloosefancyfree.com/3-sri-lankan-wil…s-and-bun-fights/
Many of you may well have experienced encounters much more scary than these. Please send me a comment!