So…it's 2020, the year of Covid-19. Here we sit in our beautiful little town of Port Alfred on the Eastern Cape coast, South Africa. No-one is coming for Christmas. The thought of spending this special time in our own home without any family just doesn't bear thinking about. What to do? Surely all resorts were booked up by now. But lo and behold, Mazeppa Bay Hotel could accommodate us for 3 nights! Mazeppa Bay, it turned out, is a real gem of a place.
Getting there
On the 23rd December we set off for the Wild Coast. Google Maps directed us to turn off at Butterworth and said it would take us and hour and a half to get to the hotel from there – 70kms – surely not we thought. Well, it took us TWO and a half hours. Be warned, the road is atrocious; potholes, gullies, corrugations, cows, goats, people. We have a Toyota Rav4 and even it took a hammering.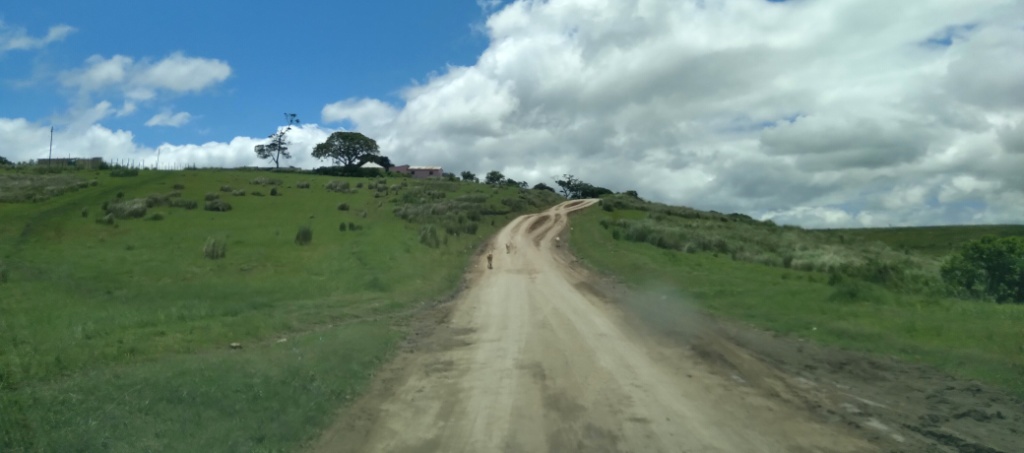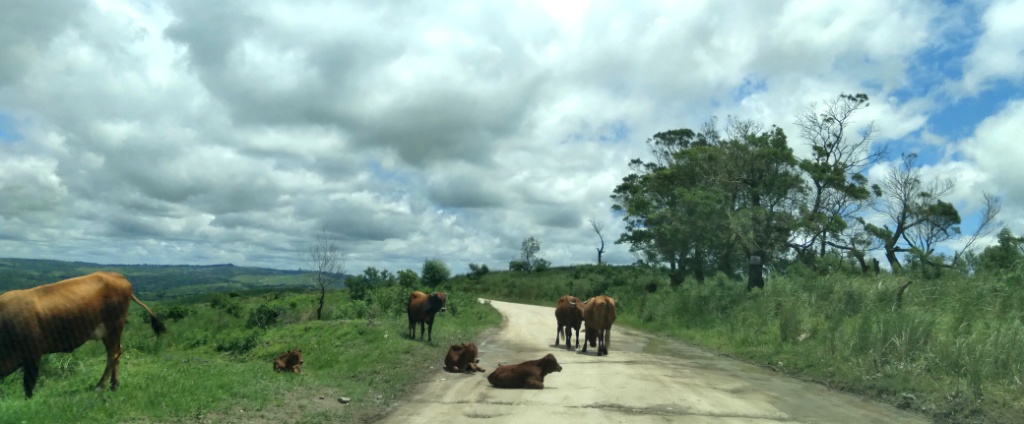 It was wonderful to finally see the thatched rooves of the Mazeppa Bay Hotel come into view. https://www.mazeppabay.com/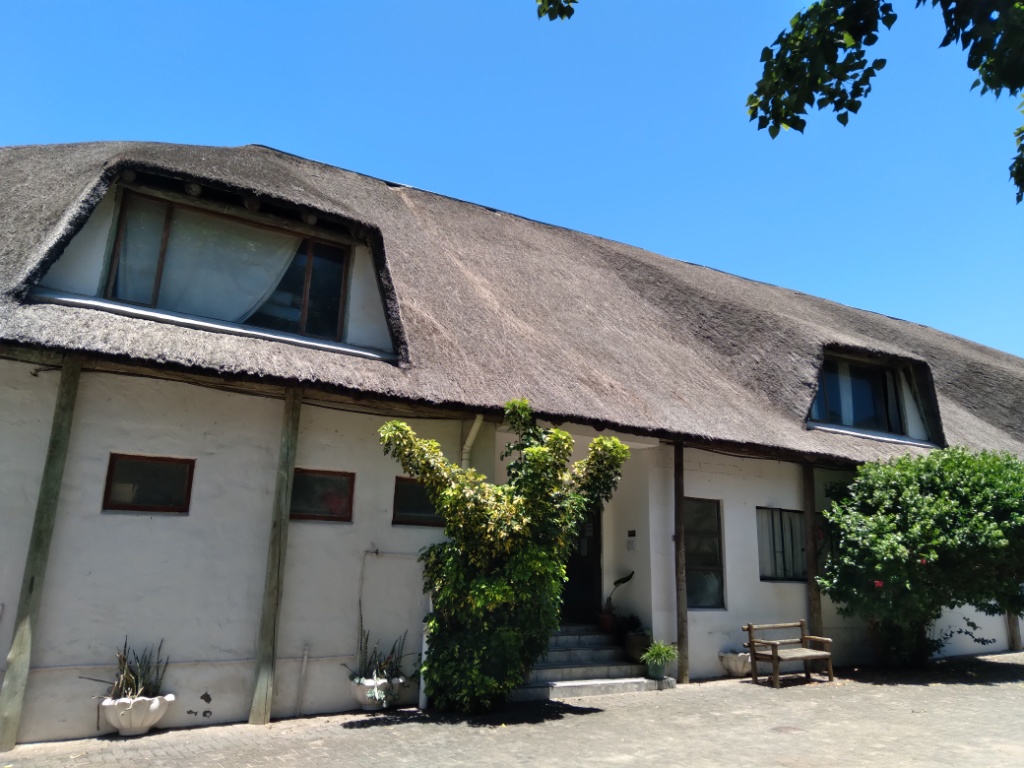 The hotel
We had expected to find it pretty empty, but no, every parking space was filled with robust GP number-plated 4X4s. It turns out the same families have been coming to this same hotel for 10 years or more. We got a very friendly welcome at Reception and we were delighted with No. 18, our standard room with its en suite bathroom. There is a pretty little garden off the front veranda, with a glimpse of the sea through the lush tropical foliage.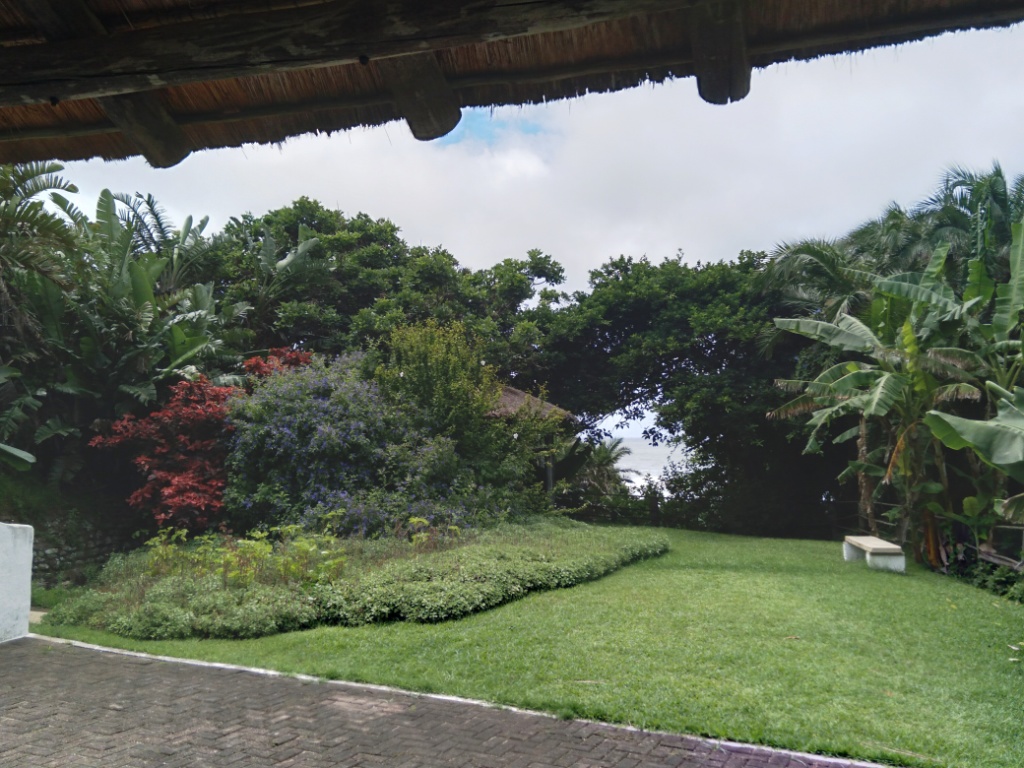 To see the accommodation check out the website. They have quite a few options available. The hotel also has a swimming pool and a tennis court and options for all sorts of indoor and outdoor activities. It's a very family-orientated hotel and so kiddies too are well catered for.
We had a late lunch on arrival.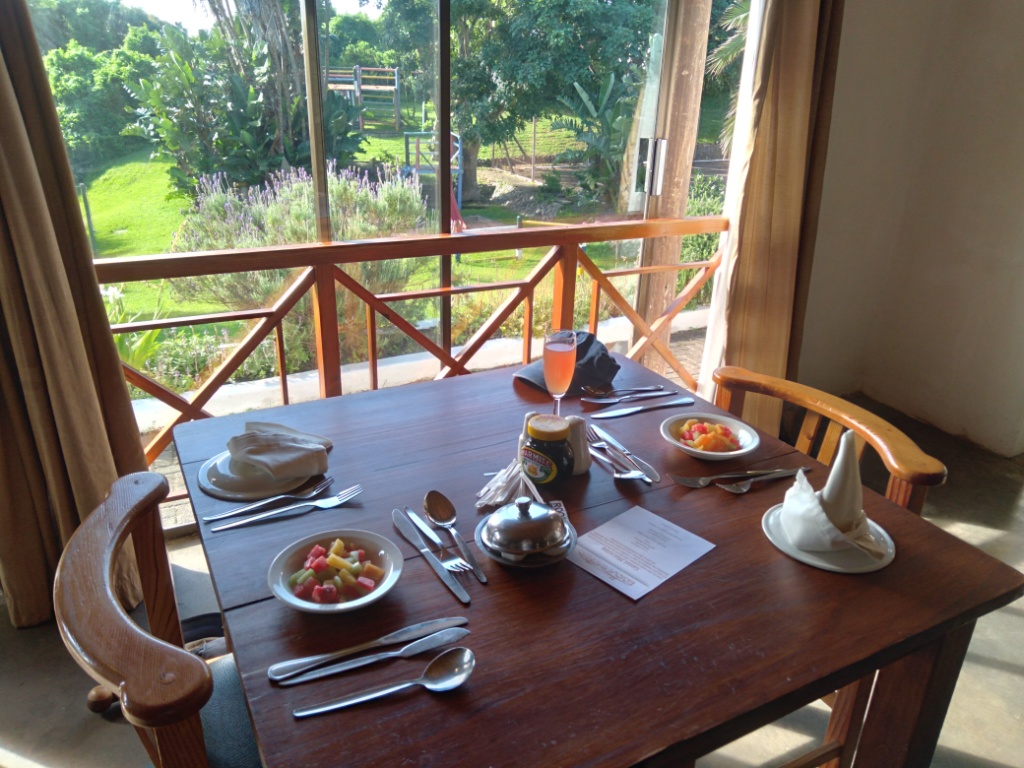 The hotel used to be famous for its buffets, especially seafood, but Covid-19 has put paid to those unfortunately – no buffets at all. You choose from the menu and the food is served up in the kitchen and brought to your table by your waitress. Not all of them are fluent in English (and we know only a very few Xhosa phrases), so quite a lot of sign language went on at our table. Don't expect 5 star cuisine. It is after all a 3 star hotel, but all the meals were palatable and the portions were a sensible size. Three meals a day are included in the daily rate and we definitely wouldn't have been able to have every course at every meal – but maybe some people could….you won't go hungry!
Every evening, we had our sundowners in The Sea View bar upstairs, which is lovely. Even if the wind is blowing, you can still enjoy the view from inside.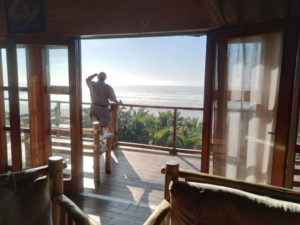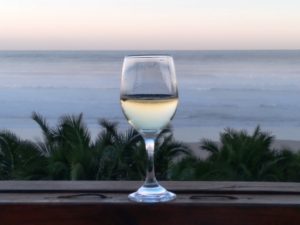 There is also the Red Blanket bar downstairs which also has an outside area. We were able to social distance easily, which was important to us, obviously.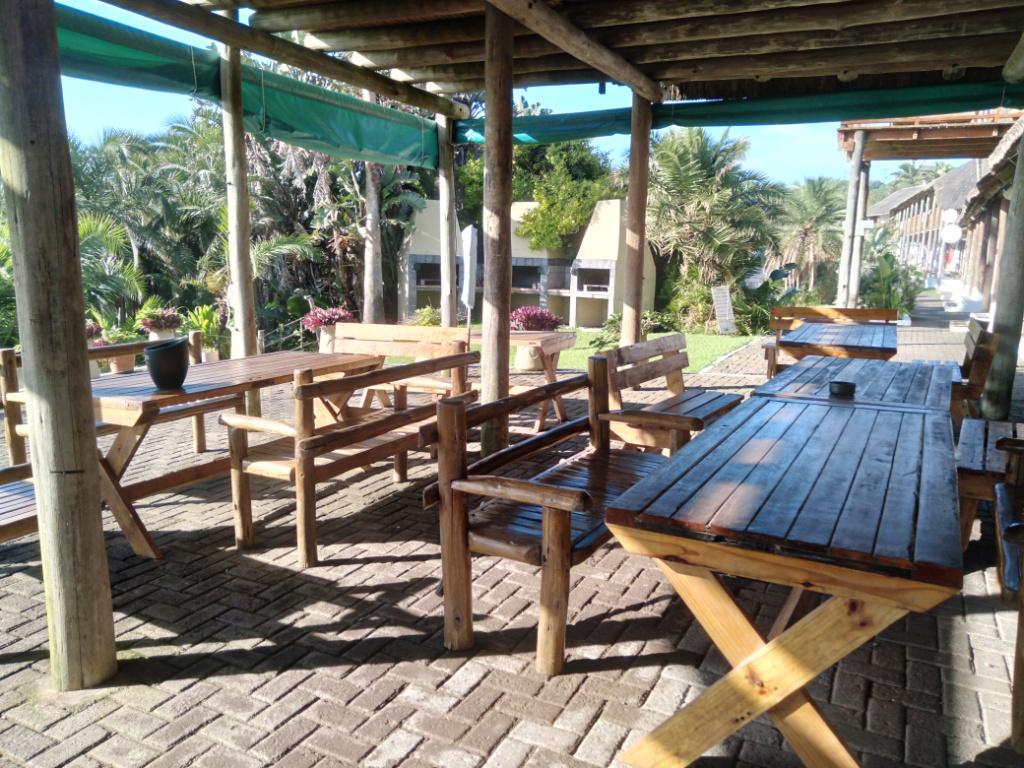 The island and suspension bridge
Early on the mornings of Christmas Eve and Christmas Day we enjoyed a walk down to the beach and an exploration of the small island just off of this. On the main beach, we were not surprised to see cattle strolling about and some lying down. This is quintessentially Wild Coast. They are very used to people as are people to them, so it isn't a problem – unless you are careless and step onto a cowpat!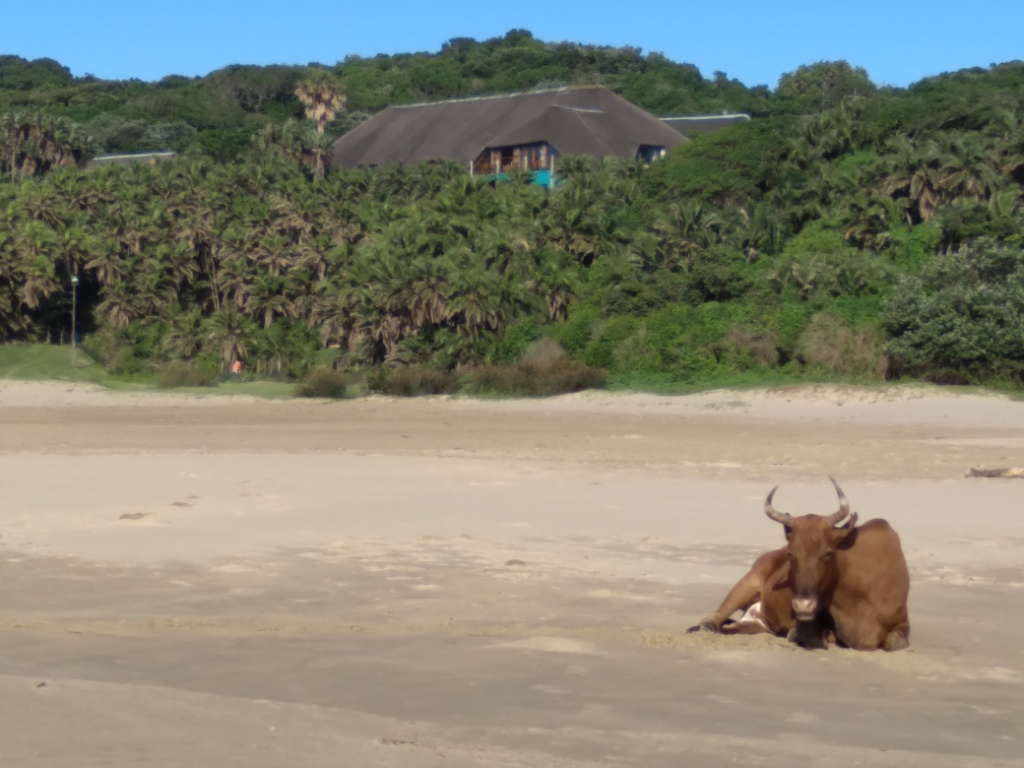 There is a suspension bridge to get to the island over the little river, but at low tide you don't need to use it. Some people are nervous of the bridge as it sways, but it really is pretty safe, although it could certainly do with some maintenance.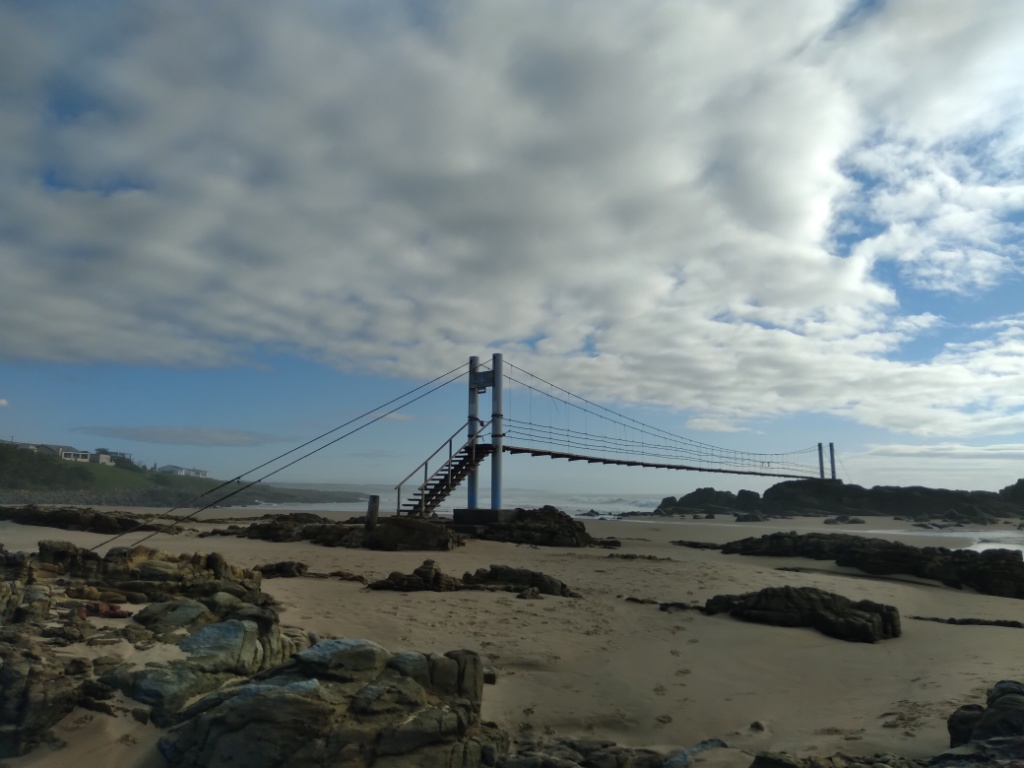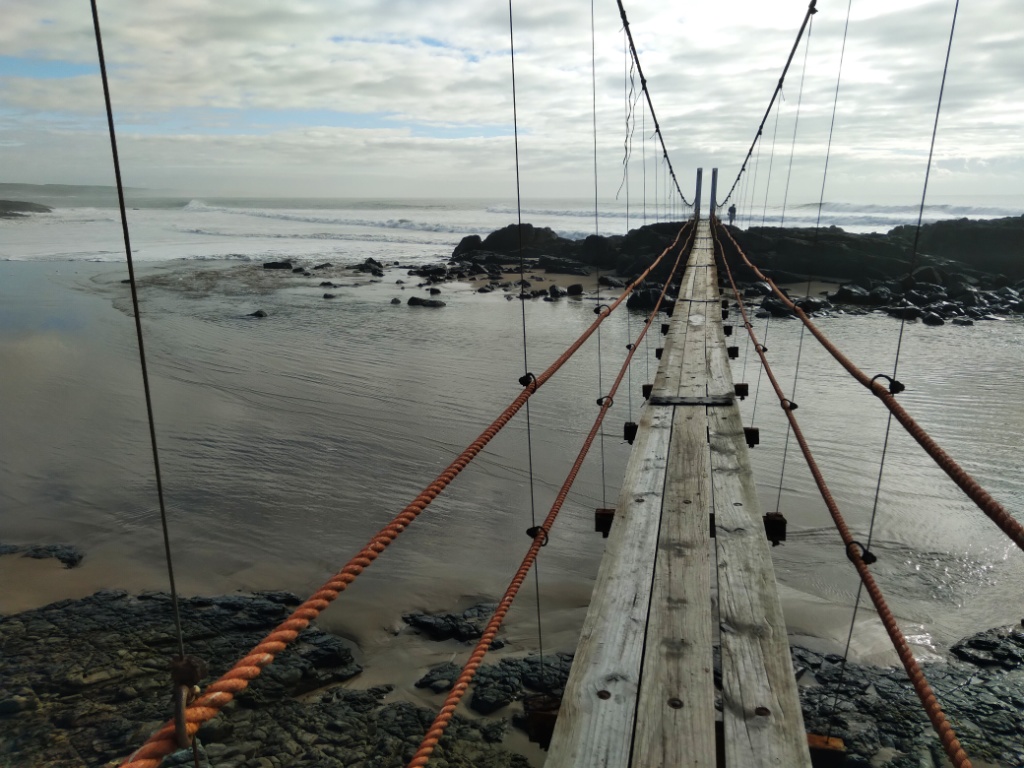 The island is very small but attractive and renowned for fishing.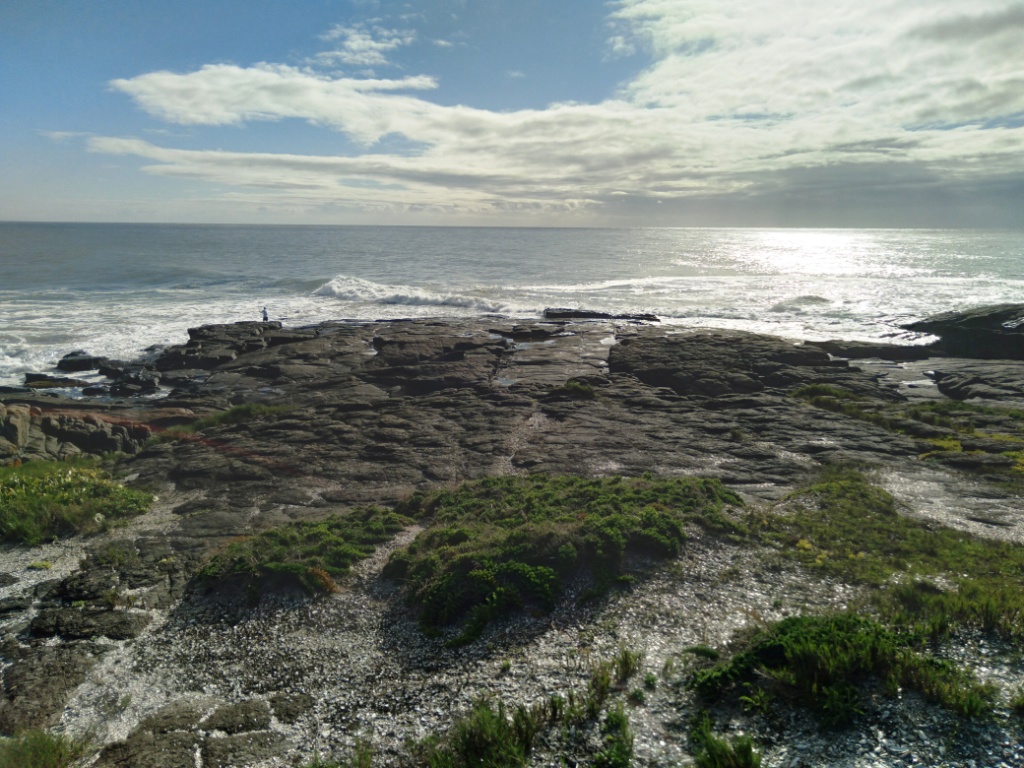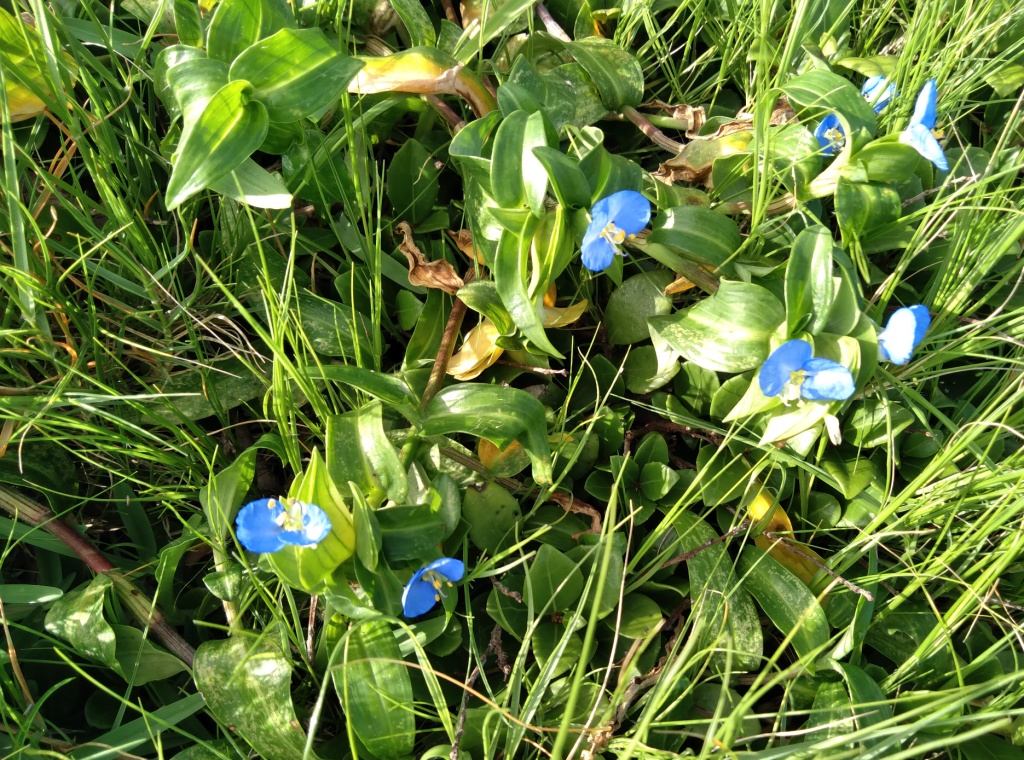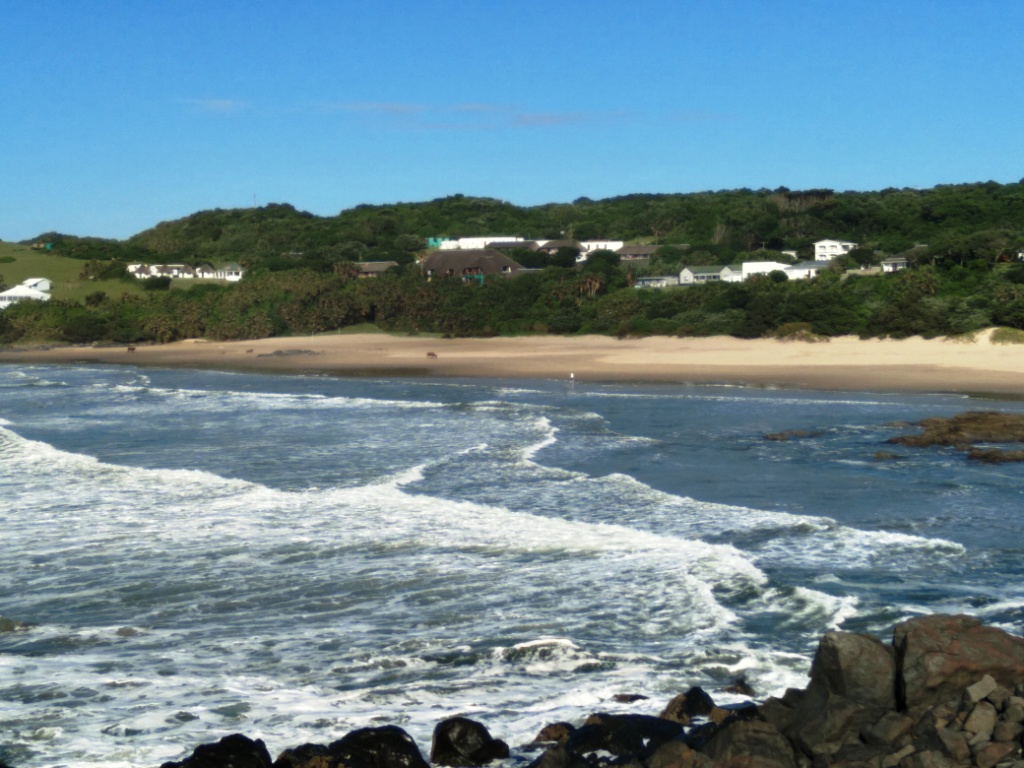 We saw lots of fisherman with lines out hoping to snag a big one. Later, we did see one guy with a fair-sized cob, and later still, we saw it dished up for their dinner!  As you step onto the island, you have to be careful because it is strewn with loose scattered rocks. We were picking our way carefully over the rocks on the second day when two young women suddenly appeared: "Oh – we thought you were our grandparents. We were coming to tick them off because we'd told them we didn't think they should walk here – we didn't want them tripping and falling." Well, we are grandparents, but not theirs and we used our sticks for balance didn't trip and fall…
Walks
There are some lovely walks. Google Maps gives one a good idea of the lie of the land around Mazeppa Bay.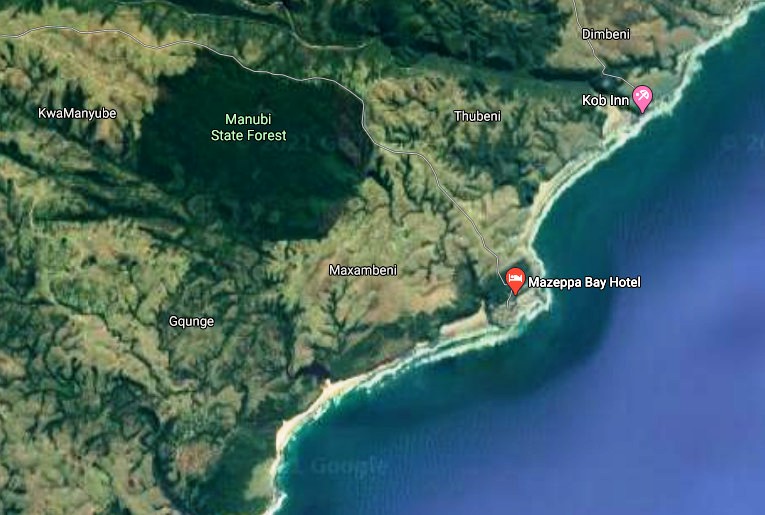 We went on two very scenic ones. On Christmas Eve we headed east away from the hotel and out along a hill and then down onto a beautiful beach. We walked as far as a small river, but you can walk much further if you're so inclined. Kob Inn https://www.kobinn.co.za/  is not that much further along – it's an 11km hike there and back from the hotel and what a lot of people do is walk there, have lunch and then walk back. I'd be fit enough, but not my dear husband!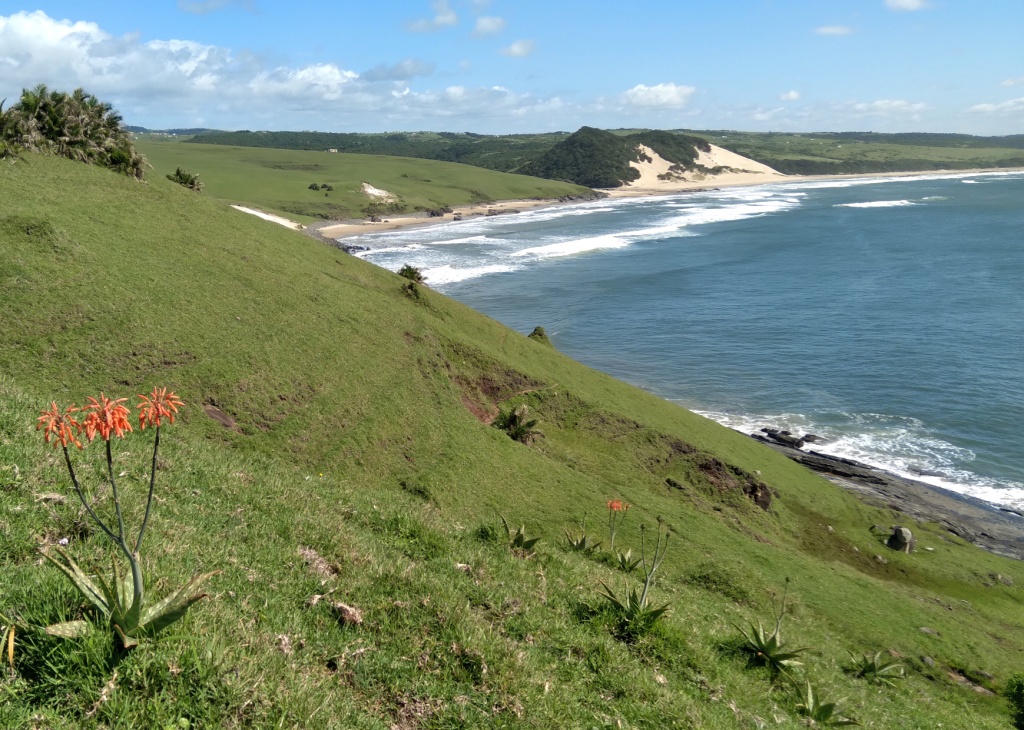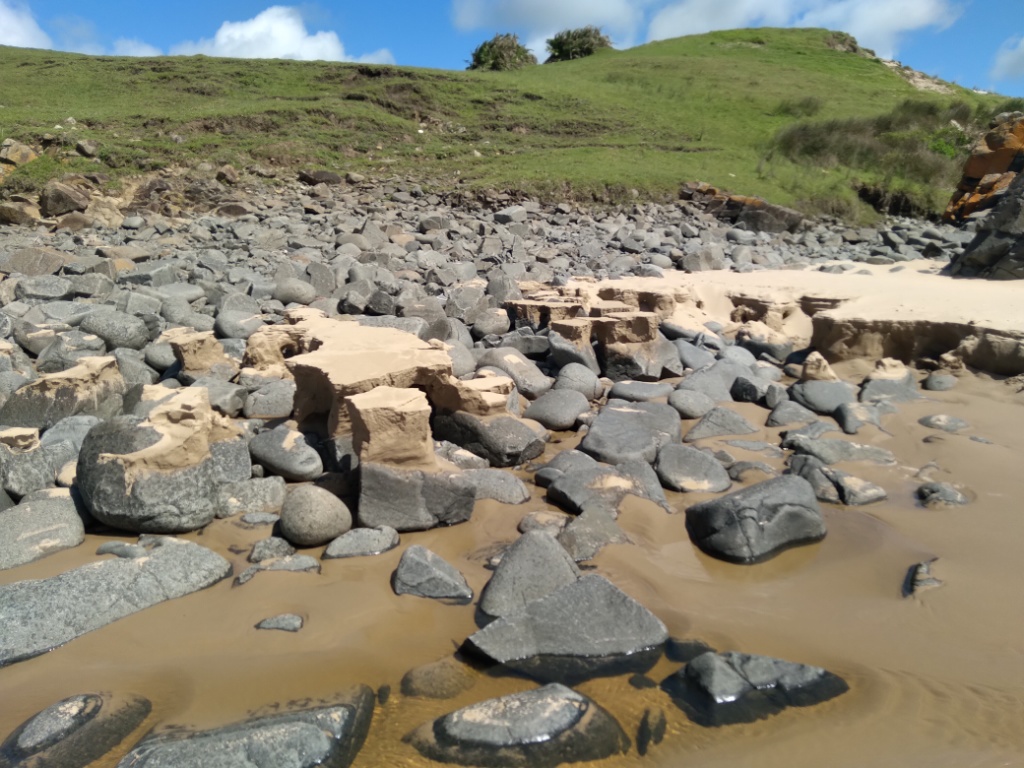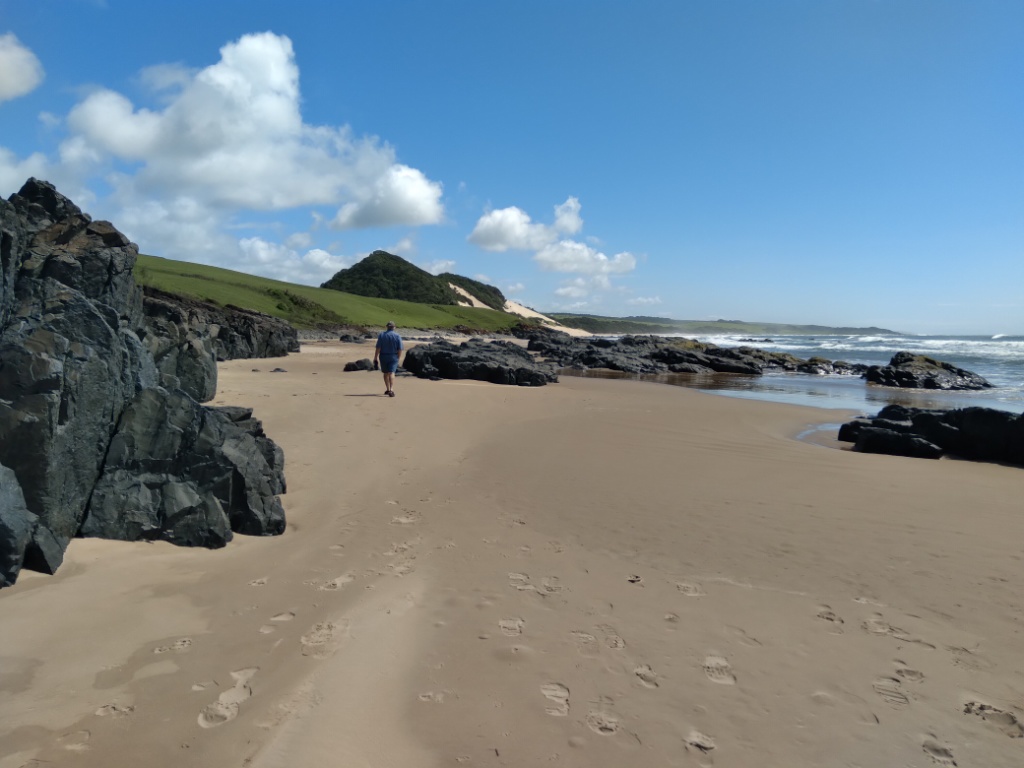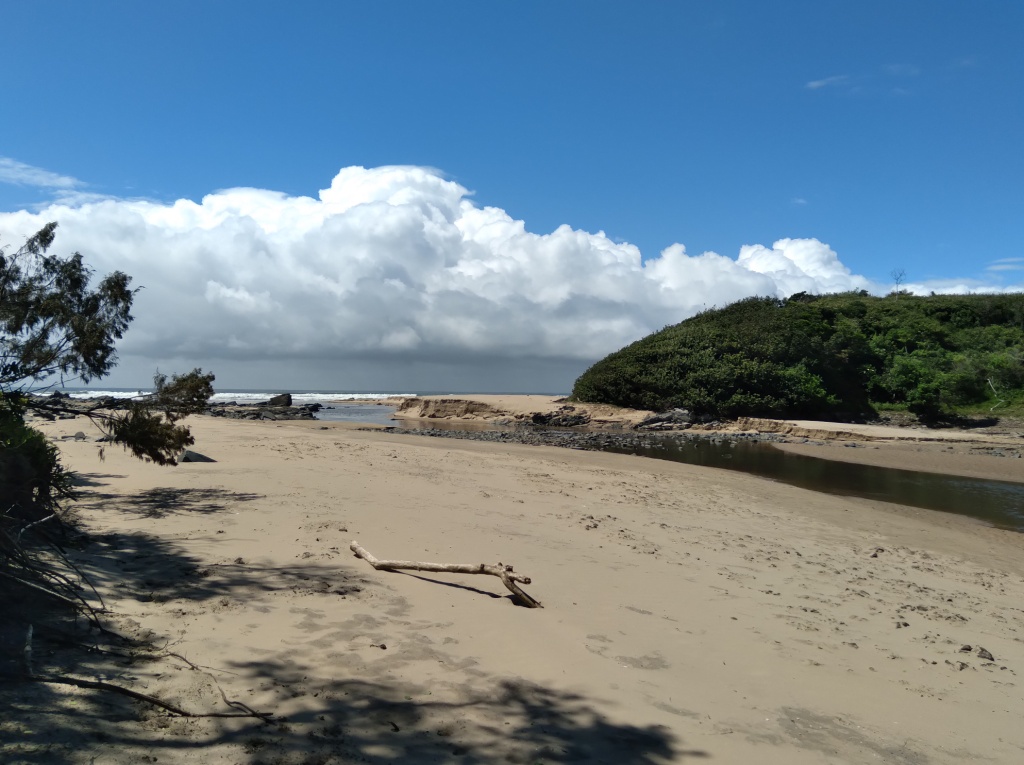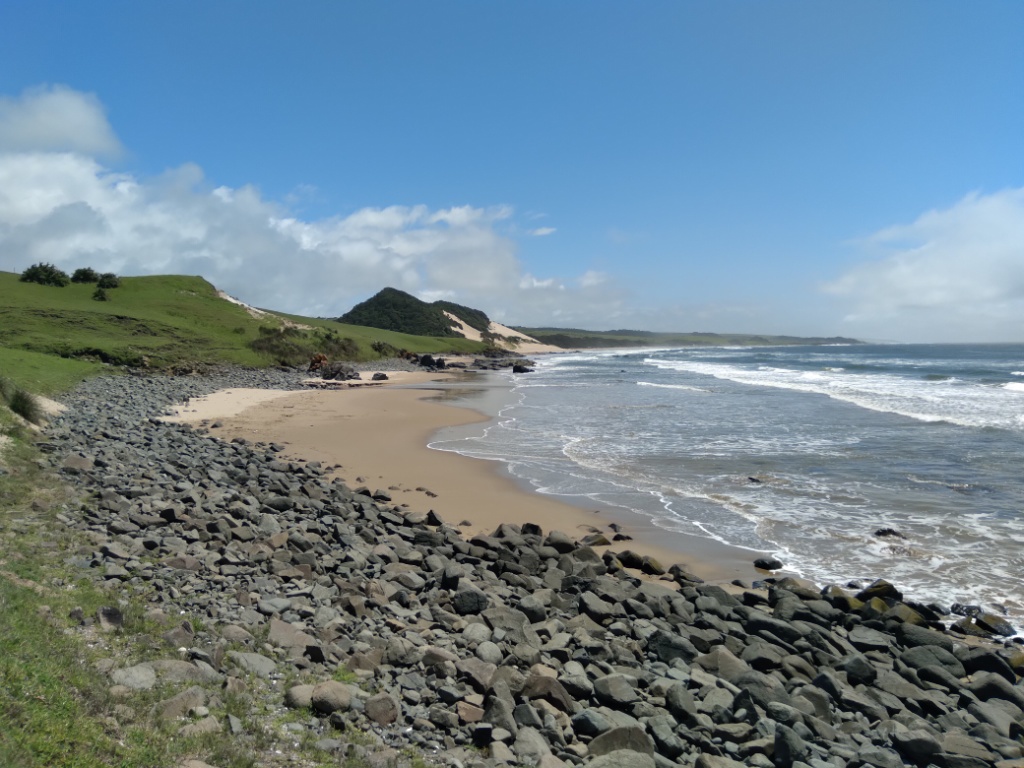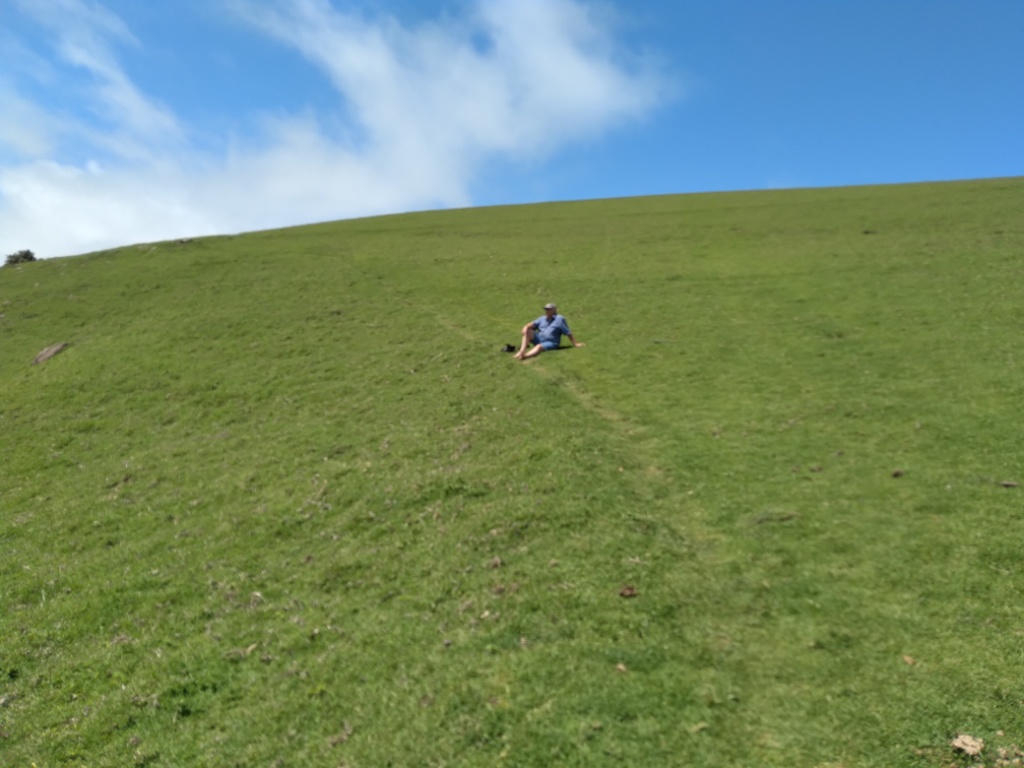 One Mile beach
Our Christmas day treat was a walk in the opposite direction. We drove a bit of the way along the road before setting off on the top of a grassy hill. The path skirts the edge of the hill before sloping down through a boggy patch down to the beautiful One Mile beach. You have to cross a river to get to it, but this was easy at low tide. It really is a very easy walk even for 'oldies' like us. If you carry on along this route, you will eventually get to the Wavecrest Hotel. http://wavecrest.co.za/  On the way back, we walked up the river a bit and there were two men fly fishing. We didn't see them catching anything, but presumably there must be some fish to be caught if they were doing this.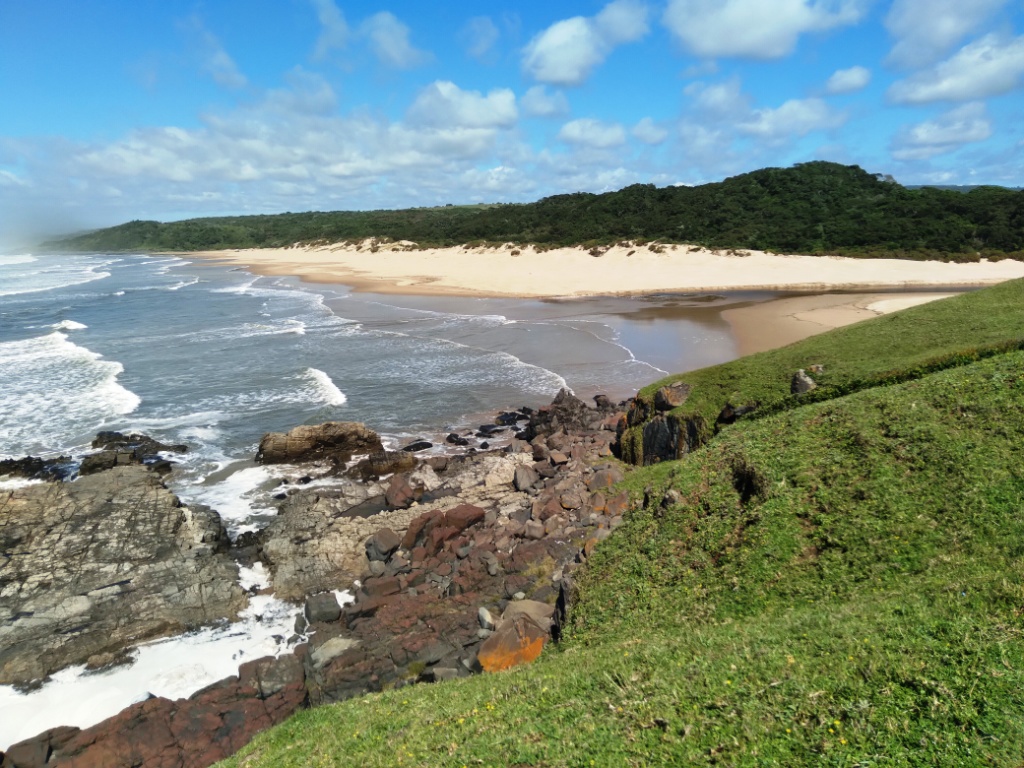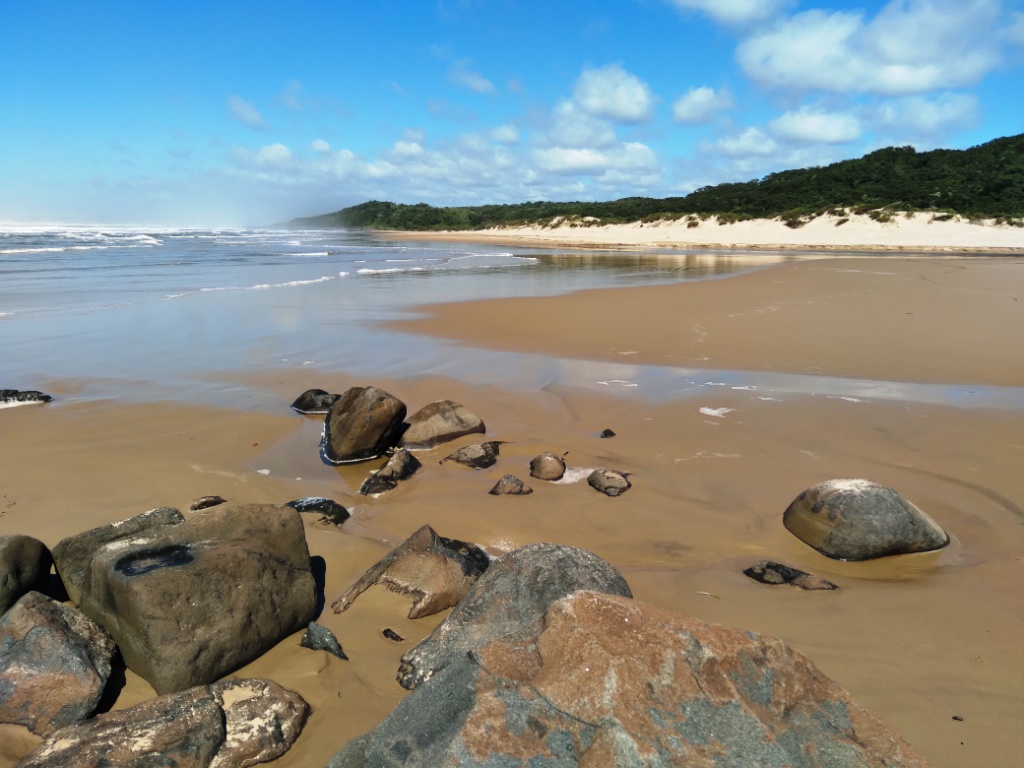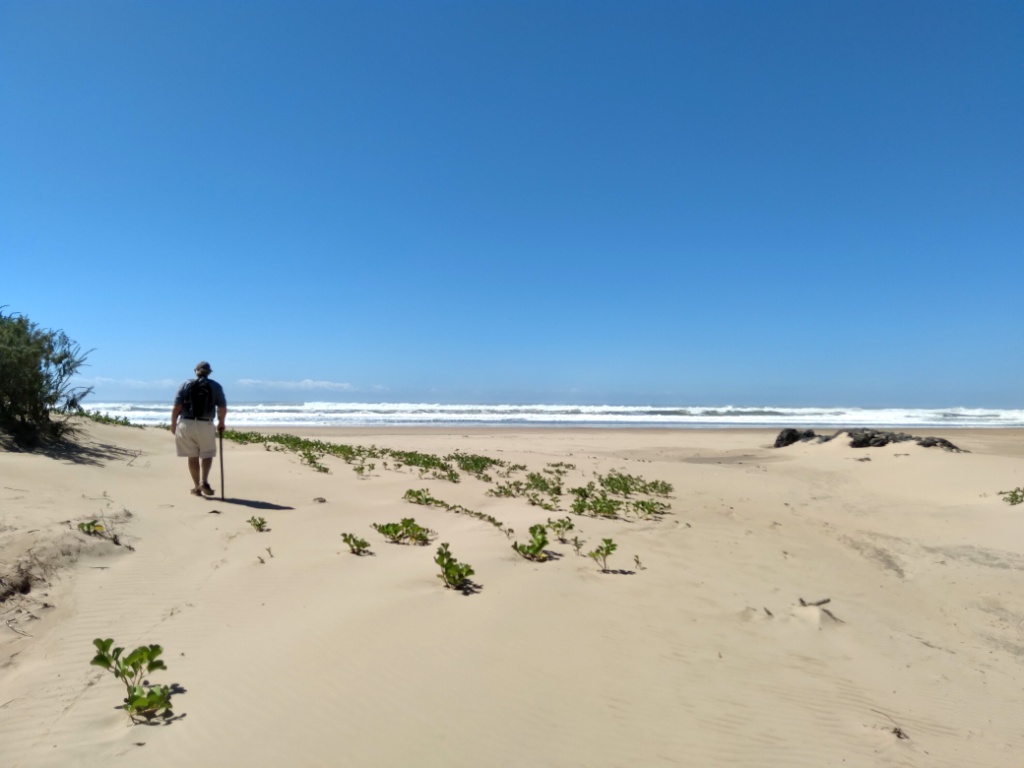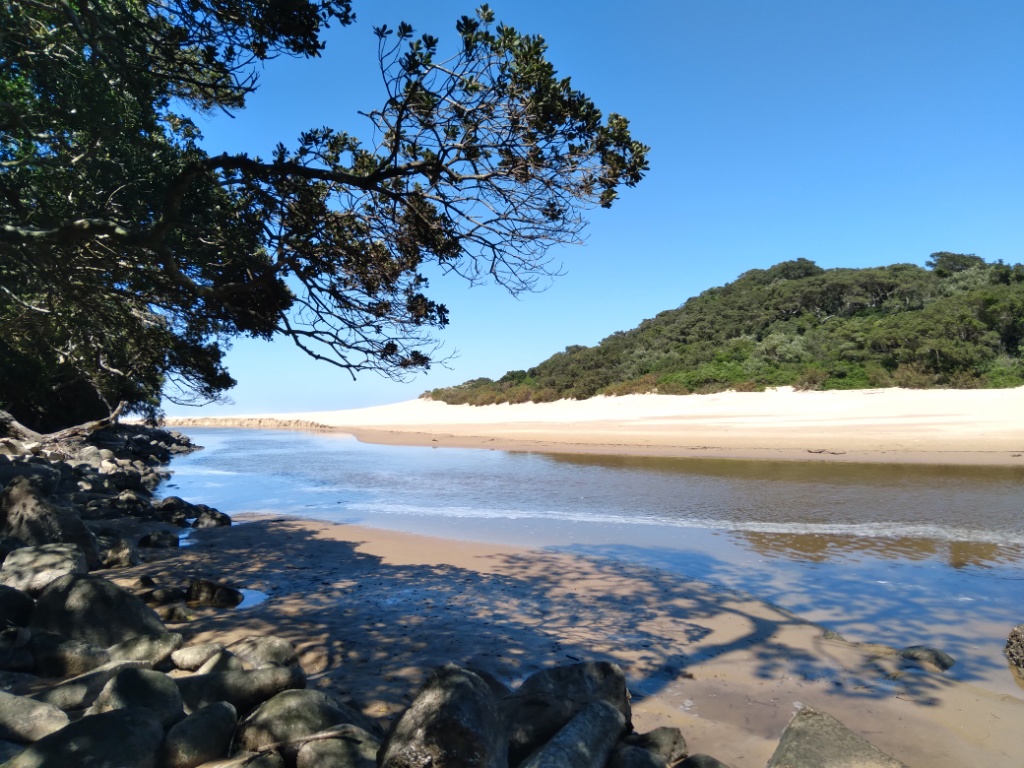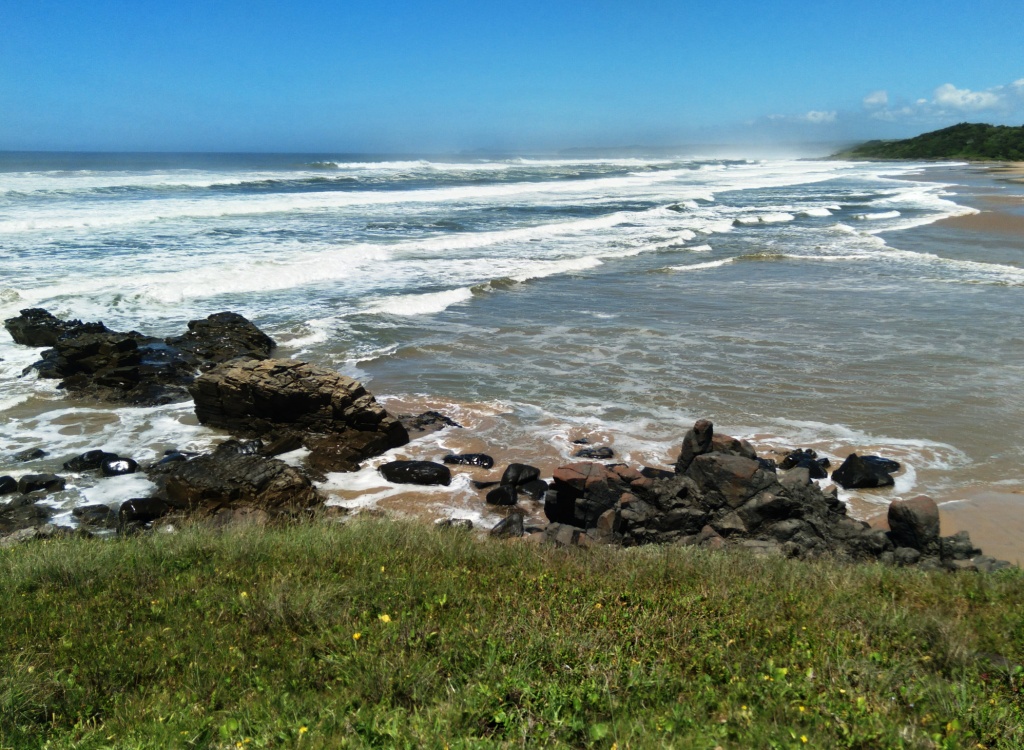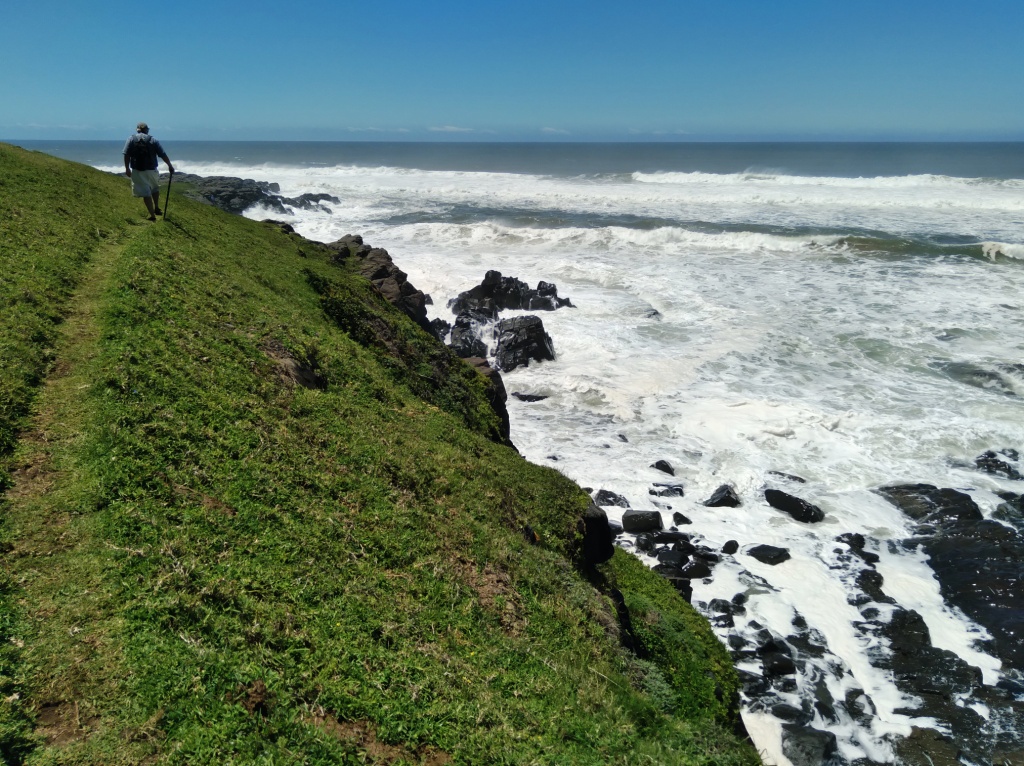 After both these walks I had a swim in the pool. It was pleasantly cool because it is situated amongst big trees and shrubs and is shaded during certain times of the day. Sometimes pools at hotels are in full sunlight and get too warm for a refreshing swim.. It has a lovely view of the beach too if you're relaxing on one of the loungers. if you prefer to have it almost to yourself – which I do, It's easy to pop down and check how many people are there.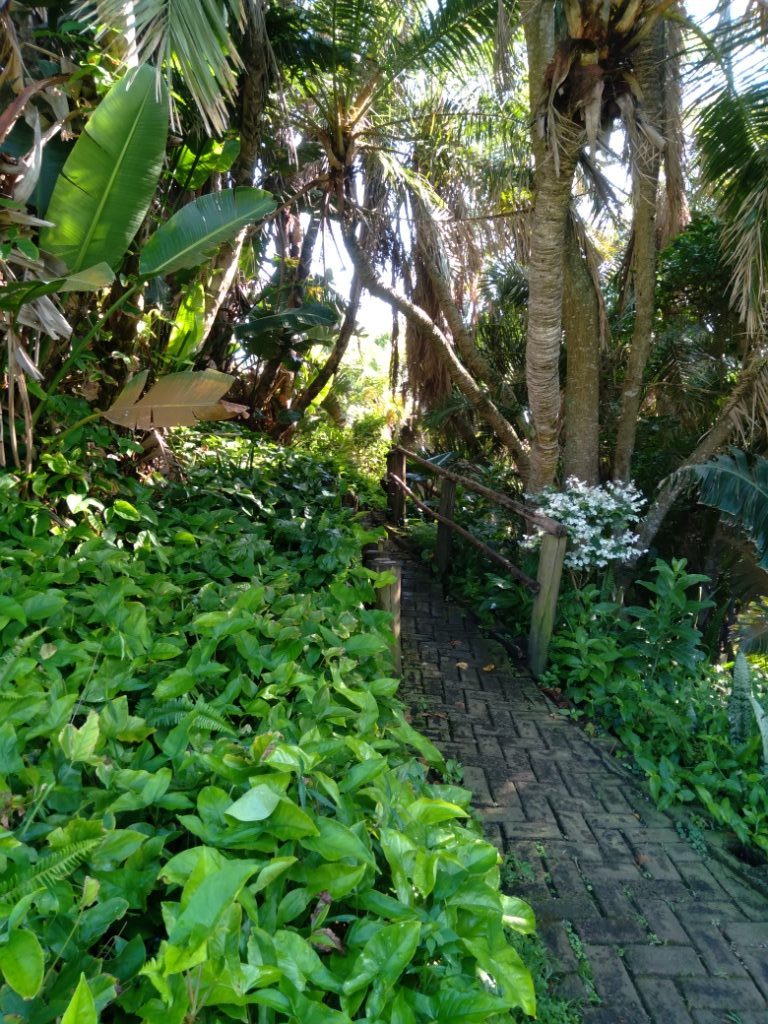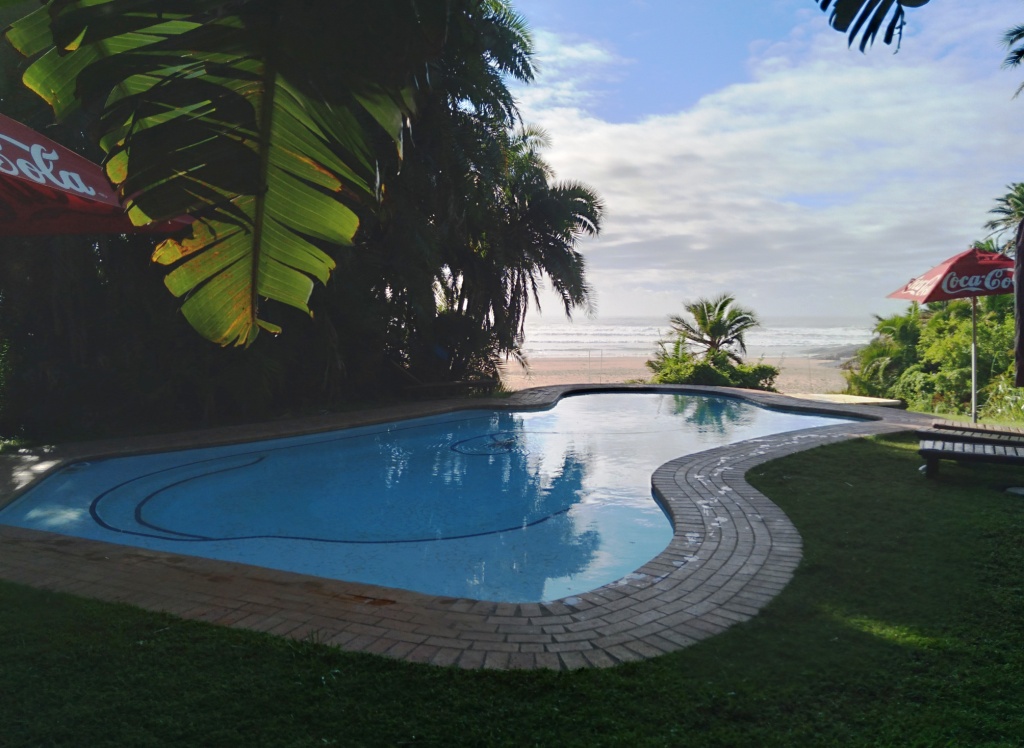 For the more adventurous walkers, there is the slack-packing 5 night Wild Coast walking trail. It starts at Mazeppa Bay Hotel and ends at Haga Haga. You can read more about that here: https://www.dirtyboots.co.za/adventure-holidays/5-night-wild-coast-walking-trail
Just to say too, that The Eastern Cape has so many beautiful unspoiled beaches. Check out my blogposts on these: https://footeloosefancyfree.com/heaven-on-earth-eastern-cape-beaches-south-africa/
Birding
We are keen birders and had hoped to do a guided walk in Manubi Forest, which is a short drive from the hotel. But it being Christmas, the guides, it seemed, were too busy celebrating to answer their phones. So that didn't happen. The bird life was disappointing.
There was a lot of time to chill. We both love reading and so we were happy to do that in our room. My best read was The Wisdom of Sally Red Shoes by Ruth Hogan….. There are no TVs in the rooms but there is one in the lounge just off the dining-room. We noticed that there was hardly ever anyone sitting there watching. There is so much else to do. You can still be in touch with your faraway family and friends if you ensure you have data, as there is a signal but no WiFi. We were happy about that, given that it was Christmas and our families were very far away.
Homeward bound
Boxing Day saw us heading home. Somehow we missed the town of Centani, which we'd gone through on the way there. Suddenly we found ourselves at the N2 just north of Butterworth. And  we'd taken only 2 hours instead of the 2 ½ on the other road. This was a pleasant surprise. The road was still shocking though! No wonder most people stay for a week or more. Once you get there you need to relax completely before you brace yourself for the return journey! But it is definitely a very special place to visit. Do it!