What do you do when your husband is away in Antarctica for 10 weeks?  How do you make the time go more quickly, take your mind off things? Go travelling perhaps? The Northern Lights were on my bucket list. How about Iceland then, the land of fire and ice, which offers this amazing tour:  https://www.discover-the-world.com/holidays/volcanoes-and-northern-lights/  My twin sister found it and my dear husband generously encouraged us to go? So we booked the 4 night trip: 24 – 28 January 2013. The flight from Heathrow to Keflavik airport took less than 3 hours. 20 of us hopefuls (all British except little old me), boarded our coach and headed inland to the Highlands Hotel https://www.thehighlandcenter.is/  On the way, we picked up Tony, a professional photographer, who had flown direct from Manchester to Iceland. He'd spent the previous night at the Northern Lights Inn, where he'd witnessed and photographed the Lights – this was encouraging. Here is the photo he shared with us.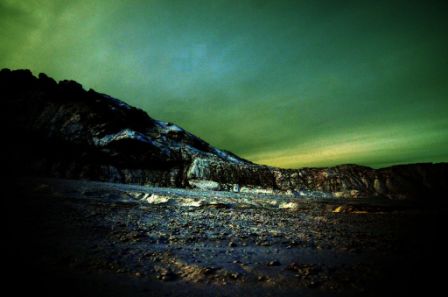 It was a long slow drive to our hotel on the very slippery icy roads. It was pitch dark by the time we arrived, so we couldn't see much of the countryside, except that it was a winter wonderland. We had an excellent 3 course dinner and then a talk and video by the owner of the hotel, all about the Northern Lights. It became clear that our chances of seeing the Lights were not nearly as certain as we'd hoped. Three factors have to be in place to see them:
1. A remote location, away from light pollution
2. Clear skies,
3. Solar activity.
He had graphs etc. and said that he thought our chances of seeing them were best on our last night.  It's apparently a myth that a full moon will lessen your chances of seeing them. We could only tick the first box at this point – we had overcast skies and sun activity was quite low. Oh well…at least the itinerary included volcanoes and more!
Fire and Ice:  Eyja Fjalla Jokul, Gigjokull Glacier
We set off early in the morning for THE VOLCANO, Eyja Fjalla Jokul..put that in your pipe and smoke it!…no, I still can't pronounce it correctly, even though our wonderful guide, Oli, (pronounced Ou-Lee), told us umpteen times. This is the one that erupted in 2010 and caused such chaos, bringing International flights to a standstill. It is in the Thorsmork area.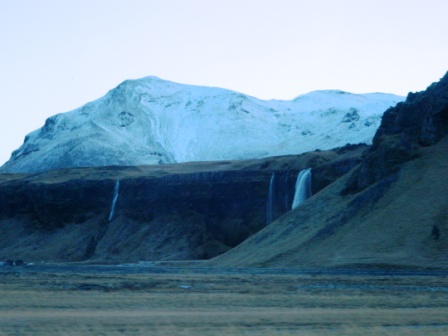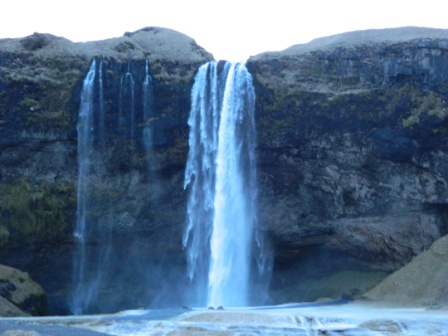 At the spectacular Kaftkla waterfall, we boarded an 8 wheel vehicle and headed for the Gigjokull ( this means 'crater') glacier at the foot of EFJ. We were expecting gray ash, but snow blanketed the landscape, transforming the wooded valley into a magical place. Only the shallow crisscrossing pebbled rivers gleamed copper or teal on the monochromatic canvas. It was a beautiful day and we walked in single file (for safety) to the snout of the glacier, turquoise blue with the cold. A river flowed out from under it.  Maddeningly, my camera batteries died and I'd left my spares in the vehicle so didn't get photos. I searched the net for pictures that came close to what I remember of the experience and the best were these two below, in Tom and Tara's blog The Intrepid Life. I sent them an email asking if I could use their photos and they kindly agreed. Their blog is definitely worth a visit: http://www.intrepidlife.com/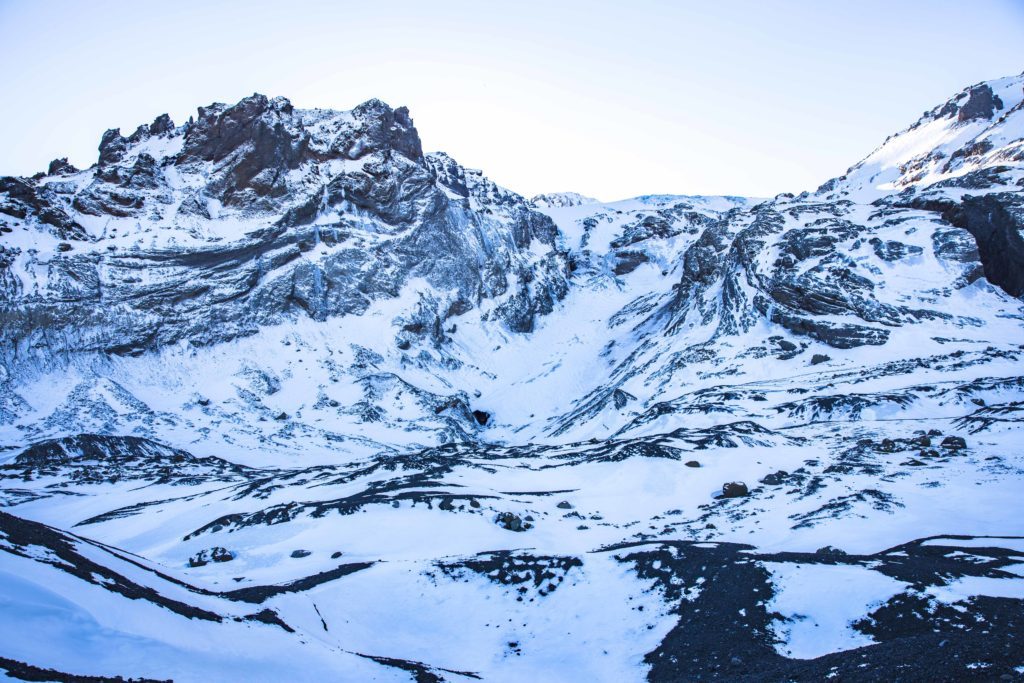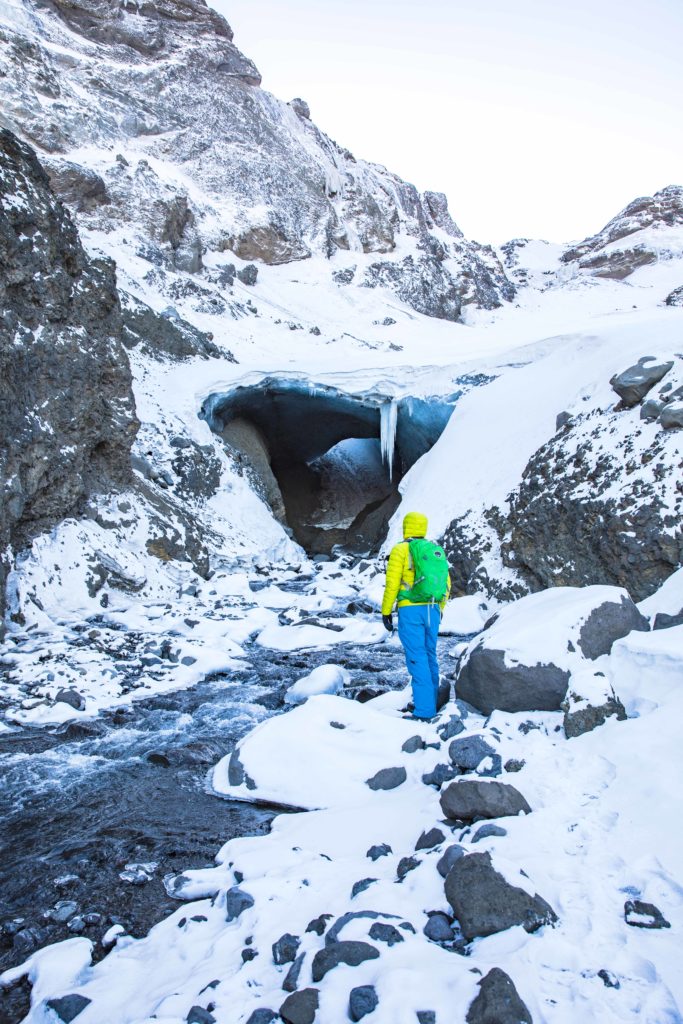 Most volcanoes in Iceland have an icecap on top. When the volcano erupts, the icecap melts, as does a lot of the glacier and this, mingled with ash flows down the mountain at an enormous rate. Flooding is the biggest danger after eruptions in Iceland. There used to be a lake at the foot of EFJ that completely disappeared after the eruption! Our guide's beautiful Icelandic dog accompanied us, revelling in the snow and the cold, a gorgeous bounding splash of russet against the black and white. An hour and a half later we got back to the vehicle.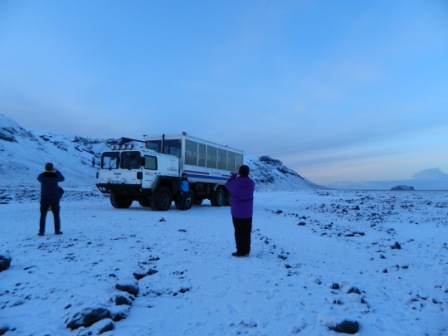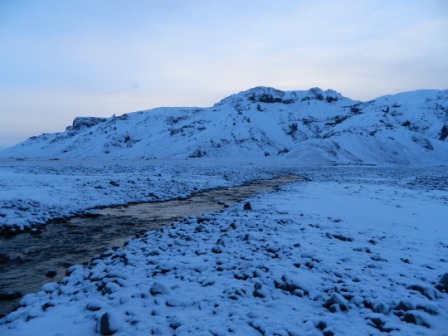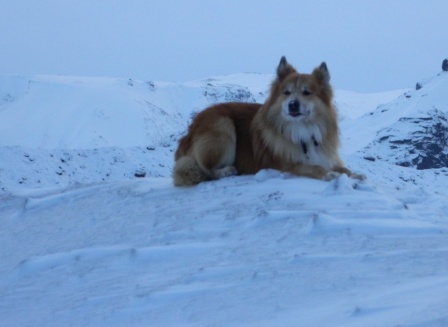 Hattur
We then drove further into the valley to a Rangers' Camp where we had our 'picnic lunch', all standing around the snow-covered tables and benches!  Then we all put on crampons to climb a small but steep hill, called Hattur, The Hat – no-one sat waiting in the bus – our guide was impressed!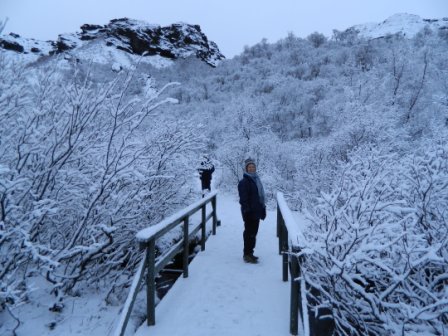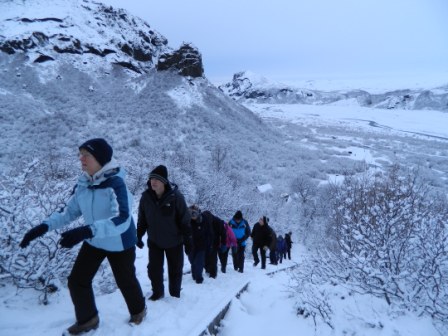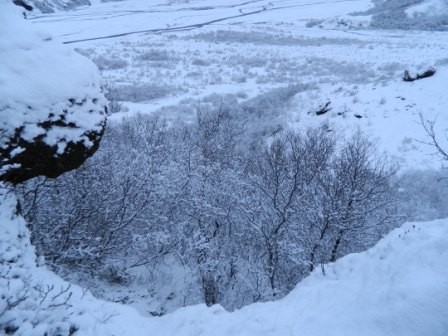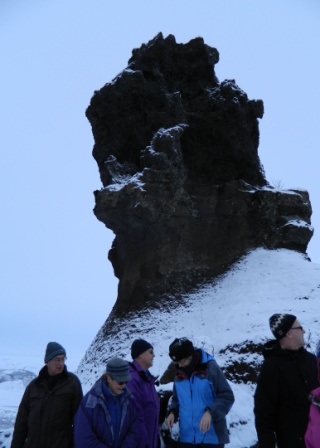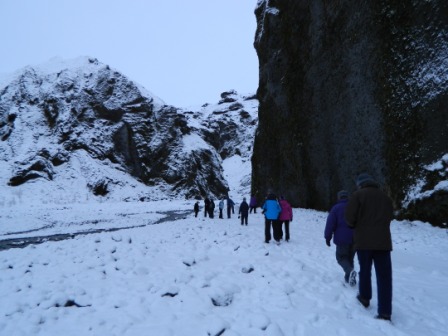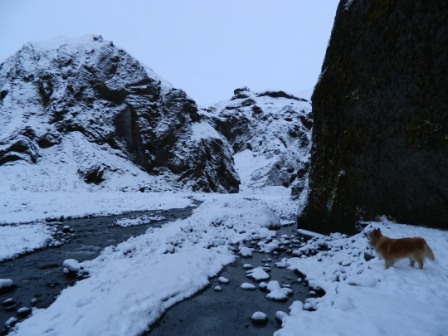 Another excellent meal awaited us when we finally arrived back at our hotel, hungry and pleasantly weary. But no-one braved the out-door hot tub! And there was no knock on the door for The Lights…
Fertility, Nourishment, Shivers, Nail-biting and still no Lights
The next day, we headed south again. First, we saw a fascinating documentary about EFJ and how its eruption affected the farm, Thorsvaldseyri, which lies at the foot of the volcano.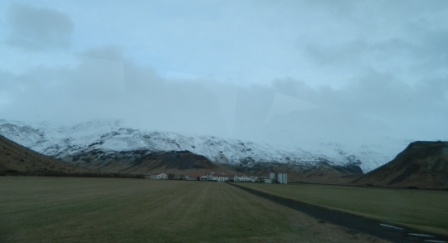 The family that own it have been incredibly resilient and resourceful through it all, even selling all the scooped up ash for cash!  The farmer's wife showed off the magnificent carrots she'd grown since the eruption, proving that the ash is amazingly fertile. The wind was pretty strong but we were told that it gets a lot stronger, strong enough to tumble a Volkswagen Beetle and blow over a large tractor in the car-park!
We then headed down to the coast to see the volcanic black beaches at Vik, with distinctive rocks poking up out of the sea (which Icelanders call sea stacks,) further down the coast at Reynisdrangur. We had the delicious traditional Icelandic meat soup for lunch and very good it was too.  'Be careful of the big waves'' said Oli on our way to the next beach – I thought he was joking – who was going   swimming? Well everyone rushed down to photograph them crashing against the rocks and the next thing we knew, a big wave came and knocked a couple of people right over – my little twin managed to escape with only wet feet, but others cameras were ruined and they had to spend the rest of the day in their wet clothes – little did they realize what was ahead.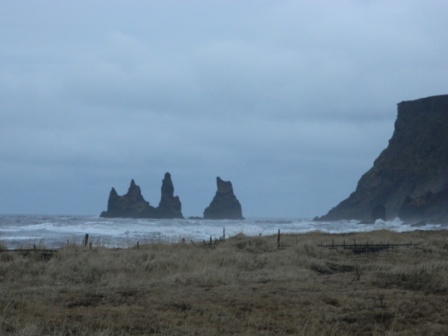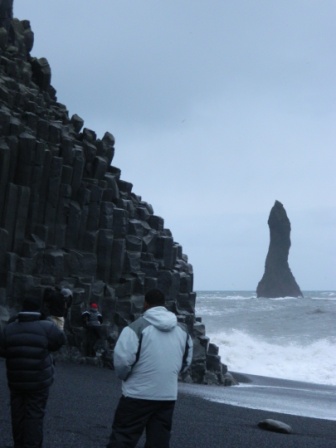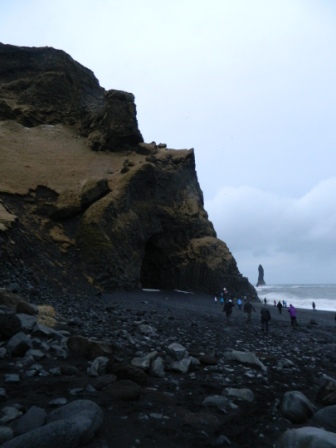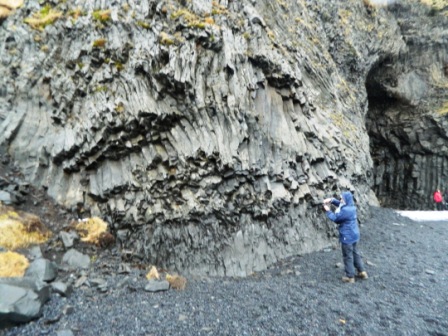 We visited two waterfalls, Seljalandsfoss and Skogafoss, before heading back to the hotel. Wind in Iceland is measured in metres per second. The wind had been predicted to be 9m per sec but it picked up to 20 m per sec and it was snowing – blizzard conditions. Our coach was being buffeted about and the driver was battling to control it on the very icy road and kept slipping off onto the gravel on either side. We were going at a snail's pace. The last 14 kms to the hotel had no gravel and steeper drop offs on either side, and it was here that our driver decided it was too dangerous to continue. So we had to be rescued by Iceland's Rescue Service! Fortunately there was cell phone coverage. We waited in the coach for more than an hour for their 4 Super Jeeps to arrive and finally got back to the hotel at 11pm to a very welcome hot meal. What stars our young rescuers were, obviously delighted at having a job to do and doing it well.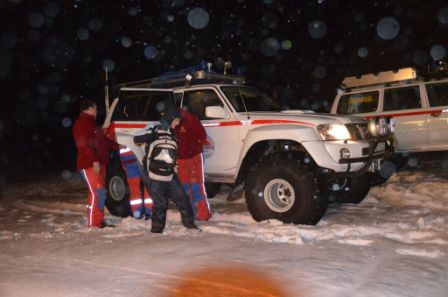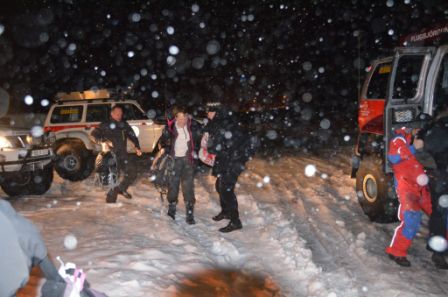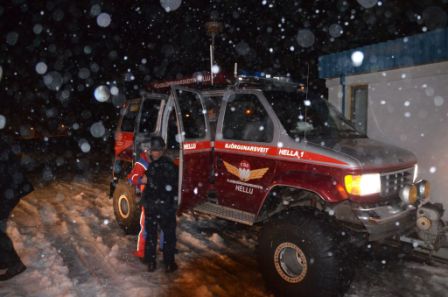 Overcast, still snowing, so still no lights…
More icy than fiery
During the night, one poor man became ill, some sort of gastro-enteritis and he was looking and feeling so awful in the coach the next day, that Oli decided to call an ambulance. He joked that now the only people we still had to call out were firemen! It was a freezing cold day again, with a strong wind and sleet every now and then – as cold as Antarctica out of the bus! We visited Geysir, Iceland's most well-known geo-thermal area, Stokkur being the most spectacular spouting geyser. https://www.icelandtravel.is/attractions/geysir/ All the time Oli was saying, 'Be careful, it's very icy' and it was. Where are the crampons then? I feel they could have had them on offer. Sue and I hurried past the geysers, too cold to want to wait for a spectacular spout, and headed for the restaurant where we enjoyed a delicious bowl of fish soup.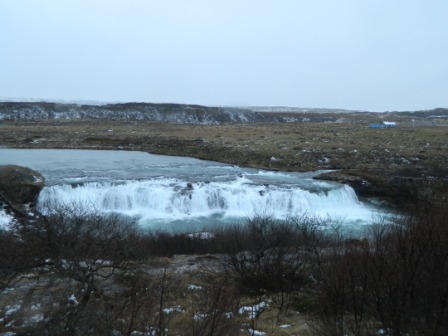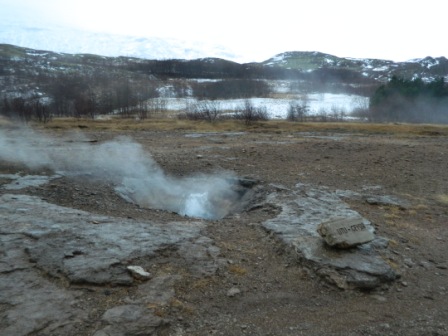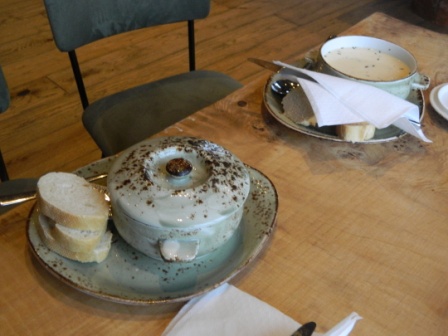 Gullfoss waterfall is two tiered and cascades into the Hvita river.  It was an awesome sight, partly frozen in places…..we were also frozen in lots of places…..!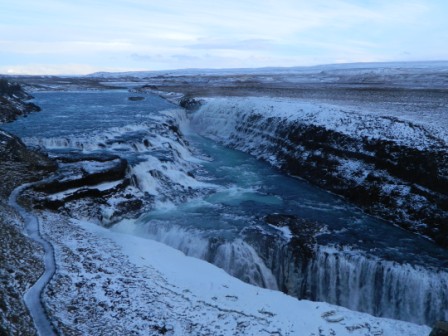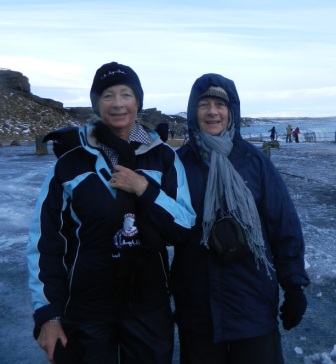 Then on we drove in this amazing 'other world' landscape.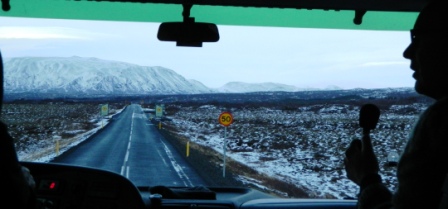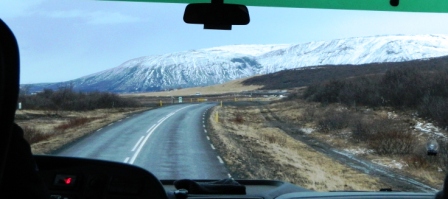 We marvelled at the resilience of the Icelandic horses that we saw everywhere, looking quite unperturbed by the cold.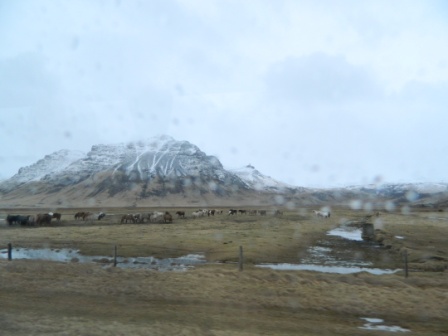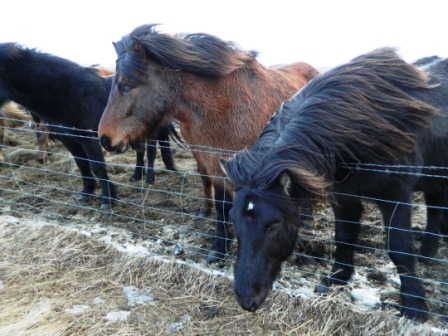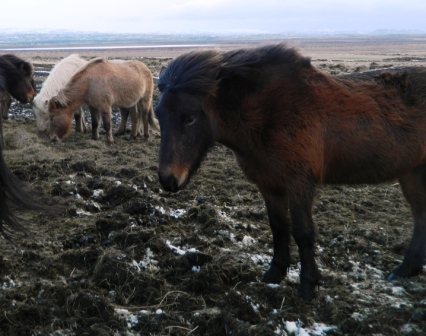 Our next stop was in the UNESCO World Heritage site of Thingvellir National Park. It is here that the Eurasian and North American tectonic plates collide.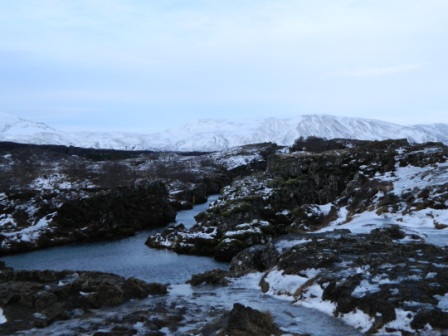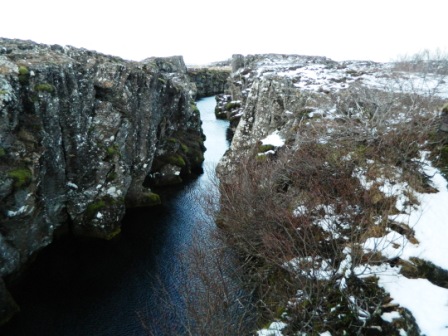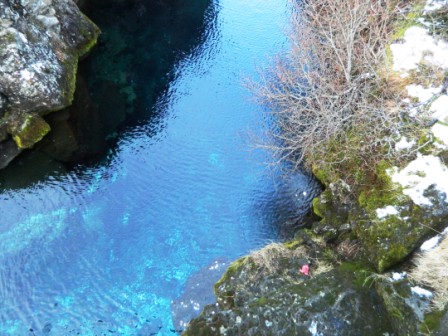 This is also an important political area, as it is the site of the first settlers and all sorts of important events have taken place there e.g. the declaration of independence.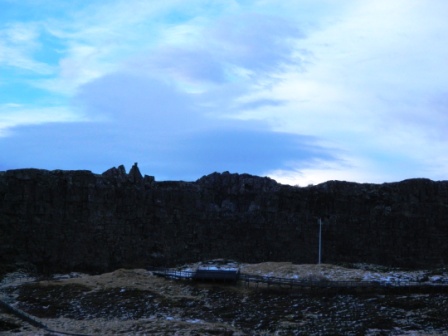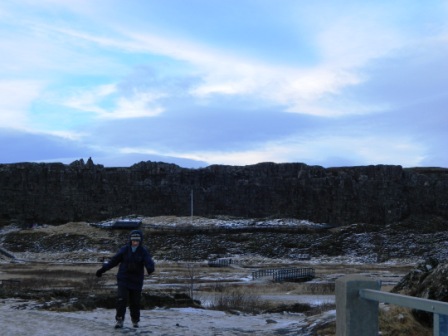 Quite a few of us did not walk up to the flagpole for the political chat – too bloody cold!  All of these are in the Golden Circle. https://www.icelandtravel.is/golden-circle/
Northern Lights Inn – Northern Lights out!
We drove south to the Northern Lights Inn http://www.northernlightinn.com/home/ for our last night. What a lovely hotel, right near the Blue Lagoon, with a magnificent viewing lounge upstairs, but sadly all we saw was the nearly full moon. We were told we would be woken if the Northern Lights made an appearance. One won't often say that you're sad you had a good night's sleep – but we were…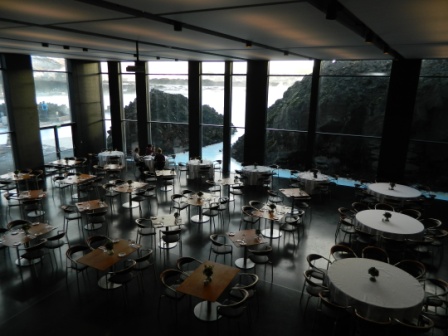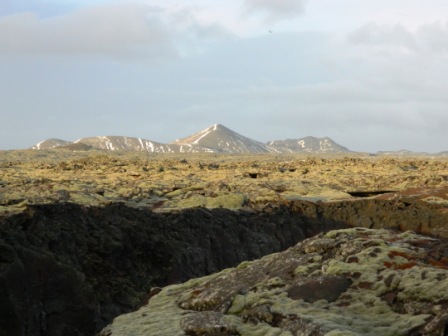 Icelanders don't socialize in bars, Oli told us. Instead they gather in the hot thermal pools. Well the famous Blue Lagoon, https://www.bluelagoon.com/ , is like a gigantic hot swimming pool, with all these people bobbing about in it, sipping drinks etc. We all took the plunge. It was wonderful, but also quite strange because your body was beautifully warm, but the freezing wind made your head very cold.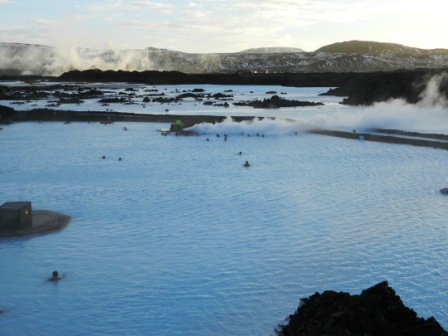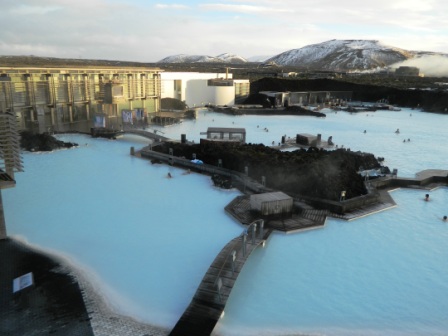 And then it was all over.  Oli was a brilliant guide and we learnt so much more than I can write about here – the folklore, history etc. etc. No Northern Lights, but a fascinating country to visit nevertheless… I will just have to go somewhere else to see The Lights!
And I did – in 2018! Read about this here:  ‎https://footeloosefancyfree.com/the-northern-lights-and-the-big-light-bulb-moment/