It's the 30th October, 2011. So, we've travelled from Khao Sok National Park (read about that here: https://footeloosefancyfree.com/no-nos-in-2011-k…-park-thailand-2/) and  we've arrived at  Krabi. We aren't surprised to find ourselves being herded to a table, where stickers saying 'Railay Beach' are stuck onto us – and we're told to wait….and we wait, and we wait. Finally we are hustled onto another combi, which takes us down to the pier to catch our longboat to Railay Beach. We arrive at East Beach, at high tide luckily – the beach is very muddy at low tide. We have not yet had 'time for relax" – a Thai mantra.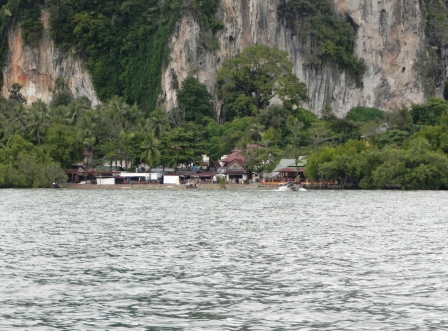 It's a short walk through to the stunning West Beach. We were lucky – got the last room at the Sand Sea Resort http://www.sandsearailay.com/ – peak season hasn't even begun yet. Hopefully, soon, the "time for relax" will begin!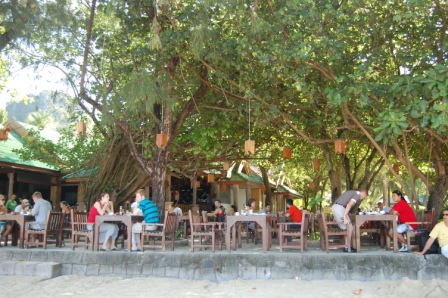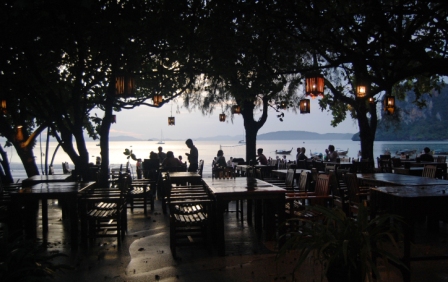 Railay is a rock climbers' paradise. It has the tallest limestone karsts in the area and what a dramatic sight they are right on the beach. There was a torrential downpour in the afternoon but who cares when you're in this beautiful place and can indulge in delicious Thai food, such as the salad with cashew nuts I had for lunch?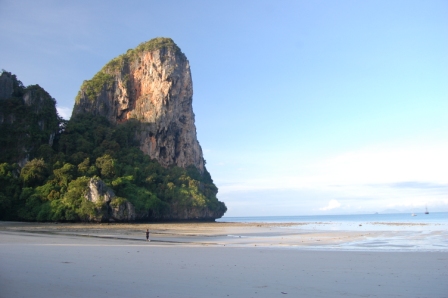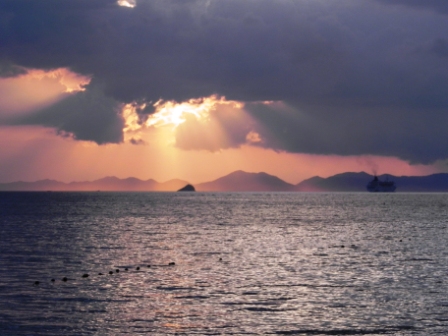 Kayaking through the mangroves
On our first day. 31st October, we set off from Ao Thalan in kayaks to explore the canyons and mangrove swamps that wind their way around the bases of the hugely imposing limestone cliffs.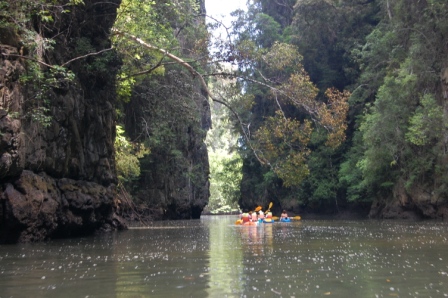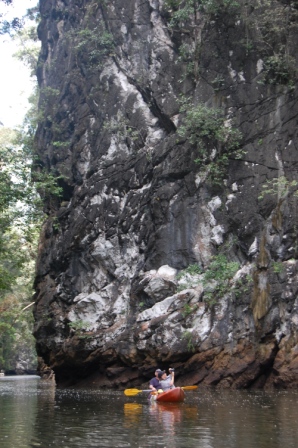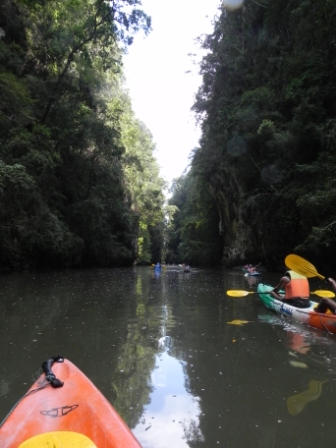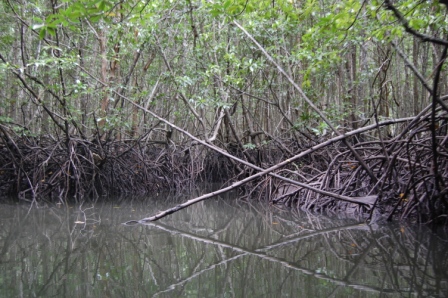 The birdlife was disappointing but we did see some wild life – read Sal's amusing account of this: http://sponsoredbyrupert.blogspot.com/2011/11/railay-beach-krabi.html
"Sunset snorkelling trip"
That afternoon we boarded another longboat for a 'Sunset snorkelling trip'. There were 4 places to snorkel, which were 'so-so' in my opinion – but I suspect I am spoiled in this regard, having lived in Mauritius and the Seychelles, where the snorkelling was superb. All the underwater photos are Sal's as well as one or two of the others.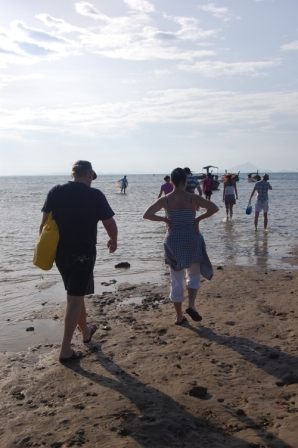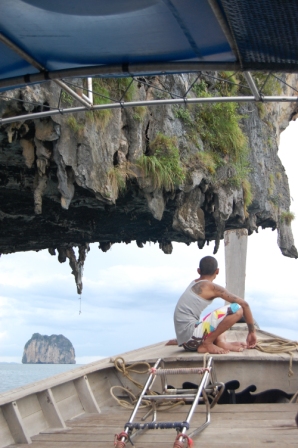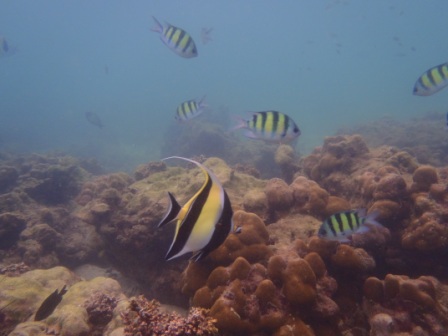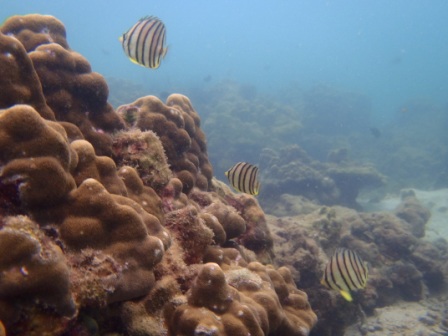 We headed for the bigger island for a  'barbecue'/not –  it was Thai. It was a beautiful evening and a gorgeous place but this of course means lots of boats and people. You can't have it all. We did manage to wander off from the busy area for a while. There was an old tractor on the beach! – maybe washed up in the Tsunami of 2004?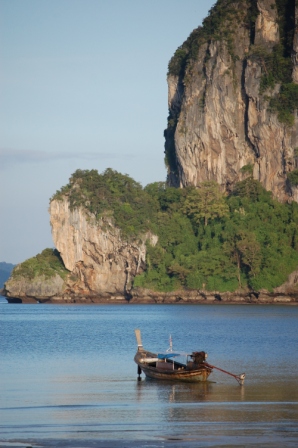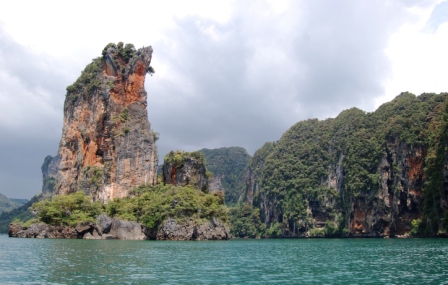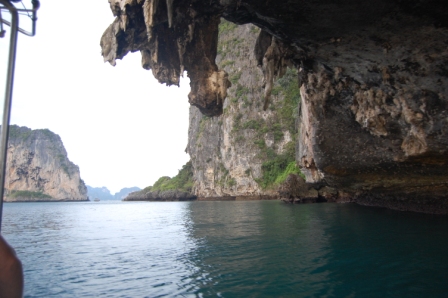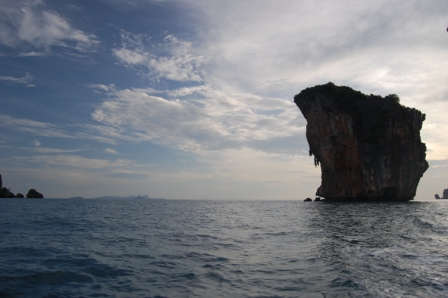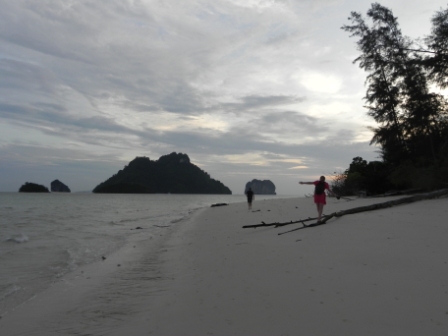 Then, on the way back, we anchored under a rock ledge, donned our masks once more and got back into the by now cold dark water and splashed around in magical phosphorescence. Back on our beach, we watched a dexterous young man's fire-show; he twirled lighted sticks and bags, creating fiery swirling patterns – utterly mesmerising.
"Swimming, snorkelling and touching with a great number of fish and colour of coral leaf"
We loved the quaint wording on the pamphlets for any trips in Thailand. Our trip for the next day, the 1st November, read as follows:  "Leaving from aonang direct to Daeng Island, the first stop for enjoying swimming, snorkelling and touching with a great number of fish and colour of coral leaf. Then visiting Paradise Island, on this island there has a swallow bird nest and a guard to looking after them, We rest on this white sandy beach for sun bathing, swimming and rest time for a while. And next we took our boat direct to a famous and a white beauty sand there Hong island, the activities on this island are swimming, snorkelling, feeding and kayaking around the island. Enjoy on our longtail boat to see a hiding room (Lagoon) in the back of the island. Seeing a perfect mangrove forest which is hidden in this lagoon and also you will see a sea star fish group. After that we are sightseeing around the island and back to the curtain point. 12.00 Lunch/Buffer style and free time."
So there you have it!  It was a great day. We didn't touch the fish, there wasn't much 'colour of coral leaf', but the snorkelling was better – we saw the exquisite and cheeky clown fish. The scenery is breathtaking.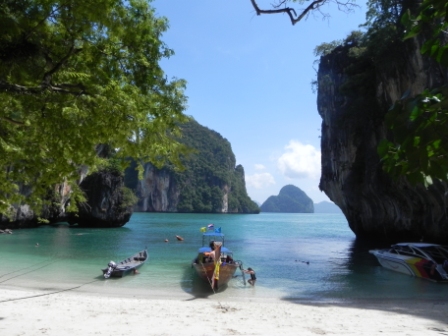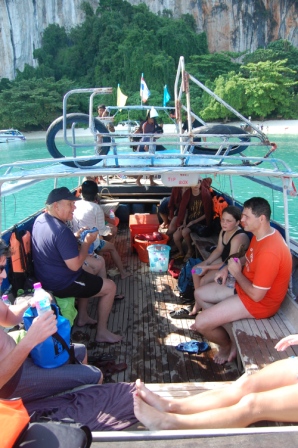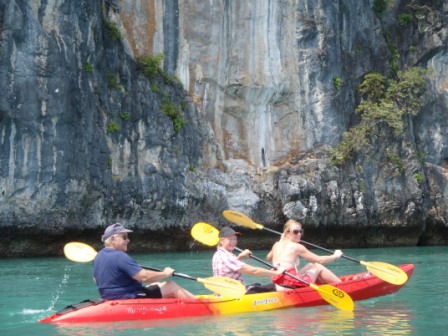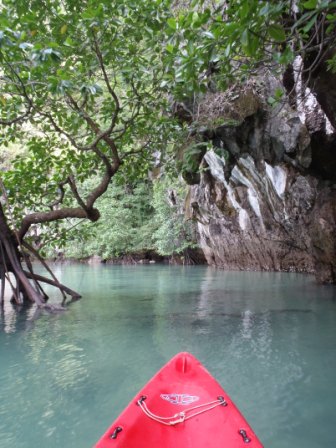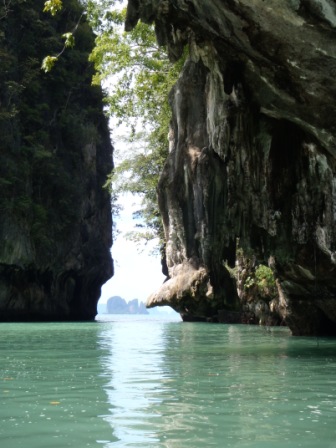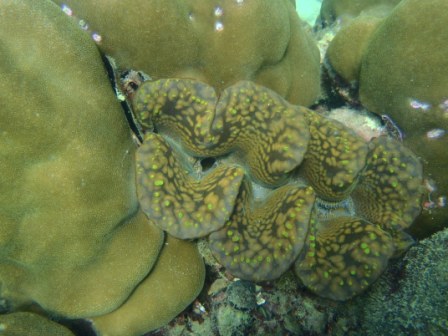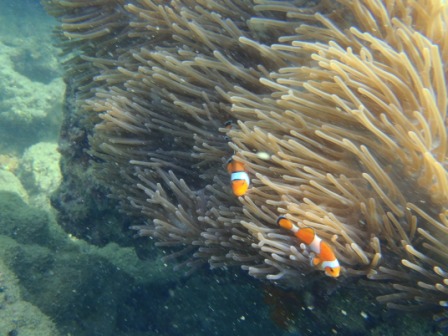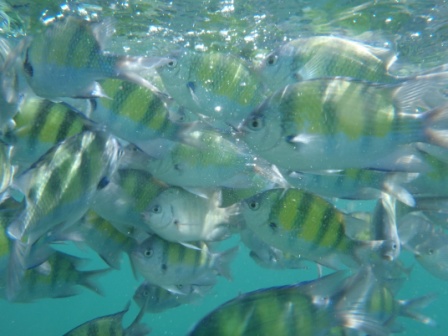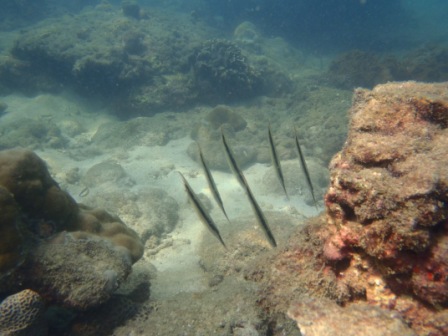 That evening someone released a paper lantern. It was quite magical watching it floating up and diminishing against the silhouetted cliff-face and then moving on and up into the night sky, until we could see it no more. What a lovely ending to our stay at Railay.