Snow is a wondrous thing in anyone's book, but especially if you are South African, because we seldom see it. Imagine wandering through a hotel built with it, in which there are amazing ice carvings on the walls of each room. Imagine yourself in a sledge with excited dogs pulling you through a snowy landscape. Snow magic!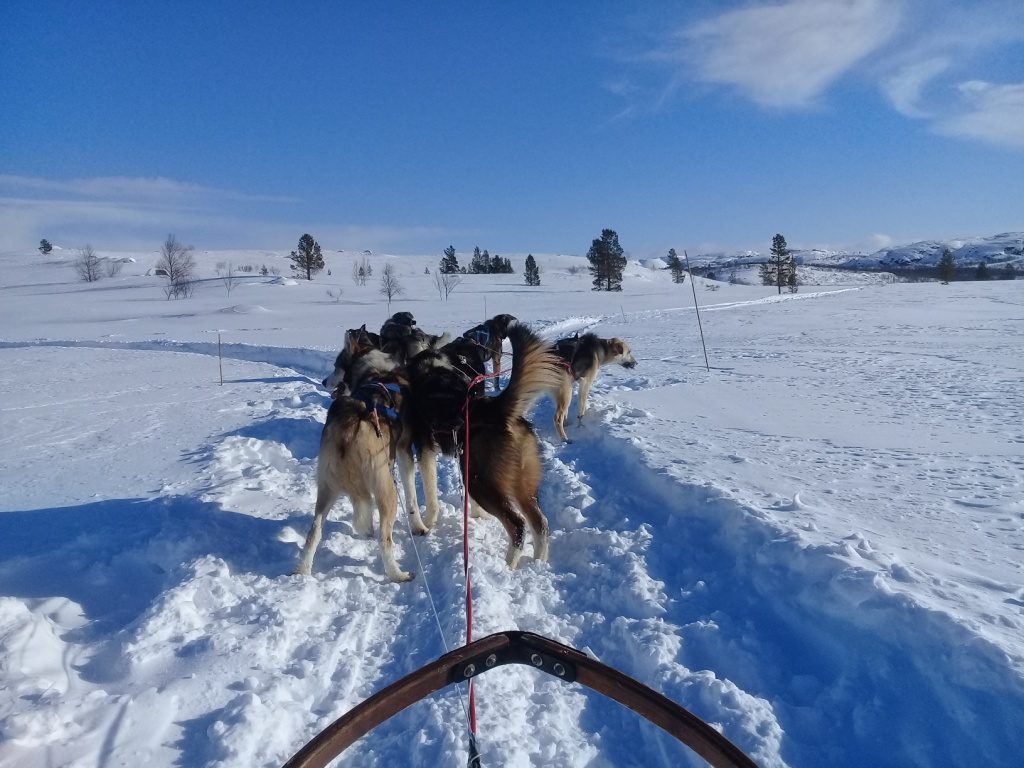 You can do this excursion if you go on a Hurtigruten Northern Lights cruise in Norway. This is what a friend and I did in March 2018.  https://www.hurtigruten.co.uk/uk-offers/norway-offers/northern-lights-promise/ Your main wish when booking this cruise of course, is that you will see The Lights. We did see them but in some ways we were disappointed. We felt a bit betrayed by the "something that isn't much talked about". Read my post on this here: https://footeloosefancyfree.com/the-northern-lig…ight-bulb-moment/
But we still felt that the cruise was worth the money in spite of this, because of all the other things that were on offer, on and off the boat.  The Husky Sledge Adventure excursion in Kirkenes was one of these and what an amazing experience it was.
We were so fortunate because the day prior to our getting to Kirkenes, it had snowed heavily all day. But the day of our excursion dawned with clear blue skies and beautiful fresh snow everywhere. It was also surprisingly warm.
The Excursion
We went by bus from the ship and once at the venue, we were divided into smaller groups, to participate in the three main activities; interacting with the reindeer and dogs, seeing the snow hotel, and the husky sledge ride – all of them snow magic! I'm going to let the photos speak for themselves. But I do want to say that it was wonderful to see how well the dogs were treated and how contented they seemed to be. Also, the teams were raring to go to pull us along in our sledge. They genuinely seemed to love their 'job'. The reindeer too seemed healthy and unfazed and they happily nibbled on the lichen we fed them.  Come on this adventure with me!