Water, water everywhere….
After surviving the scary experience of inching our way along the flooded train tracks going out of Bangkok in the black of night, we slept fitfully, worrying that we might get stranded and have to wade to safety through the stinky water.  Read about that in my previous post: https://footeloosefancyfree.com/bankok-water-water-everywhere/ But dawn broke and the train was still trundling along through the sodden countryside. We arrived at Surat Thani about 2 hours late. Wherever you disembark in Thailand, people appear and are very much 'in your face', asking you where you are going and then herding you in the right direction, having pressed a sticker onto your shirt. Once you get used to this, you realize the system actually works well. So, like meek sheep, we boarded a minibus and headed for Khao Sok  National Park. https://www.khaosok.com/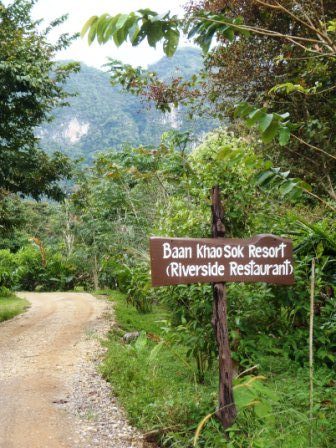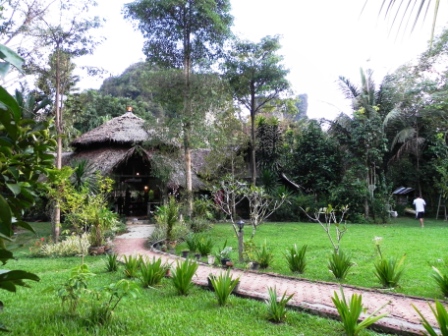 A No-No ride
We checked into our tree-house (yes, really! – booked for us by Sal) at Baan Khao Sok Resort.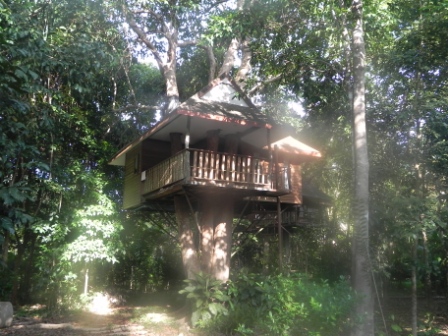 In the afternoon we went for an elephant ride, D on Pepsi, and Sal and I on his Mom. This was in 2011. It was very muddy initially and then they walked up a small river. I couldn't help feeling sorry for them and a bit guilty for doing this to them, but only gentle verbal encouragement by their mahoots was necessary to keep them moving. They were amazingly sure-footed and felt with their trunks before putting one foot in front of the other.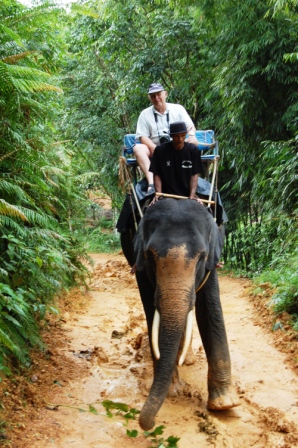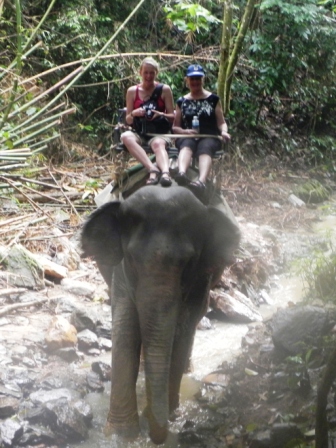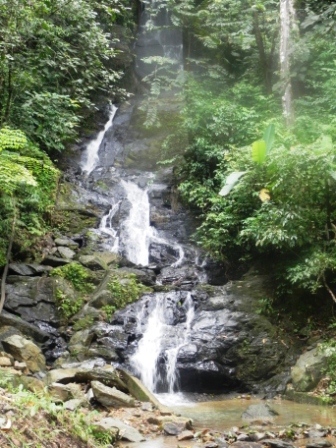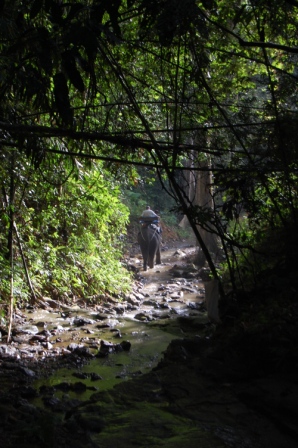 They loved the hose downs and the bananas fed to them at the end of the ride. Pepsi was a real character – hurrummphs when you said his name and he swayed from side to side on the 'dance' command.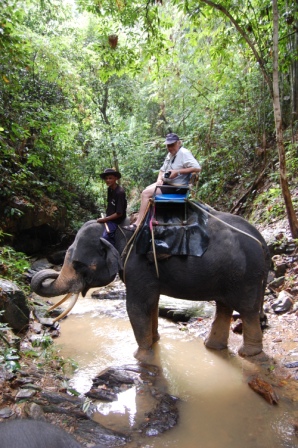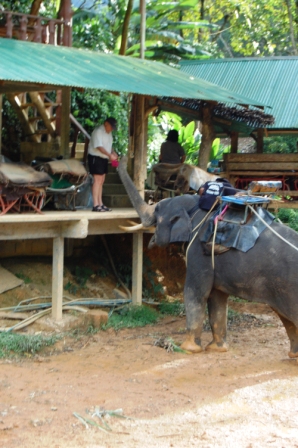 They seemed genuinely content…..they more than likely weren't….Recently I watched a video which showed the horrific cruelty used to train these elephants in Thailand. I was shocked and feel even more guilty about having done this when we were there. I am very happy that this has been banned now.
The VERY rustic Tone Tuey
The next day we went on an all day outing to the 165 sq. kms. Cheow Lan Dam, built in 1982 for the generation of electric power. It feels like a lake. It was our first trip in a long-tail boat – so named because of the long shaft at the back with the prop at the end of it. (They are attractive but can be terribly noisy when scores of them are buzzing about and by the end of our Thailand trip we'd gone off them somewhat.)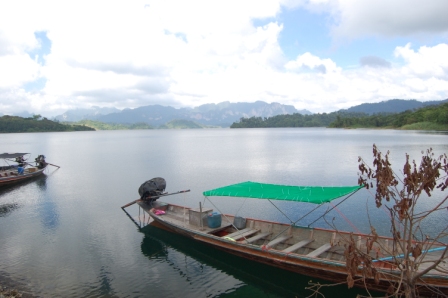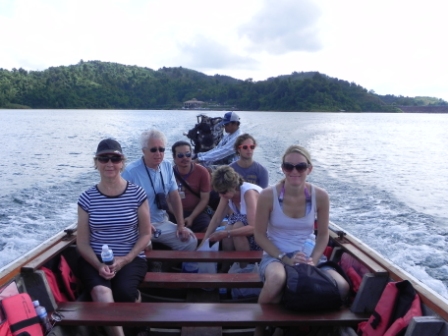 The boat ride to the very rustic Tone Tuey huts and restaurant was beautiful; we skimmed our way across crystal clear water, weaving between spectacular limestone cliffs. https://khaosoklake.com/travel-item/ton-toey-raft-house-khao-sok-thailand-travel/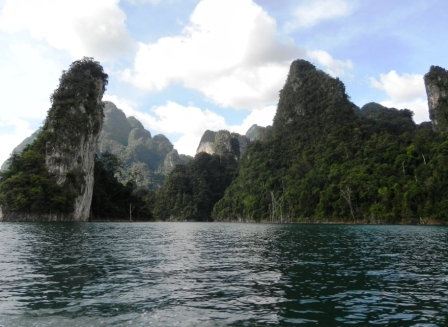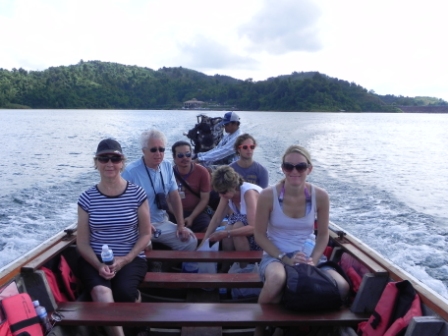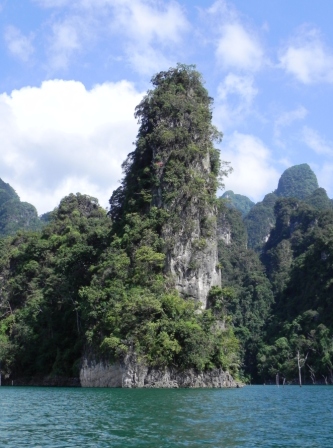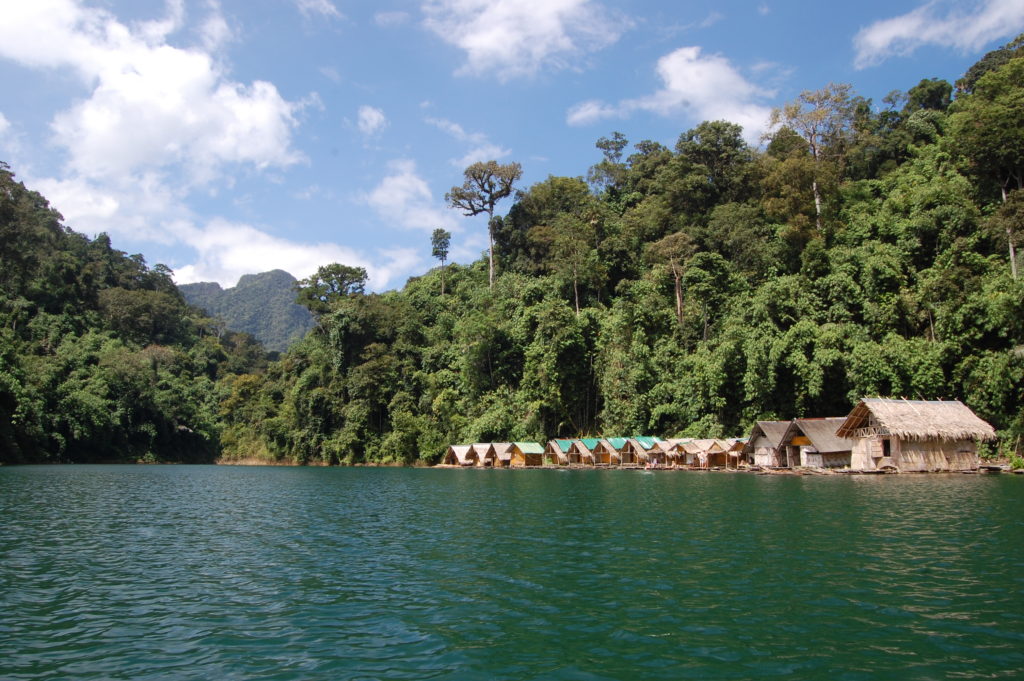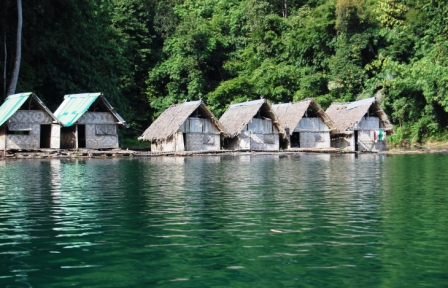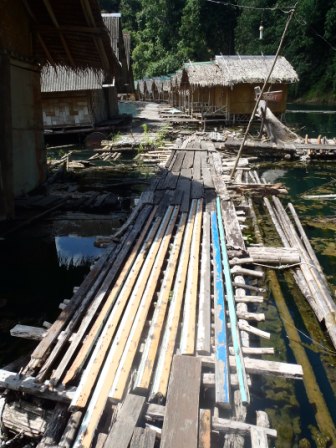 While waiting for the excellent lunch to be prepared, we paddled along a channel in kayaks and saw kingfishers, a terrapin and the wonderful spectacled monkeys.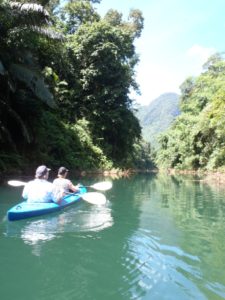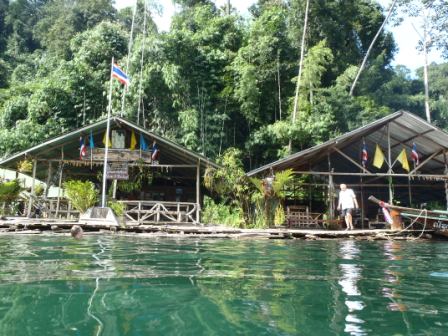 Watery caving
Then we set off on a hike through the jungle to Nam Taloo cave. There was no briefing. What a baptism by fire for D's and my new strap on sandals – we waded through many a river to get there. (D's promptly fell apart afterwards.)  I'm a bit disappointed to report that we didn't have to pick off leeches – apparently there were plenty the day before.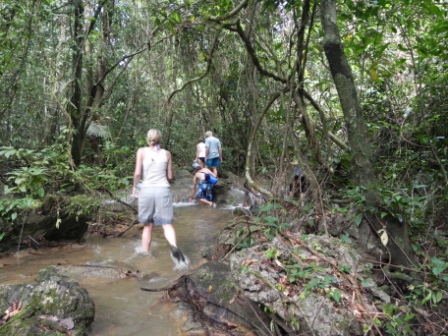 We stopped at a small entrance/hole in the rock.Our guide had been carrying a waterproof bag. I'd asked him if it was a first-aid kit – for snake bites, twisted ankles perhaps. He looked surprised; 'No'. Now he opened it and started taking out headlamps. Mine was very dim and D didn't have one at all – he, being the gallant man that he is, said he'd be fine at the back with the lights up ahead of him. And in through the hole we crawled, having now been told that there was water in there and that it would get quite deep – our guide indicated chest height – most of us were in clothes not costumes…still we'd come this far….  We plunged on through the murky passage (pitch black without headlamps) our feeble circles of light revealing dripping walls with stalagmites and stalagtites.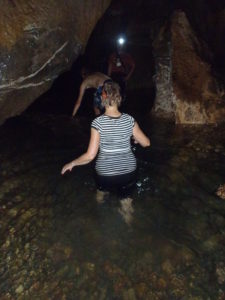 It got deeper and deeper until eventually I, being rather short, couldn't stand and had to swim.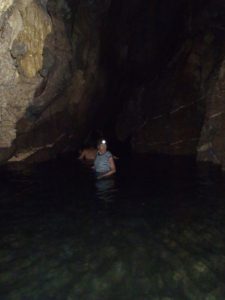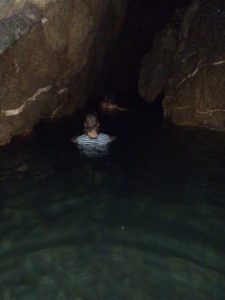 Eventually we emerged into the main cave where we took the obligatory photos before heading back.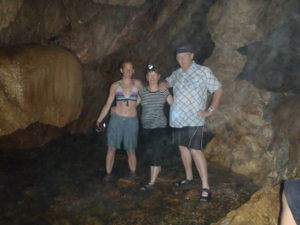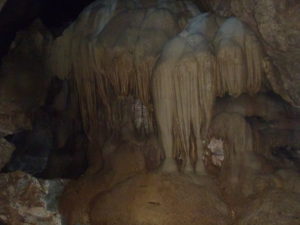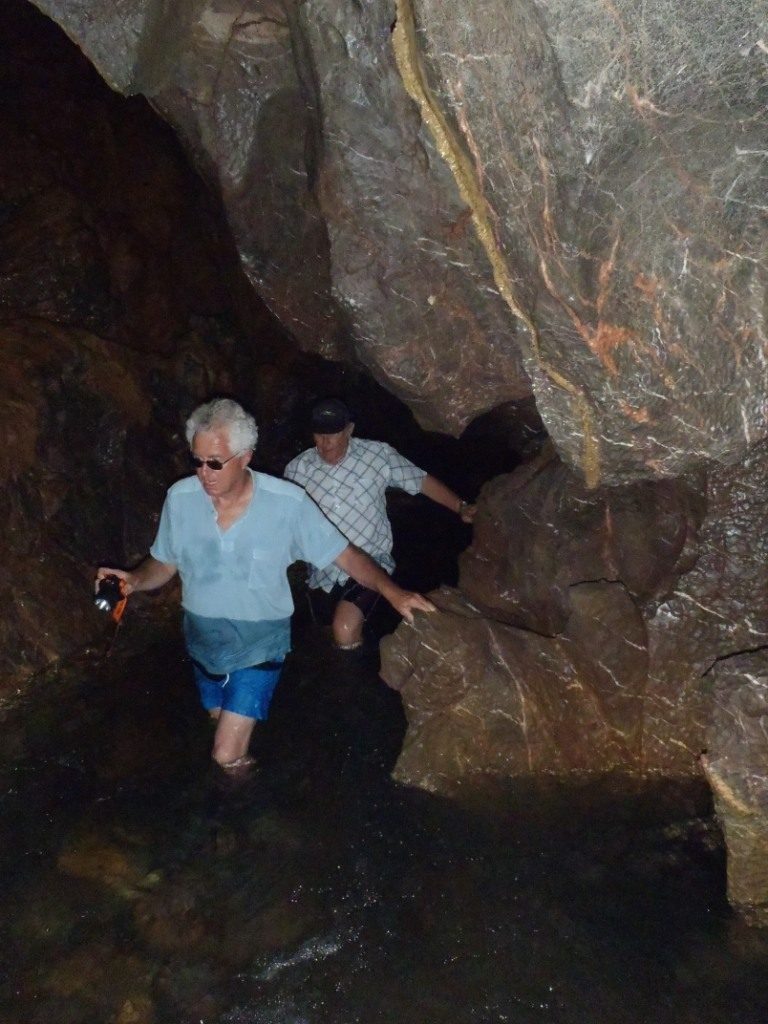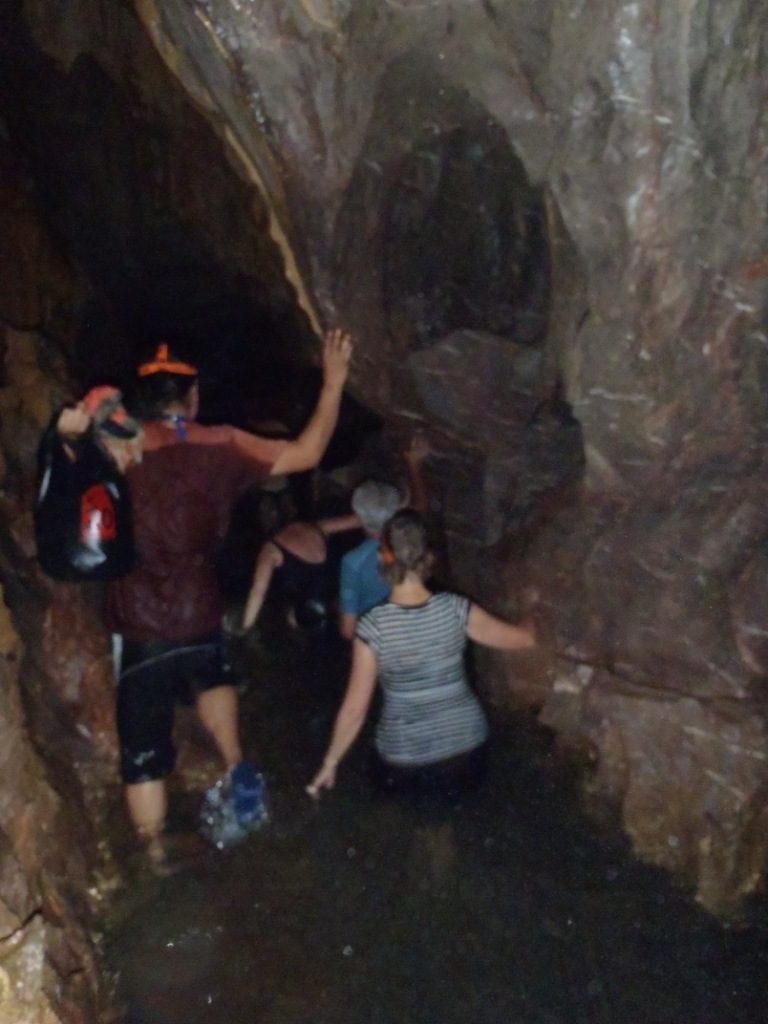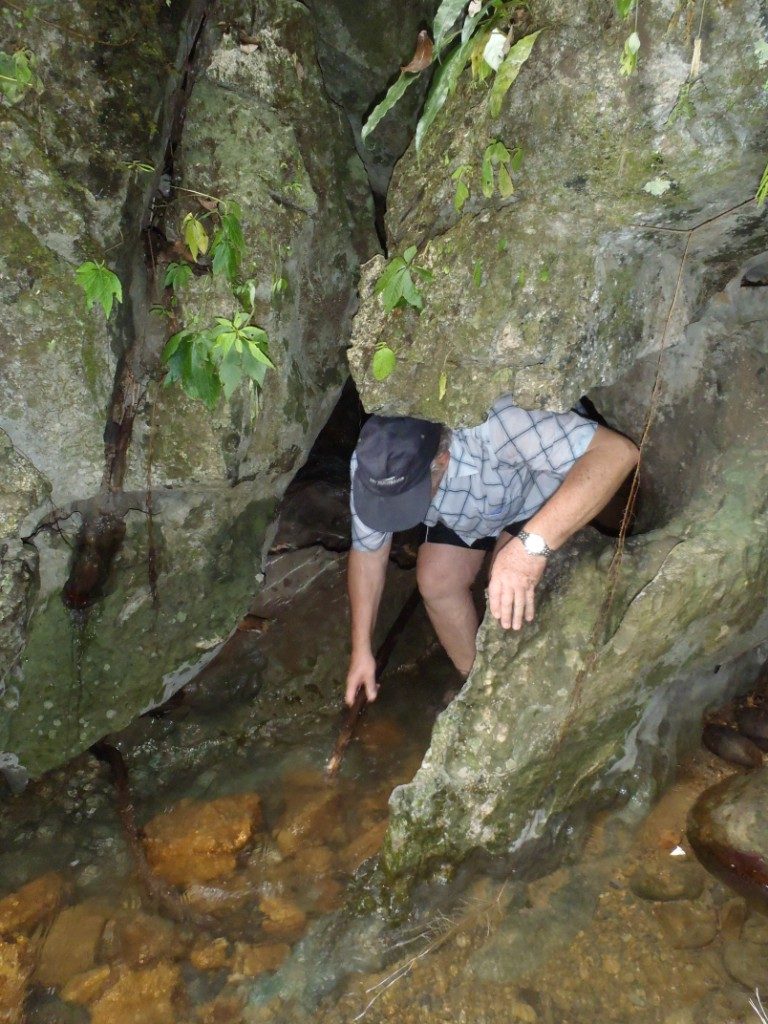 It was certainly an adventure, but would we have done it if we'd known? I think we three Feete and the other young Dutch guy would have, but the other older couple said not. Apparently there was a flash flood  a few years ago and 7 people drowned. We're not sure if that happened in that particular cave.
And now, in 2018, the dramatic and miraculous rescue of the teenage soccer team who got trapped in a cave in Thailand by a flash flood: Read about it here:   https://www.nytimes.com/2018/07/12/world/asia/thailand-cave-rescue-seals.html
Guides are still taking tourists on the Nam Taloo hike. It is safe as long as you – and the guides – are sensible and play it safe. https://www.paddleasia.com/galleries/cave-index.htm
Lazy Kayaking
That night we had a wonderful dinner – and cocktails – at the Morning Mist Restaurant.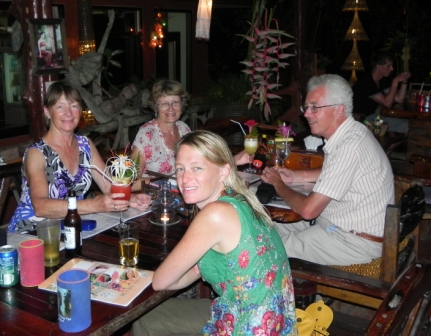 We went for a delightfully lazy kayak the next day; guides paddled us downstream and we saw an impressive  mangrove snake above our heads, and lots of birds, including the always gorgeous kingfishers.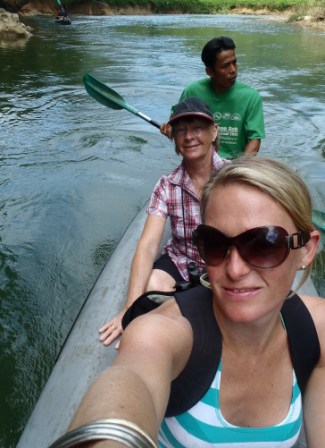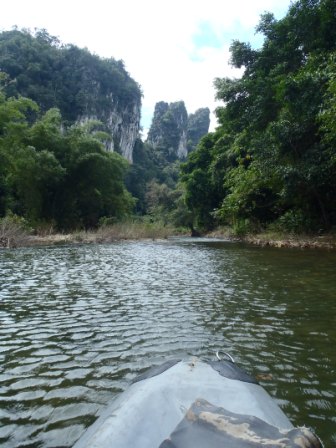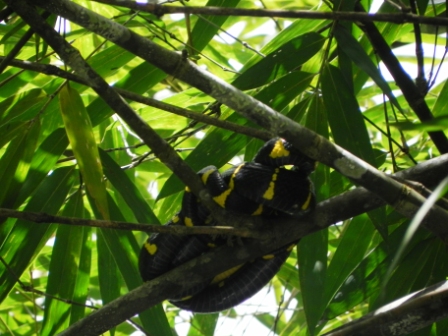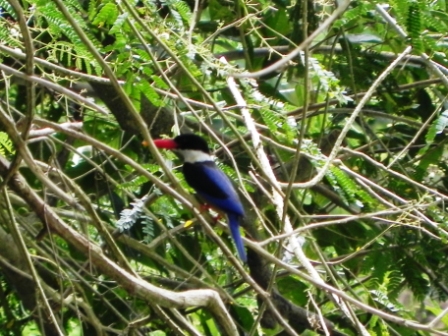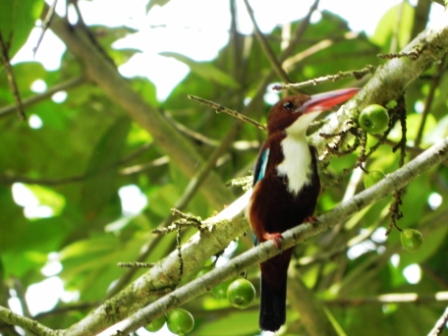 A storm in the afternoon put paid to doing a walk in the National Park. Sal and I had a cool down swim in the river next to the restaurant instead. And then it was off to the beach; we caught the minibus out of there, heading for Railay Beach, via Krabi.
Thanks to Sally and Dudley for their photos used in this post. Also, a couple taken by others on the hike.