We were fortunate enough to live in the Seychelles from June 2007 to June 2009. Wonderful yes, but not always as glamorous as one would surmise:
As I stood under the fan, trying to iron good creases down the legs of my dear husband's work trousers I thought:
Why clothes in the Seychelles? It's so hot and humid all year round – why don't we all just go naked? Who decided that trousers with creases in them were smarter anyhow? It must have been a man and he would soon have changed his mind if he'd had to iron them himself, in the Seychelles in summer. And my husband hates his bright red work shirts. His not so plausible joke is that he stopped to offer a colleague a lift one day, then realized it was a postbox. They could all wear red ties with the company logo on it instead, knotted loosely round the neck so that no-one gets too hot under the collar.
It would be a shame not to have some colour around. So maybe the older Seychellois women should still wear their lovely outfits with hats that are so much a part of  the character of these islands. Also, the men that wear the huge rastaferian green, red and yellow beanies over their magnificent dreadlocks would probably be reluctant to part with these. They are certainly eye-catching, but so are the dreadlocks when allowed to hang free.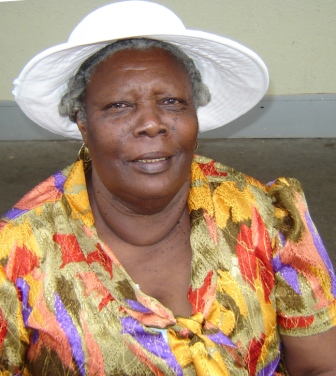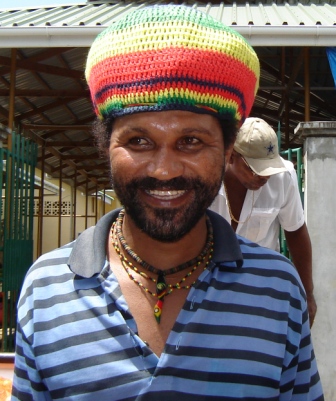 Perhaps the tourists would want to show off their newly purchased sarongs. These could be knotted around waists.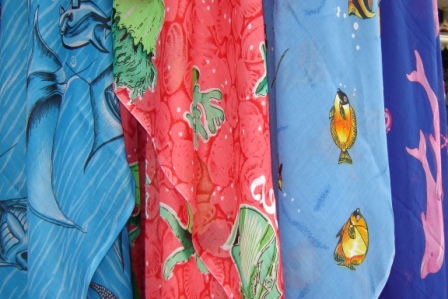 Loads of people carry cloths to mop their sweating brows. Perhaps these could be more colourful, and patterned, and become a fashion statement. Why not some slightly bigger ones to cover up strategic spots for the more modest?
Think of the money that would be saved on clothes, soap powder, softener, electricity. And the  time spent doing, hanging and ironing our washing could be used in a much more constructive and satisfying way. Christmas parties would be a lot more fun if everyone was naked – just prettied up a little with bits of tinsel or coloured baubles.