A trailer wheel falls off; no spare nuts; middle of nowhere; getting dark; no cell phone reception; stories of lawlessness in Mozambique. What to do? This is how our experience of Mozambique began. But all that was forgotten later, when we had dolphins frolicking next to our boat!
Getting there; horrendous roads and trailer trouble
N.B. You definitely need a 4X4 if you're going off the track in Magnifique Mozambique.
Thorough preparations for the trip had been made at the Lily Pad, home of the lovely (very lively!) Lilies in Simbithi, Ballito. We'd set off early on Tuesday the 23rd of April 2013 in Derrick's Jeep Cherokee, towing Habicat, his very smart boat. Going up the North Coast was a breeze. We'd sailed through the border into Swaziland and out the other side into Mozambique.
But then the fun started. The road that had been recommended turned out to be bone jarringly horrible and worse still, unbeknown to us, worse things were happening behind us. The rattling suddenly got louder and then it felt as if the trailer wheel had come off – and it had! Luckily, the Toich entourage (who we had planned to meet up with anyway) arrived soon after this. Very quickly it became apparent that engineering would be required on the wheel. So there we were with our crippled boat trailer, late in the afternoon, on a deserted road – and no comms.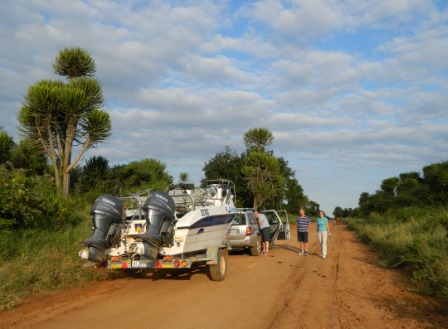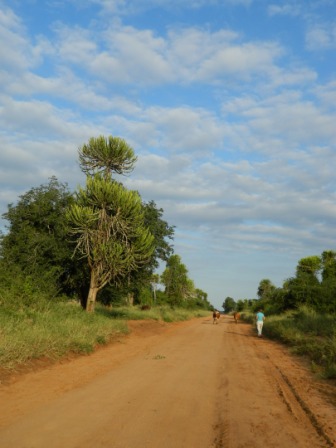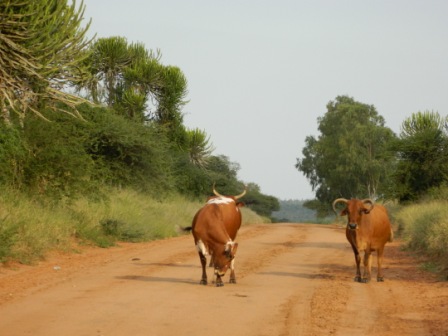 Derrick and the Toiches set off to get help, while Margi, Anthony, D and I, and waited in the Jeep. By now it was dark and having heard some scary stories about lawlessness in Mozambique, we unhitched the boat so that we could make a quick get-away if necessary.  Not long afterwards, two men came past, one of them nonchalantly swinging what looked alarmingly like an AK47! But they continued on without a backward glance at us. Then a friendly man came by heading to the border to have his passport stamped, (which he has to do every month), and he assured us that we needn't worry as this part of Mozambique is safe.
It was a beautiful night with an almost full moon and while we waited for the return of our rescue party, we were entertained by a telephone line tightrope walking genet and then a beautiful giant spotted owl, who posed for us on top of a pole. Later we heard that the other three saw a honey badger!
Eventually they got a signal and were able to contact Derrick's acquaintance at the not too far away Tongaat Hulett Sugar Mill. He gave assurance that the wheel could be fixed the next day. He also made a plan for some of us to stay in one of the staff houses at the Mill. Derrick didn't want to leave the boat and Margi insisted on staying with him, so they stoically spent an uncomfortable night in the Jeep, but made the best of it, even playing a game of Scrabble in the morning!
We were on our way by lunch time the next day, but only a few hours later, in the middle of Xai Xai, we had to stop because the wheel had over-heated again.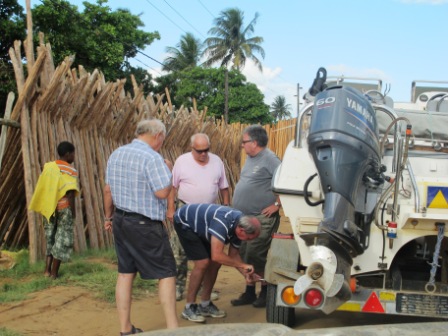 Luckily the guys found a mechanic to repair it. We spent the night at the very acceptable Xai Xai Guesthouse. http://www.xaixaiguesthouse.com/ We girls had taken photos of a beautiful rainbow the previous evening and we'd hoped this was a good luck sign that the rest of the trip would be trouble free.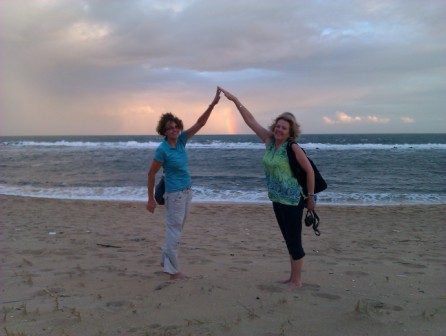 But once again, after a very short distance, the same problem arose. The guys decided there was something wrong with brake system and Derrick impressed us all by disabling these on both trailer wheels and that was the end of our mechanical troubles at last.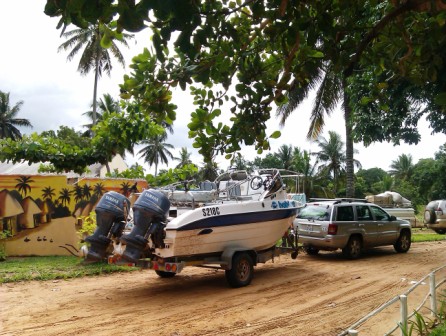 The Villa
We finally arrived at the villa in 'Avia', just north of Vilanculos, in the late afternoon.  There are quite a few gated areas with private villas on them in the region. Avia is one of these and it has about 7 houses dotted about in the coastal bush. One feels completely private and most have fantastic sea views and paths down to the beach.  That night, as if to welcome us, the full moon laid a silvery path virtually to our front door.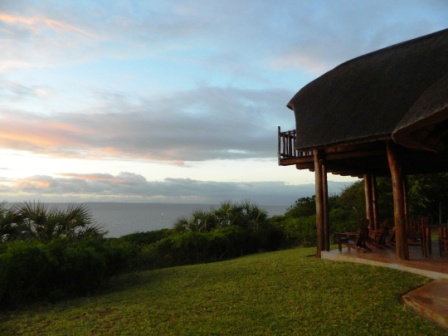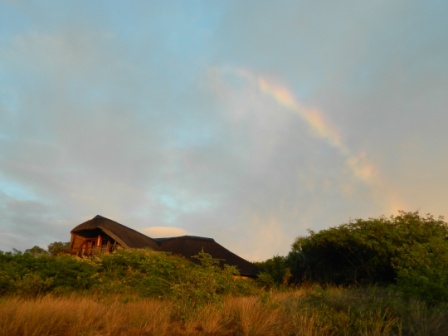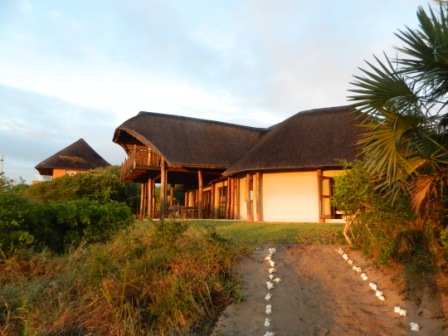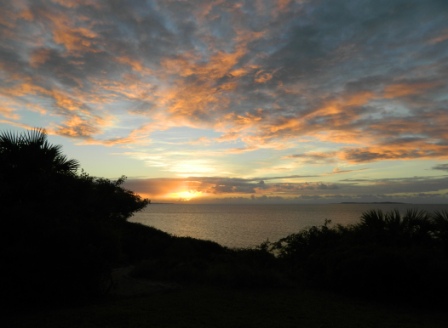 Not all 'plain sailing' 
Obviously the main thing one goes to Mozambique for is fishing and snorkeling. Where we were, you definitely needed a boat and of course a 4X4. The locals fished with nets in front of our house every day but no-one fishes with rods from the beach there and there are no coral reefs.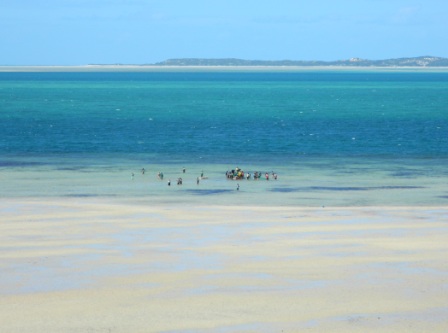 We would go out to the islands in the Bazaruto archipelago from the beach near our house. Mooring wasn't possible and so every time we went out, the boat had to be towed from the house down to the beach along the narrow sandy twisty road – tricky.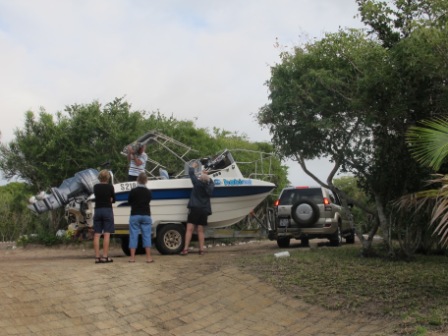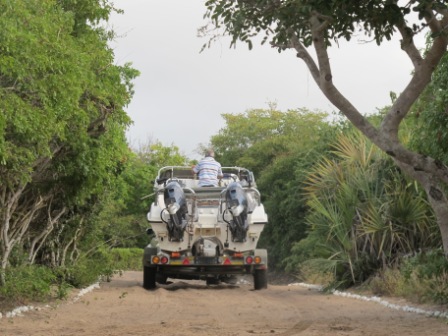 Launching wasn't easy either. First the boat had to be unhitched and attached nose first to the front of the vehicle and the trailer was then pushed into the sea as far as possible, before the boat was tipped into the water. With a tidal range of about 5 metres, the timing for the launch had to be right too, and on a few occasions we had to push really hard to float the boat. Thanks to Eileen Toich for the photos below.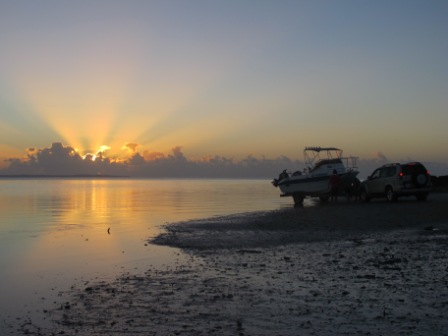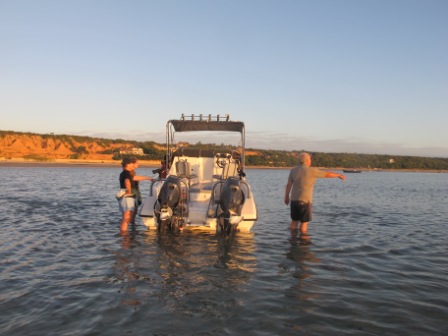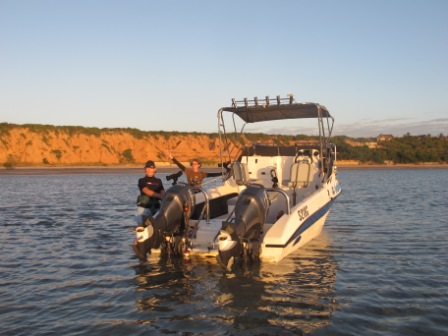 Fishy heaven
But then we were rewarded by the marvellous sensation of skimming away across the crystal clear turquoise water and out towards the archipelago; Benguerra, Magaruque and Bazaruto. http://www.mozambique.co.za/Mozambique_Travel_Articles-travel/bazarutto-archipelago-marine-reserve.html The water gets deeper – and the colour changes to darker more exquisite blues – but you still have to look out for the sandbanks and shallow areas. Here are some pictures taken on our boat outings.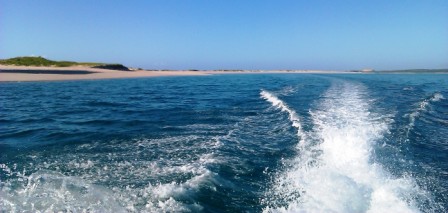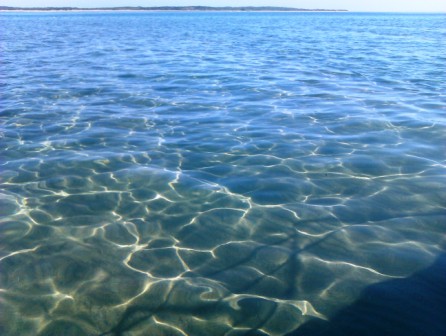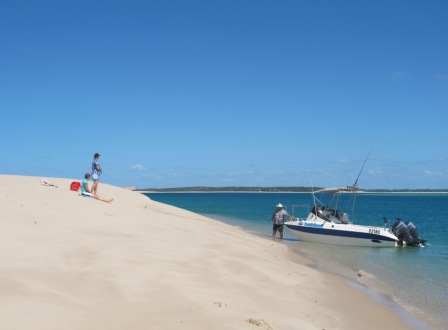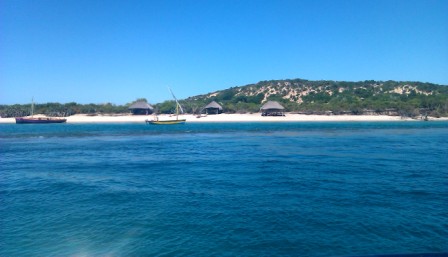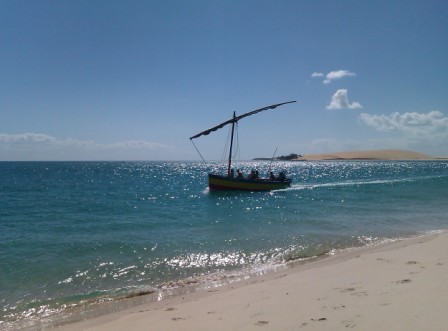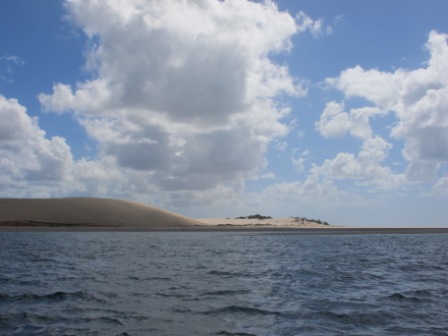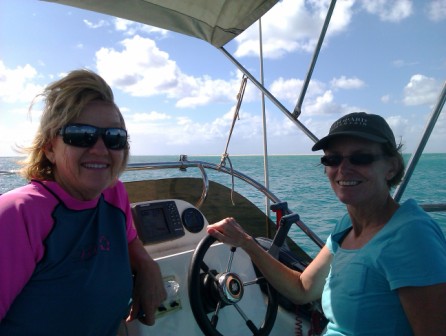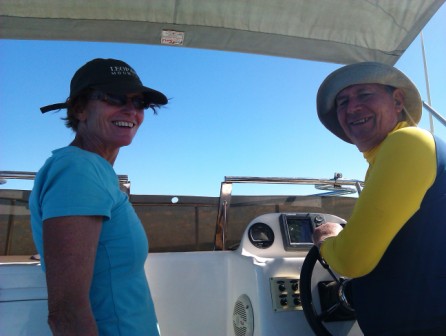 It takes a while to get to the fishing and snorkelling spots – about 30-45 minutes – but the time goes quickly. On the way out, we saw turtles, flying fish, dolphins, and small silver fish arcing out of the water in short bursts.
You have to negotiate turbulent waters to get to the snorkelling, sometimes very turbulent, like the day we went to 5 mile reef. Sadly it was too rough to snorkel there.
We had two wonderful snorkels at 2 mile reef.  Leisurely paddling along it is like fishy heaven. The coral is very healthy and we were pleased to hear that there are hefty fines for anyone caught damaging it. The visibility was superb and we saw loads of fish and a huge variety too, including different kinds of boxfish, angels, parrots, surgeonfish, as well as the beautifully colourful wrasses. Margie saw nudibranchs too. I found this informative website on these fascinating creatures. http://www.indigoscuba.com/nudibranchs-all-your-questions-answered/ We also saw a clown fish, a blue-spotted ray and D and I had the thrill of watching an octopus change both his colours and his texture – an amazing sight.  Sadly, we had to get out after an hour because we were cold.
Thanks to Derrick Lilienfeld for his fantastic underwater photos.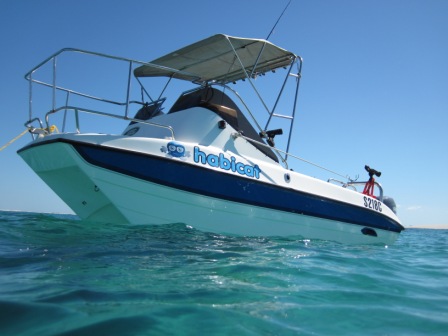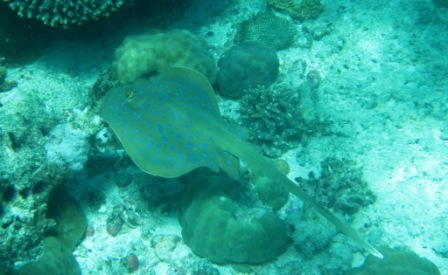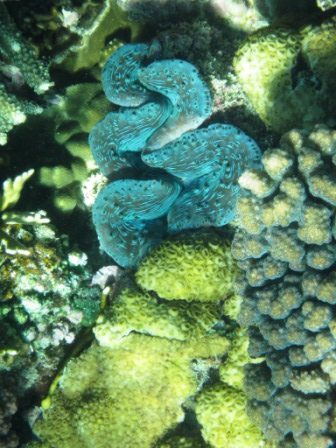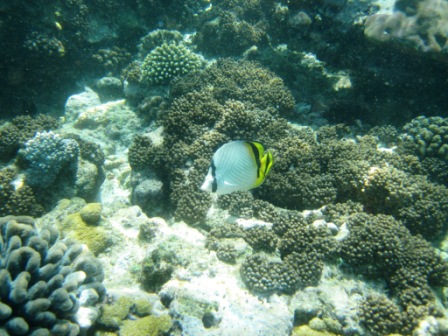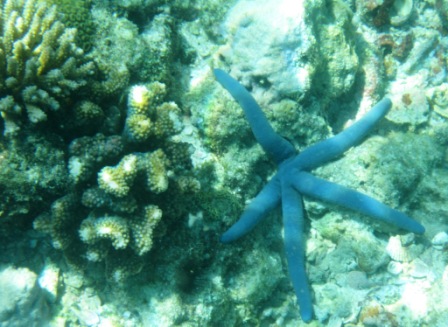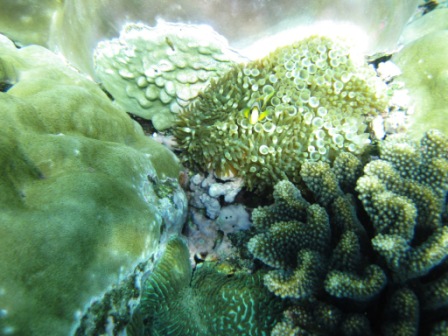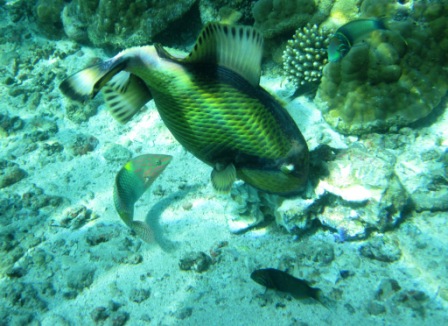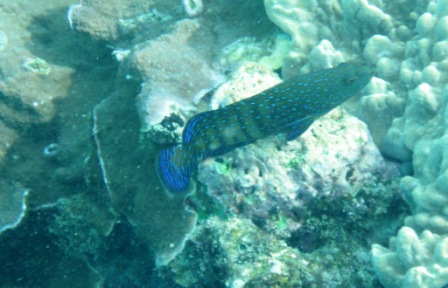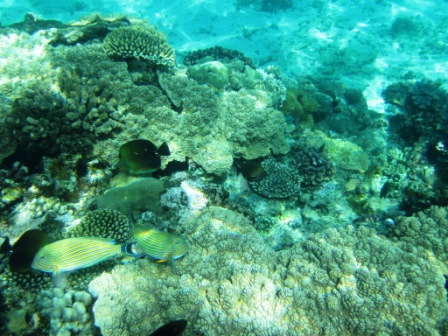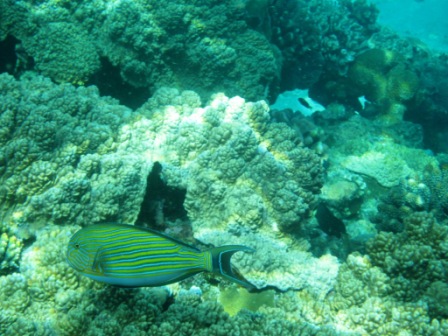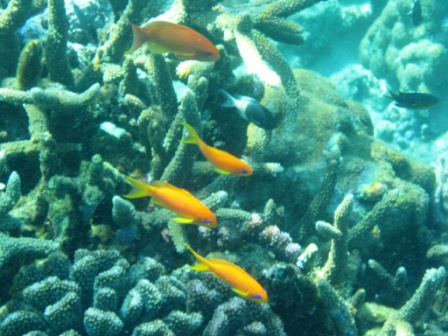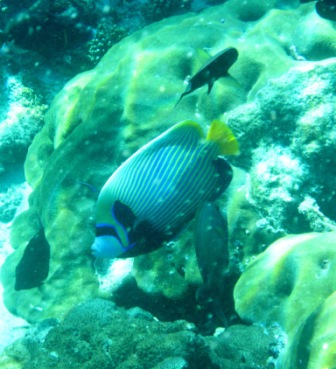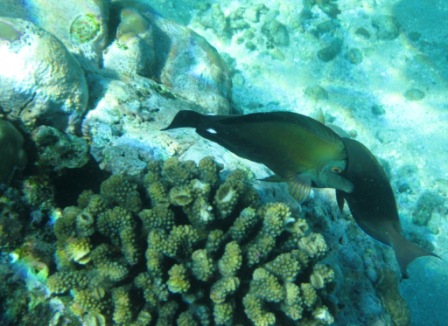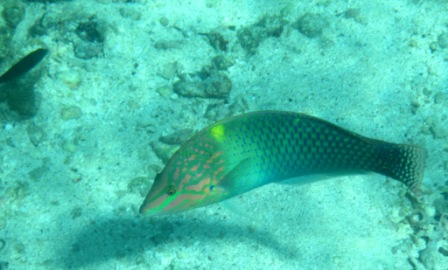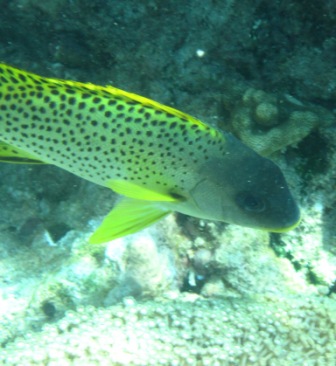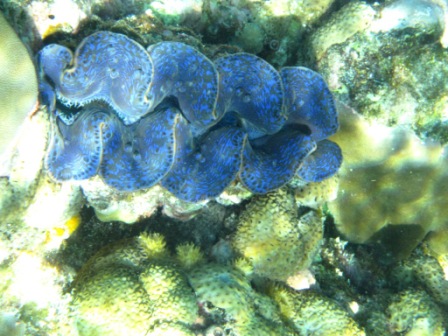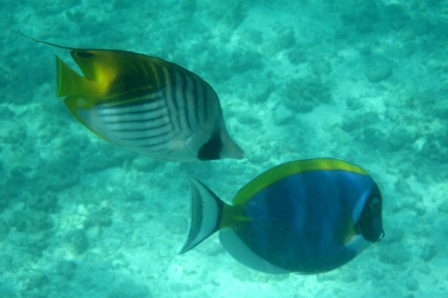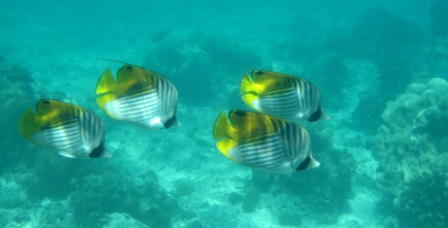 The tides had to be just right for snorkelling, so in between, we trolled, hoping to catch fish for our supper. The only fish caught on our snorkelling days was a 5 kg Skipjack that D caught.  It gave him a good fight and that night Margi smoked it and it was good eating.
DOLPHINS!!
On one perfect day, we had one of those 'once in a lifetime experiences'. A small school of dolphins swam to our boat and played in the bow-wave for what seemed like ages. What a thrill.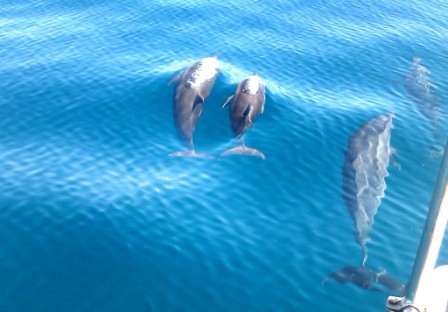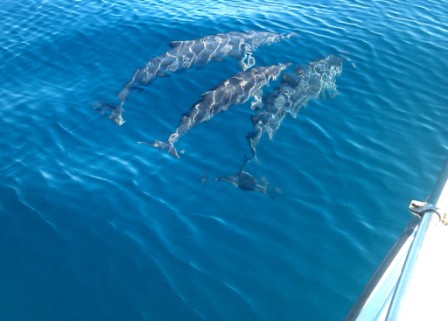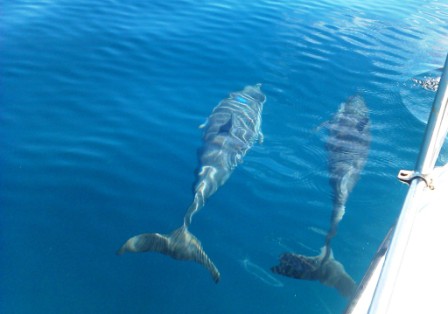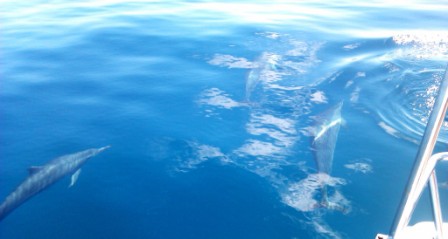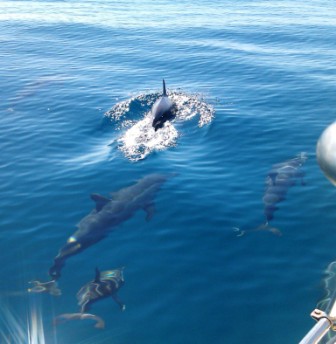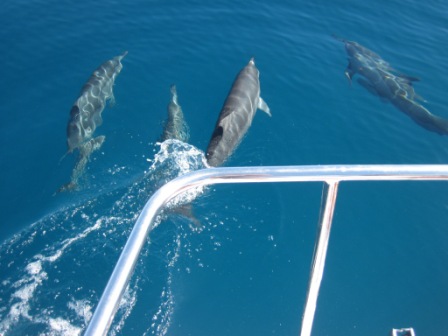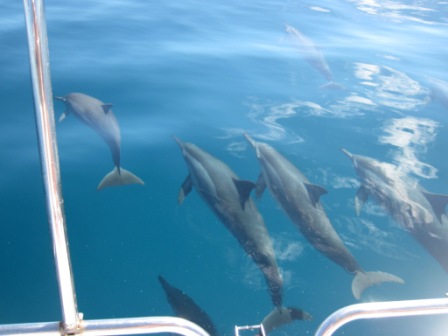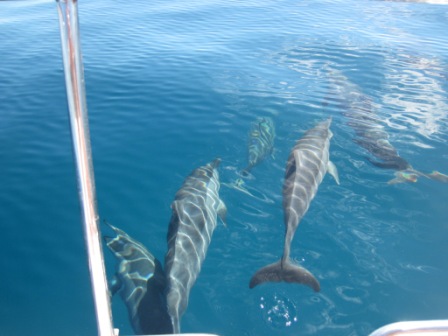 The bottom three photos of the dolphins are also Derrick's.
Push pull boat manoeuvres
And then of course, after being out on the boat for the day, the process of getting the boat out of the water and back to the villa had to be repeated in reverse. Thanks to Eileen Toich for these photos.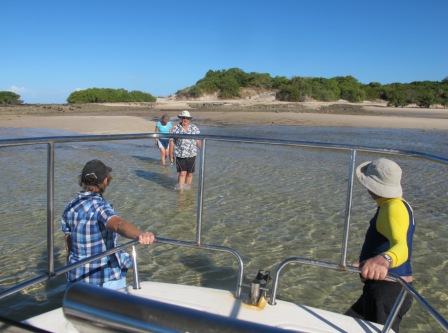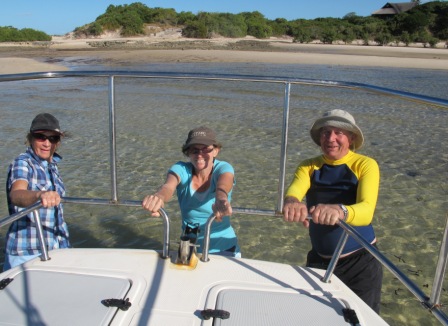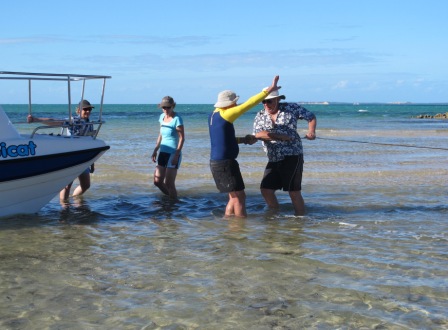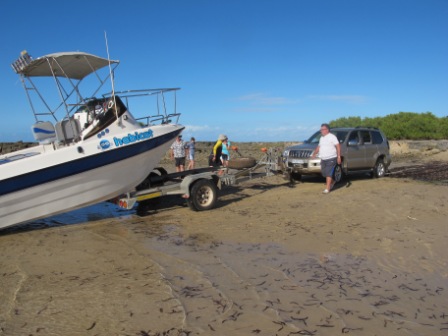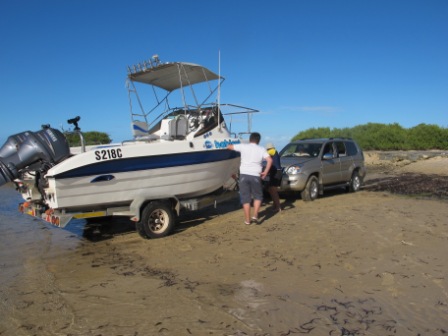 Fishing, and Eating like kings and queens
Generally, the fishing was very disappointing for the guys. They went out on many occasions in between our snorkelling days, but the only fish caught in 3 weeks were 3 queen mackerels and a pick-handle barracuda.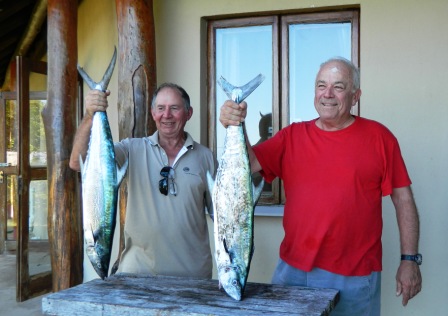 The mackerel were delicious. In spite of this, we still ate like kings and queens, also feasting on fresh prawns and calamari that we bought from the locals.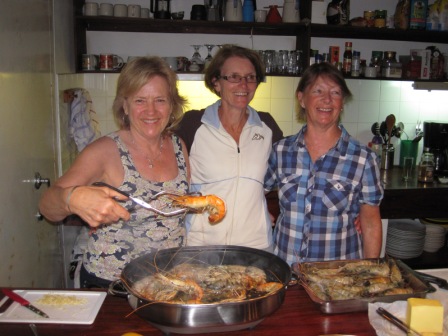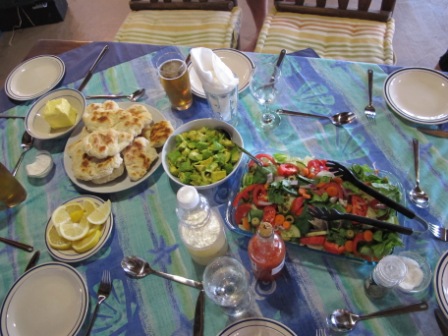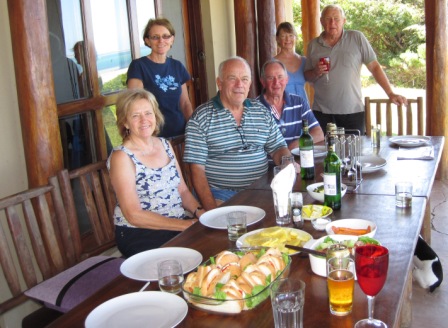 The Portuguese rolls and bread are to die for, but all we had to do was stand in a queue outside the bakery for an hour and a half.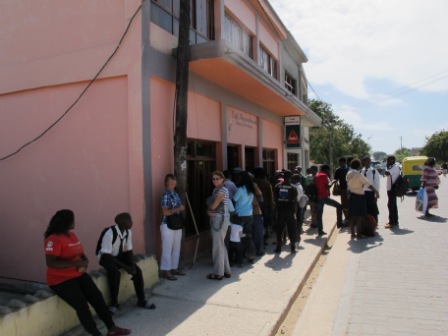 Avos were in season as were pineapples. Margi and Eileen, who are used to cooking for big family gatherings, cooked up a storm every night, while I hovered in the background as kitchen assistant.
Then we would all gather around the computer to watch The Thin Blue Line (Rowan Atkinson).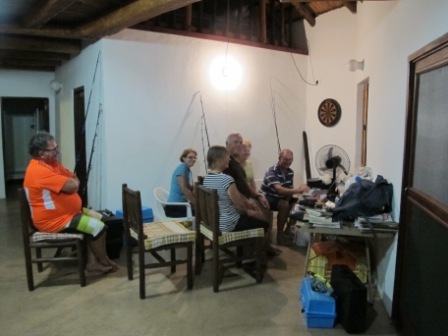 There's more to Mozambique than fishing and snorkelling….
Walking, (Margi ran!), reading books, knitting (yes really! – Margi and Eileen) or just sitting on the veranda enjoying the magnificent view, passed the time, when we weren't out on the boat.
There was amazingly, only one rainy day in the 3 weeks we were there! We all crammed into Joe's vehicle and explored Vilanculos. http://www.mozambique.co.za/Mozambique_Regional_Info-travel/vilanculos-mozambique1.html
We drove out to the ruins of the historical site of Manyikeni on another very windy day. https://wikivisually.com/wiki/Manyikeni It was inhabited as early as the 1200's, then from 1250-1400 and finally 1700. It's a beautifully peaceful spot with lots of trees including many baobabs.  We also went to the market in town – hectic!
And many gifts were bought at the delightful 'Machilla Magic' art gallery. http://www.machillamagic.com/Look out for future posts on these experiences in Mozambique.
Homeward bound and more beautiful beaches
The Lilies and the Feete set off for home on the 12th May. On the way to our first night stop, Jeff's Palm Resort, Jangamo, we nearly had an accident with an oncoming vehicle on the narrow, very sandy road. And then we ended up getting well and truly stuck.  Derrick and D were letting the tyres down when another vehicle came to our rescue and towed us out. Derrick has been coming to this beach for many years – when there used to be nothing there. Now there are quite a few resorts, but it is still a beautiful beach and our accommodation was very nice and reasonably priced. https://www.palmresortmozam.com/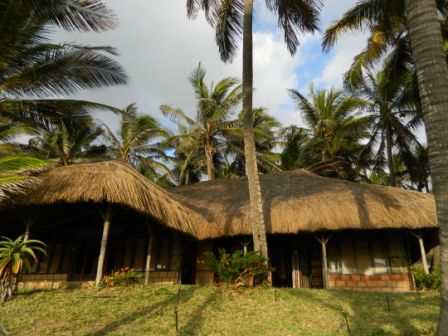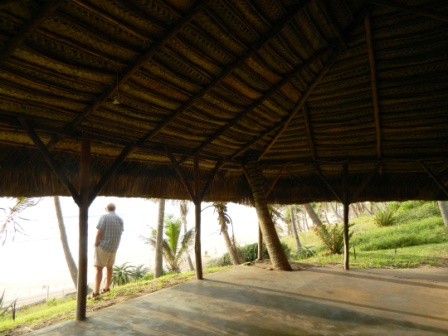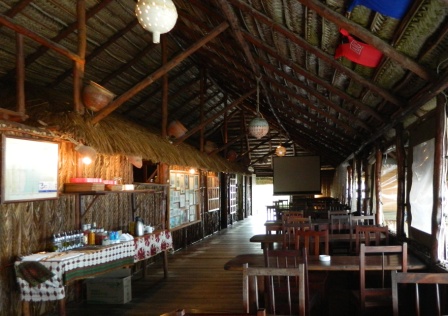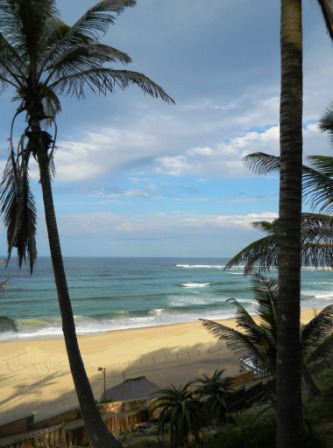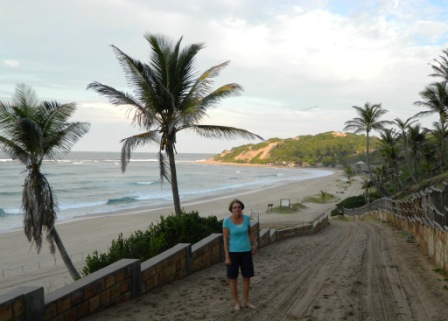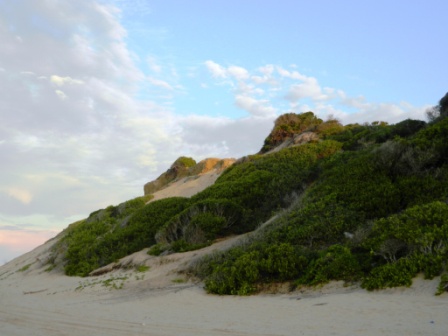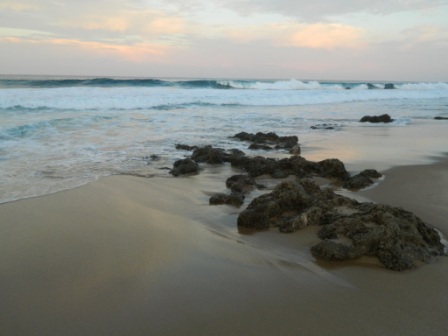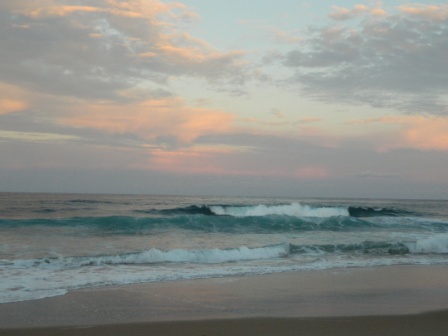 There are also lots of scuba diving and snorkelling sites there. I found this website, which looks great. I'm sorry that we didn't get to check it out. https://www.diveguinjata.com/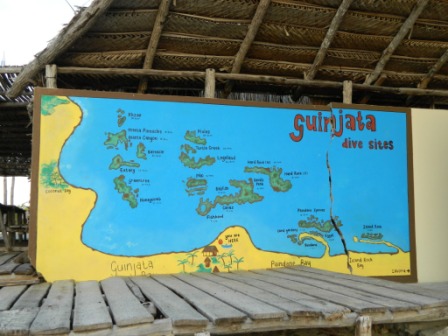 We'd wanted to spend the next night at The Blue Anchor but amazingly it was full. (Apparently it has closed down now; 16 March '19) We stayed at Casa Lisa next door – both are in the middle of nowhere. http://www.mozambiquetravelservice.com/accommodation/casa_lisa.htm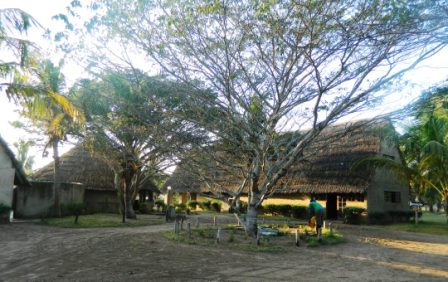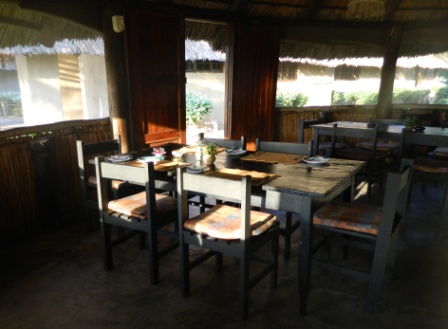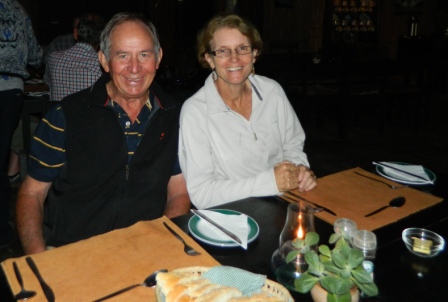 We got back to the Lilienfeld's home in Simbithi the next evening, the 15th May. It was lovely to be back on home soil. Thank you lovely Lilies for inviting us to go with you on this fantastic trip!
Mozambique is generally a desperately poor country and we were very conscious of this.  But tourism does bring in much needed income. So do visit this beautiful country.